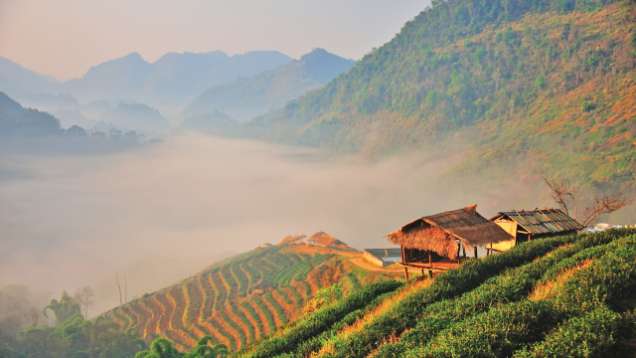 An initiative of His Majesty, King Bhumibol Adulyadej, the Royal Project is the heart and soul of healthy eating in Thailand. Founded to counter deforestation, poverty, and opium production, it has blossomed into one of the most successful projects of its type. The Royal Project promotes sustainable farming practices (versus slash-and-burn techniques) and alternative, often "exotic" crops in Northern Thailand. Organic produce has also become a priority: vegetables and fruit are grown using non-GMO techniques and materials.
At the Doi Kham branch of the Royal Project, on the outskirts of Chiang Mai, you will find a profusion of fresh vegetables, fruits, flowers, and herbs. Think carrots, broccoli, kiwi, avocado, carnations, mint, rosemary, basil…it's a vibrant medley of sights and smells for any food lover!
As you enjoy the blend of indigenous and "Western" ingredients, you can also feel good about the fact that you're supporting meaningful change in Thailand. The Royal Project helps to provide much-needed healthcare, universal schooling, and social welfare in the areas where it is active. There is a special focus on including valuable local knowledge in the farming approach and making communities (especially the Hill Tribes) self-reliant in the long run – worthy causes, indeed!
Ask the Concierge to arrange a visit to a nearby Royal Project farm for a closer look at Thailand's clean-food scene.