Our historic Club Dauphin pool – with its infinity edge and glorious sea views – is one of the most beautiful in the world. Indoors, Le Spa offers a second heated pool, with a countercurrent system ideal for swimming laps. Rain or shine, you're never far from a wonderful aquatic experience.
March 9 – May 30

10:00 am – 5:00 pm

June 1 – September 30

10:00 am – 8:00 pm
Our Pools
Our heated, saltwater pool, a glittering jewel perched on the edge of the sea, is a highlight of the French Riviera.

Heated, and with a countercurrent system, the pool at Le Spa is ideal for a few laps at any time of day.

Lessons for all ages are taught by Pierre Gruneberg, a local legend with more than 60 years of experience.
Meet The Team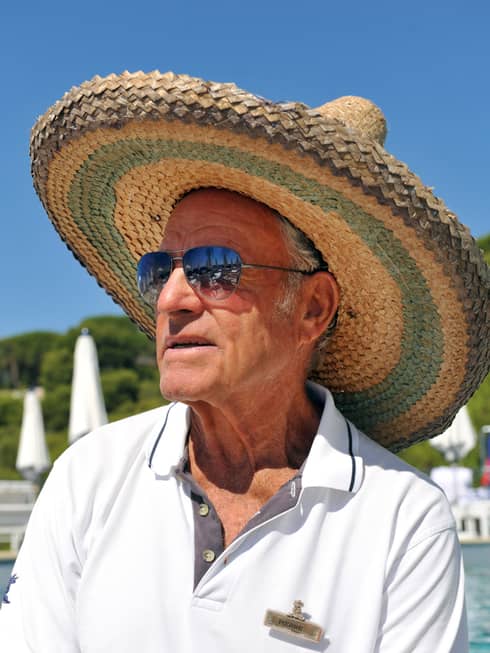 Pierre Gruneberg
Swimming Instructor
Instructor Pierre Gruneberg has taught swimming here every season since 1951. Lessons with Pierre – a rite of passage for the children of Charlie Chaplin, the Kennedys and Paul McCartney – are a must for Côte d'Azur visitors. His signature ABC (Aquatic Breathing Control) technique, combined with his 60 years of experience, means he can improve the swimming skills of virtually anyone. A class with Pierre is truly a grand, French Riviera tradition.
"Even now, I still feel the same pleasure as I did years ago when I arrive for work in the morning. . . . The Club Dauphin is the closest thing I know to paradise on earth."
Club Dauphin Pool
Swimming in History

Ride the glass funicular down to the Club Dauphin pool and you're arriving at a Côte d''Azur landmark. The 33-metre pool, bordered by a wooden deck and surrounded by lounge chairs and parasols, perches on the edge of the sparkling, blue sea. Constructed in 1939, the pool has been a glamorous destination ever since, drawing world-famous actors, artists, writers and politicians to its infinity edge and sunbathed views.

Private Cabanas

For the ultimate Côte d'Azur resort experience, treat yourself to a private, seaside cabana, accommodating two to four people. Our shady cabanas are equipped with telephones, letting you place your food and beverage orders directly with our restaurant. Cabanas may be booked for the day or for the season, enhancing your Saint-Jean-Cap-Ferrat hotel stay.