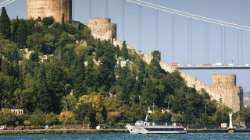 Advance Purchase
With our Advance Purchase offer, you'll receive 15% off our Room Rate when you book your stay in advance. Get inspired and start your planning with this video showcasing the best of Istanbul.
Offers available at Istanbul at the Bosphorus (6)
Offers available at Istanbul at the Bosphorus (##)
Best Rate Guaranteed
Book direct and get the best rate, most favourable cancellation terms and our highly personalized service, guaranteed.
Iftar Package
During Ramadan, savour a rich iftar buffet overlooking the Bosphorus.
Bed and Breakfast
Enjoy a perfect night's sleep followed by an expertly prepared meal from our top-rated chefs – a flawless way to start your day.
Suite Special
Let us enhance your stay in a spacious suite with a special rate, daily breakfast and all-day transportation, and more.
Room Rate
Always our best available room rate, giving you our most flexible booking option.
We're sorry, Istanbul does not support online booking at this time. Please call 90 (212) 381 40 00 for assistance.