Dine on fresh-caught seafood dishes as you sit along a backdrop of the Bosphorus at Aqua or The Club, both of which can be privatized for your group. Treat guests to our summer pop-up, Ocakbaşı Restaurant, or gather on Bosphorus Terrace for a twilight banquet menu that embodies the best of Mediterranean flavour.
Everything You Need
From the breathtaking setting of Aqua to the casual, poolside ambience of The Club, many of our on-site dining options and lush outdoor terraces can be privatized for your group. Take in views of the Bosphorus and Maiden Tower while you enjoy fresh regional flavours.

Authentic Mediterranean Cuisine

Savour contemporary Mediterranean cuisine paired with an array of fine wines at Aqua, or dine on grilled kebabs and locally sourced salads by the pool or quay at The Club. Take a culinary journey of the region at Ocakbaşı, our seasonal pop-up restaurant, then cap the evening with a craft cocktail at Yali Lounge. Our on-site restaurants and lounge celebrate the best of the region's favourite flavours.

Details

Set sail on a sunset dinner cruise along the Bosphorus. Your guests enjoy traditional Turkish and Mediterranean specialties prepared by our chefs while taking in views of the dramatic city skyline.
Meet the Team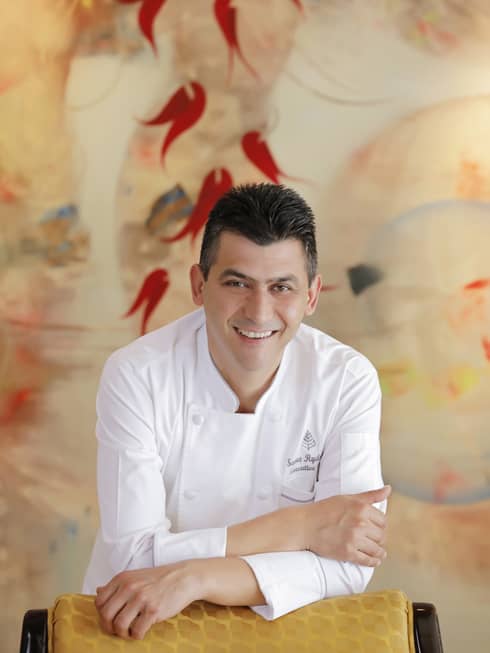 Savaş Aydemir
Executive Chef
Chef Aydemir comes from a long line of culinary greats. Born in the renowned culinary destination of Bolu province, he worked in a variety of high-end hotel restaurants before joining Four Seasons. He brings his love of local ingredients and Turkish cuisine to Aqua, The Club and Yali Lounge, always striving to infuse his work with new techniques and fresh flavours.
"Anytime I cook a dish, I consider who it's for, and how I can make them happy."