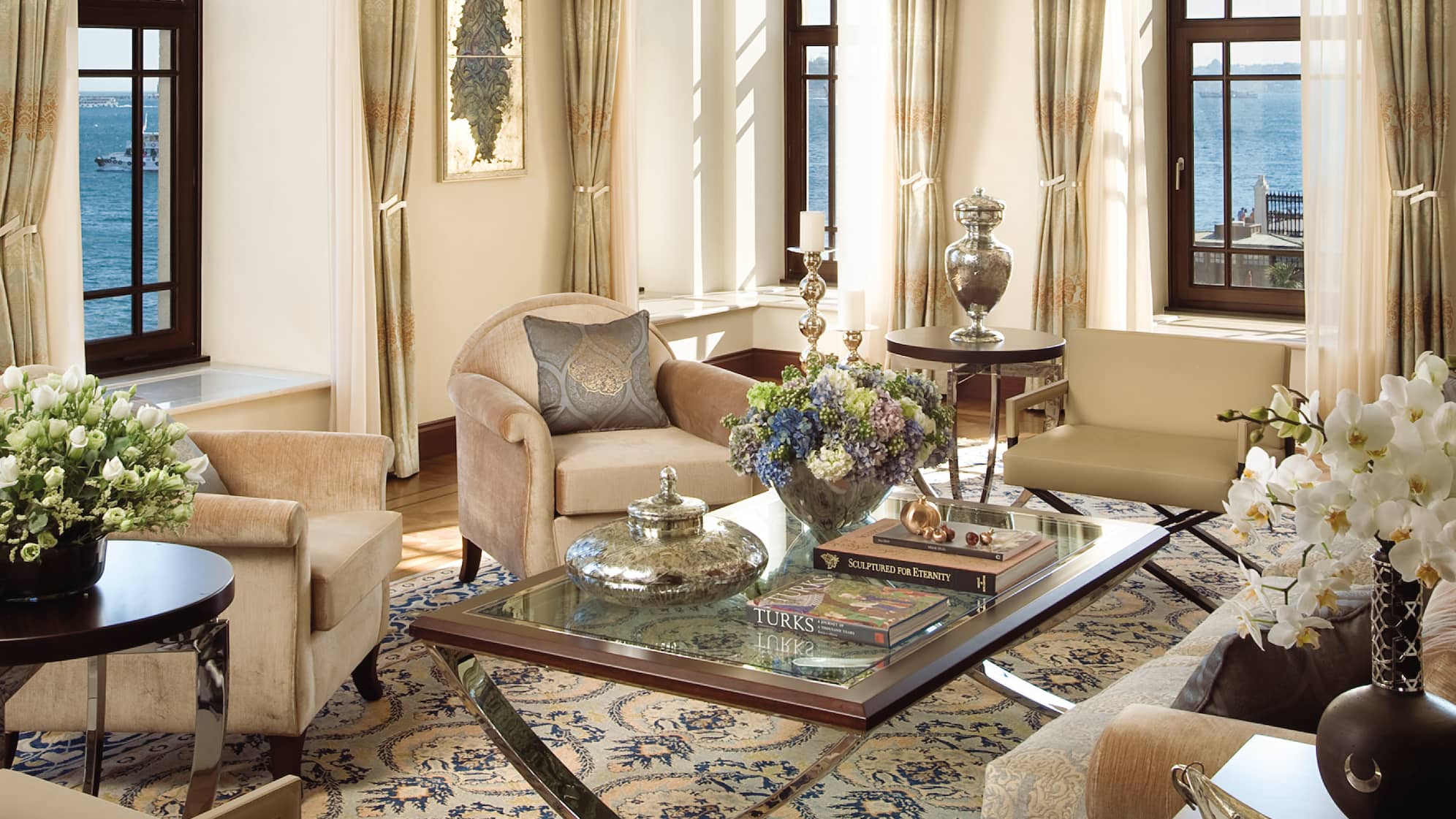 Atik Pasha Suite
Two king beds and two twin beds, One rollaway or one crib

377 m2 (4,057 sq.ft.)

7 adults, or 2 adults and 5 children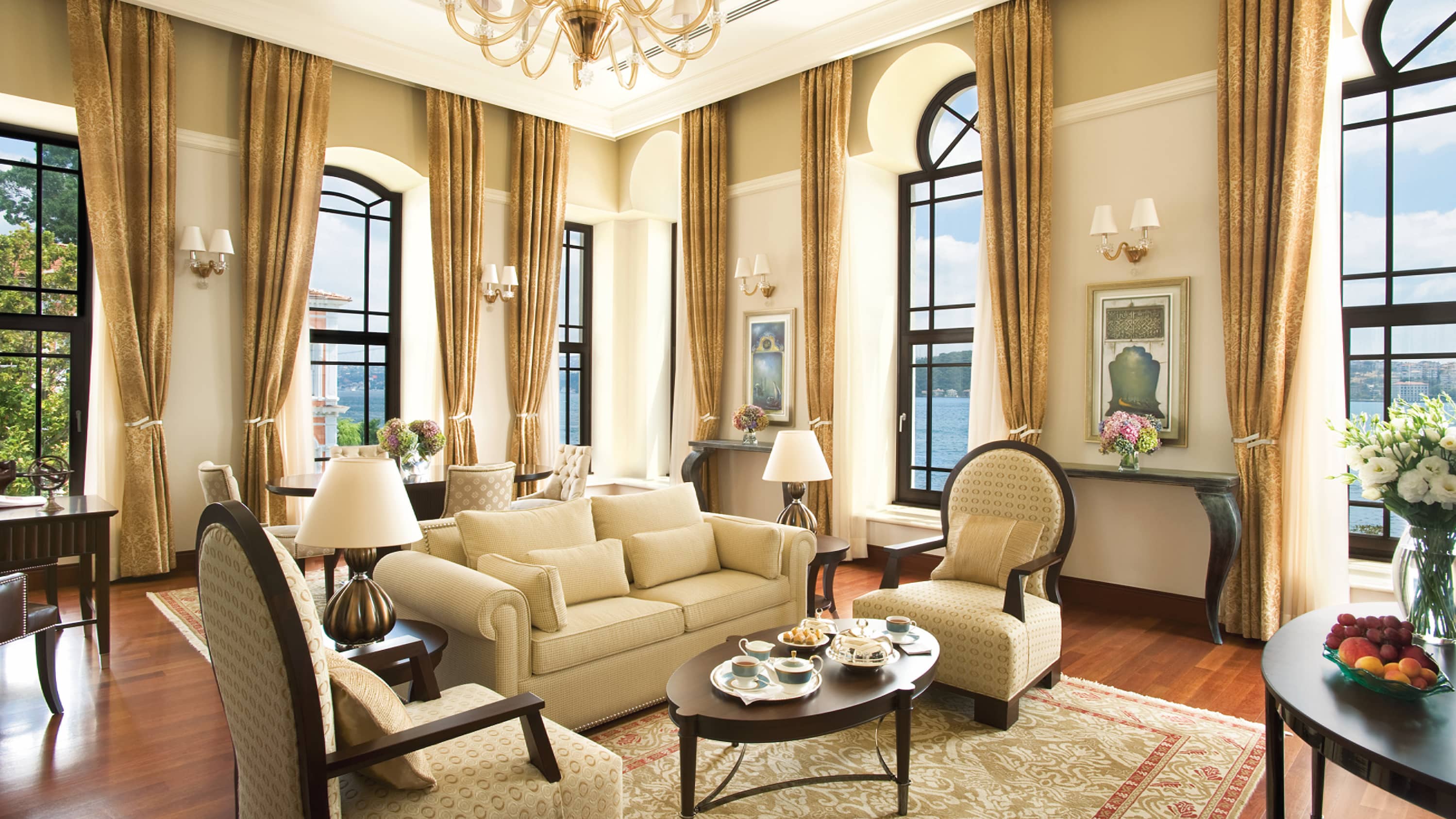 Two-Bedroom Bosphorus Palace Suite
King bed in the main bedroom and two twin beds in the second bedroom, One rollaway or one crib

170 m2 (1,830 sq.ft.)

5 adults, or 2 adults and 3 children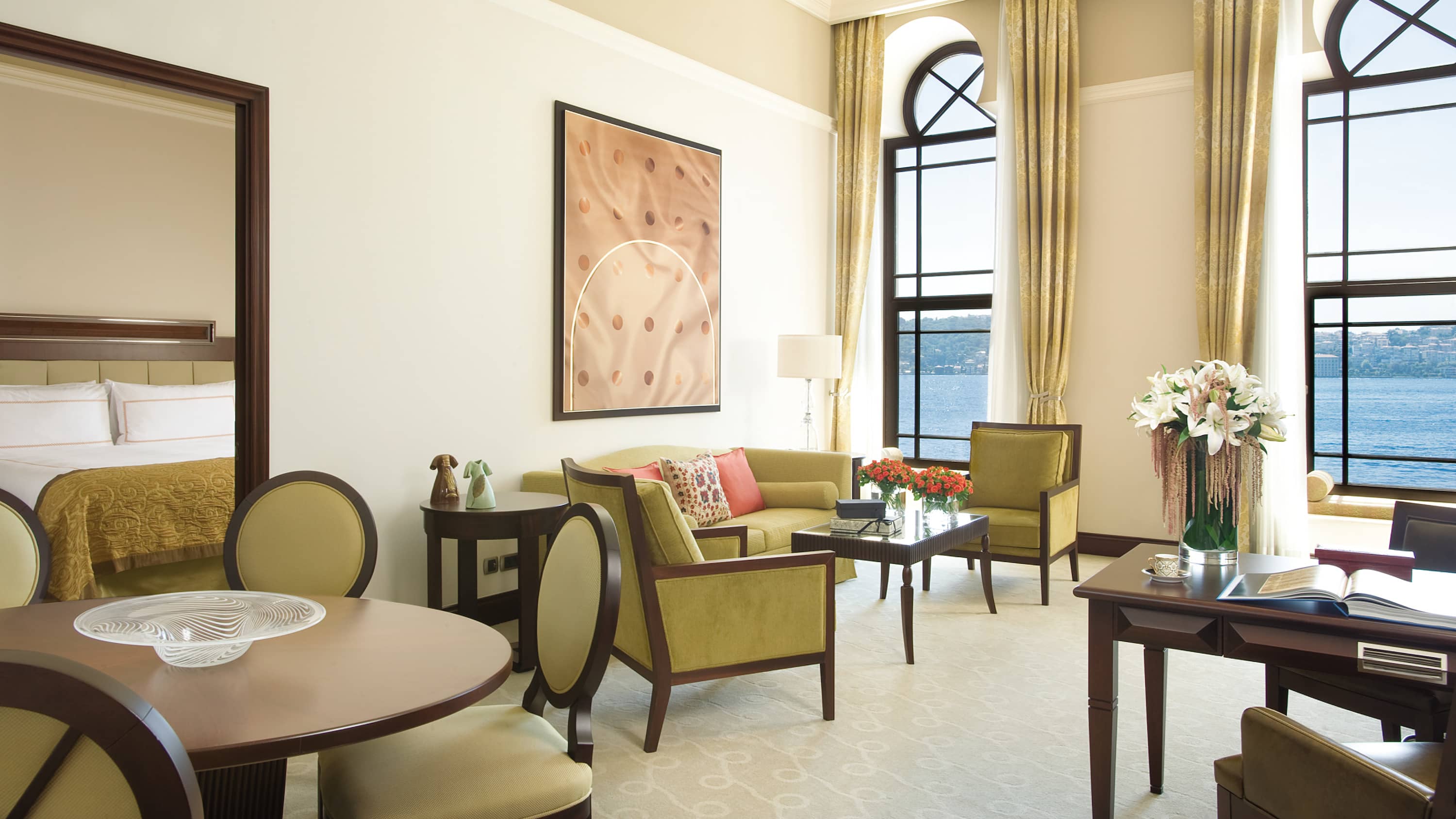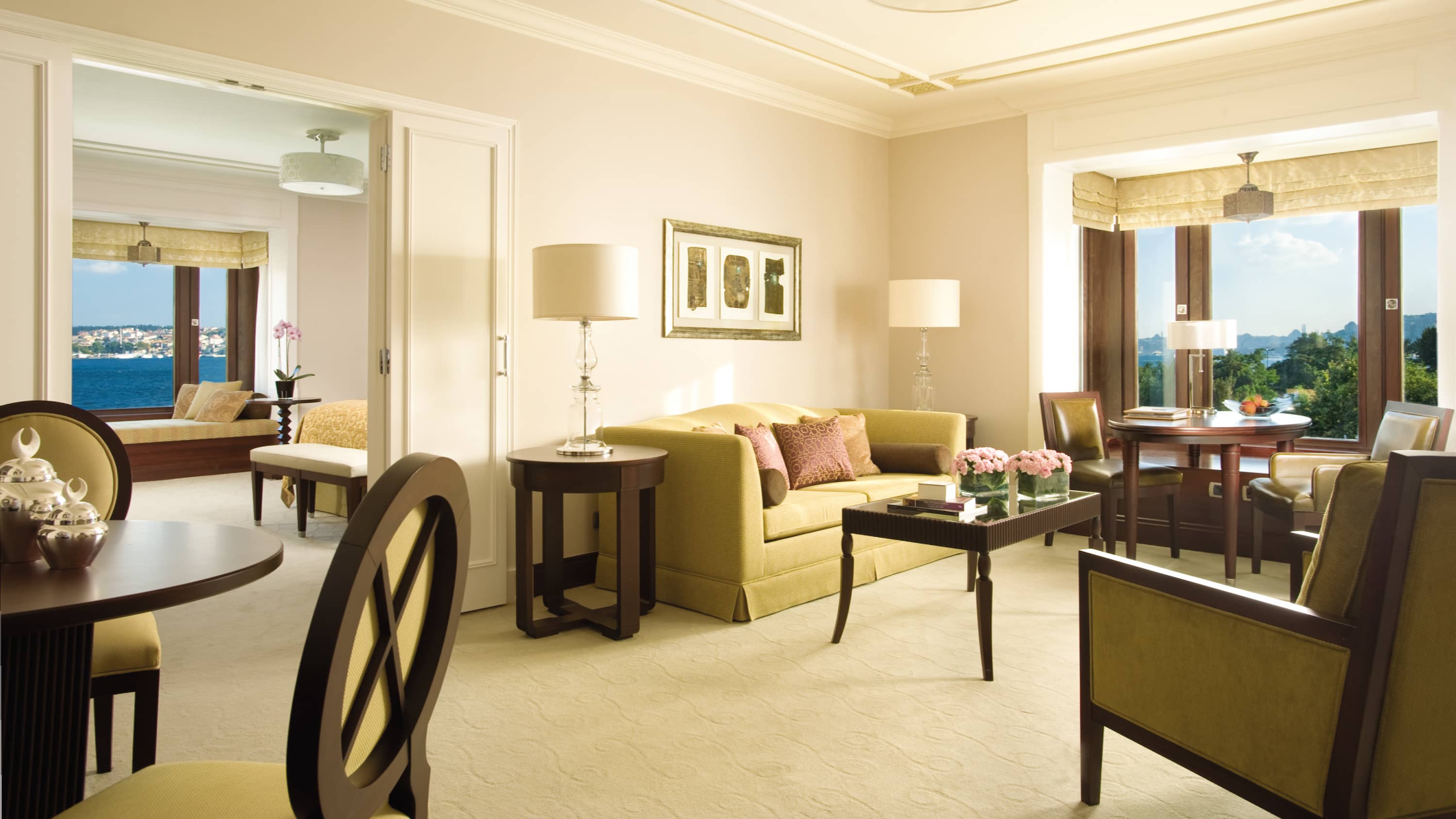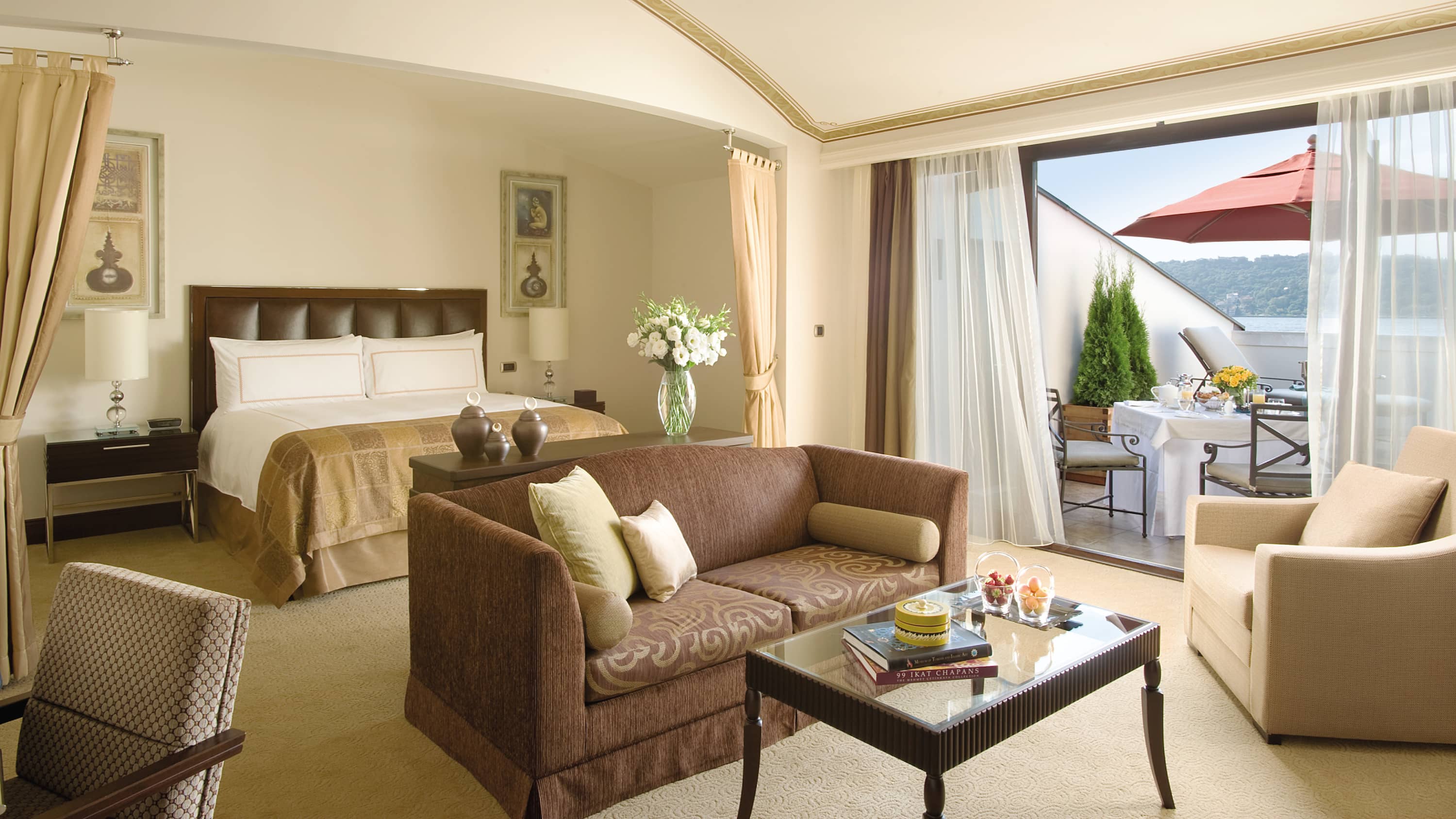 Palace Roof Suite
King bed, One rollaway or one crib

65 m2 (699 sq.ft.)

3 adults, or 2 adults and 1 child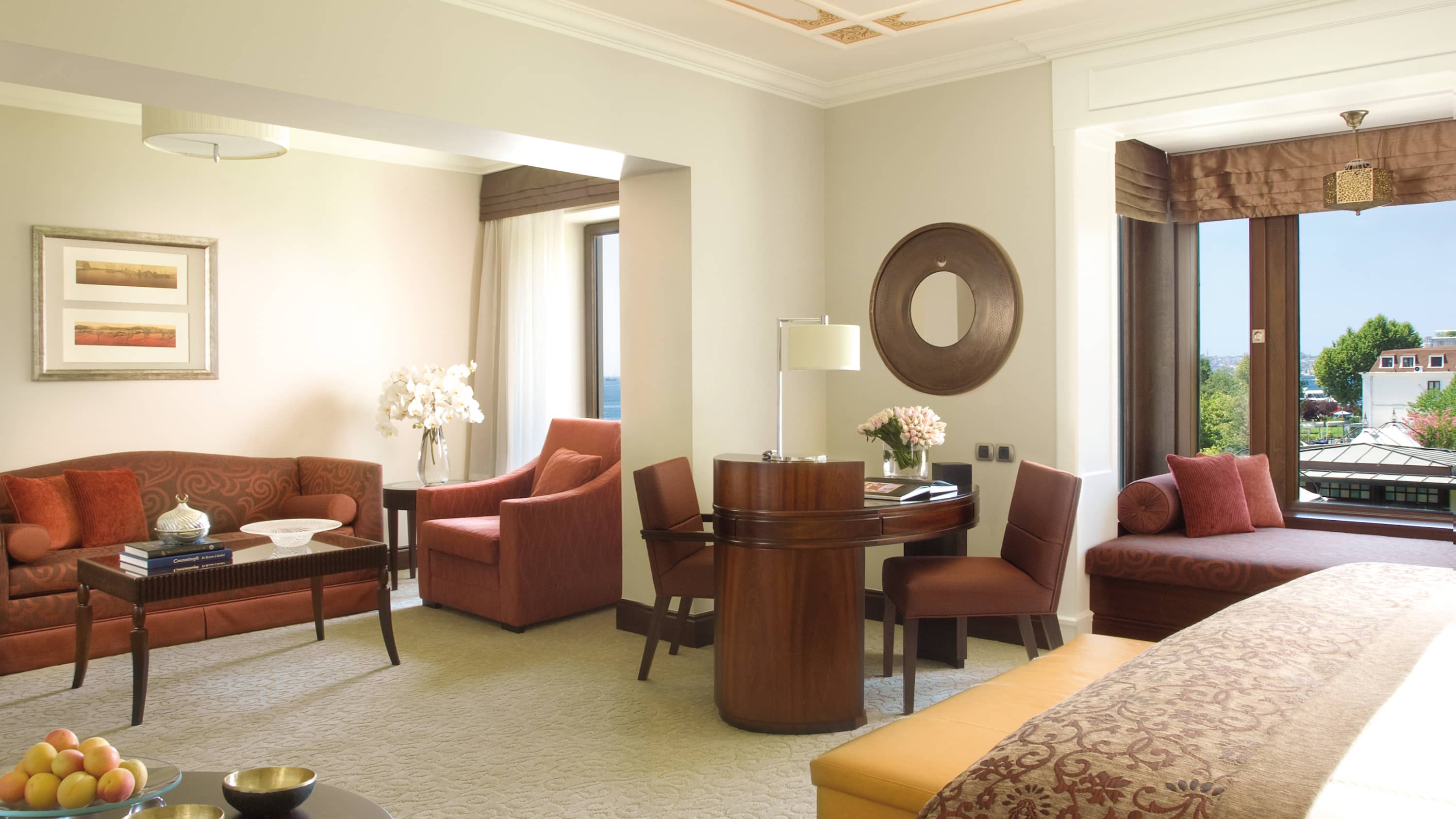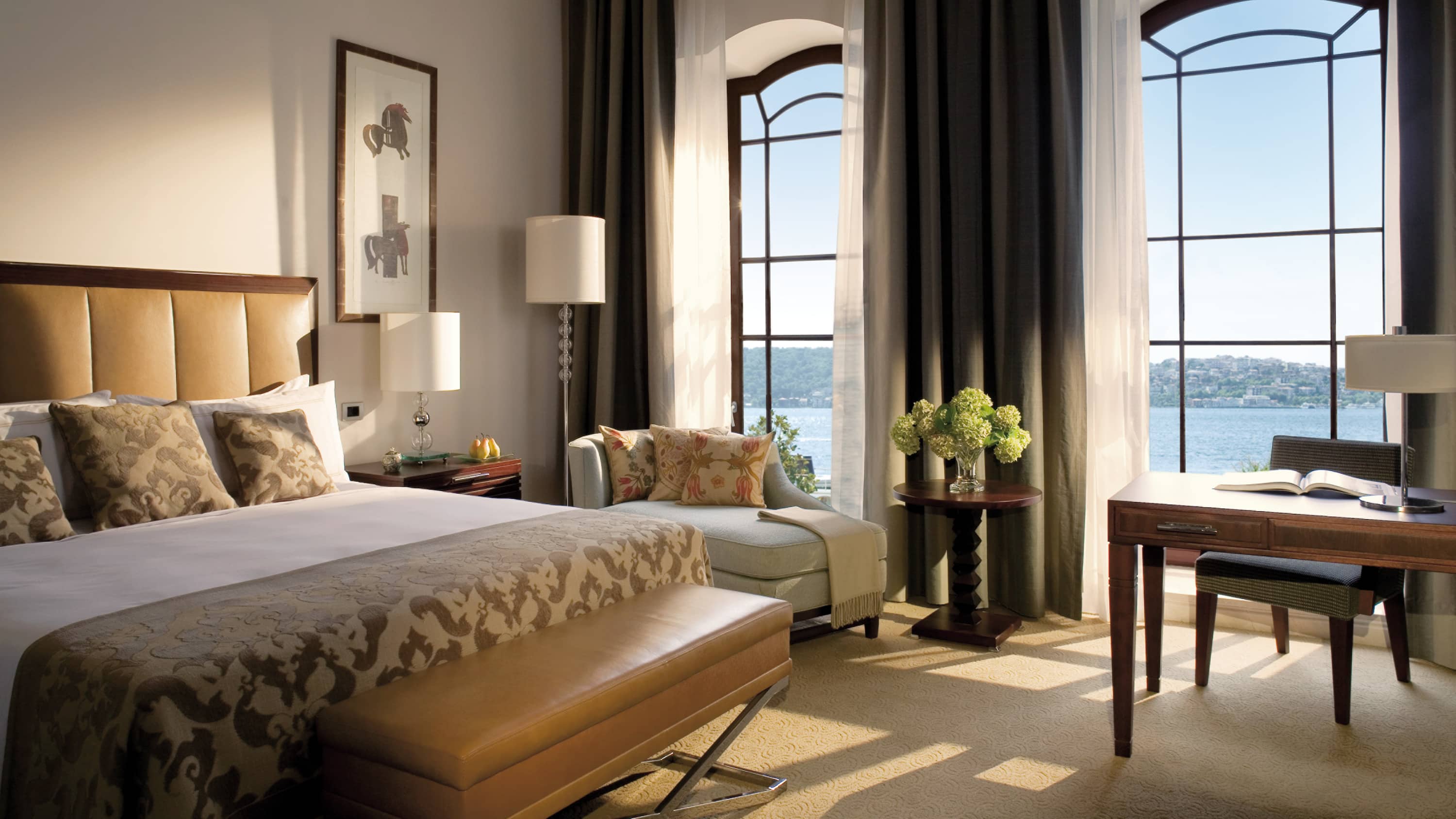 Palace Bosphorus Room
King bed, One rollaway or one crib

45 to 55 m2 (484 to 592 sq.ft.)

3 adults, or 2 adults and 1 child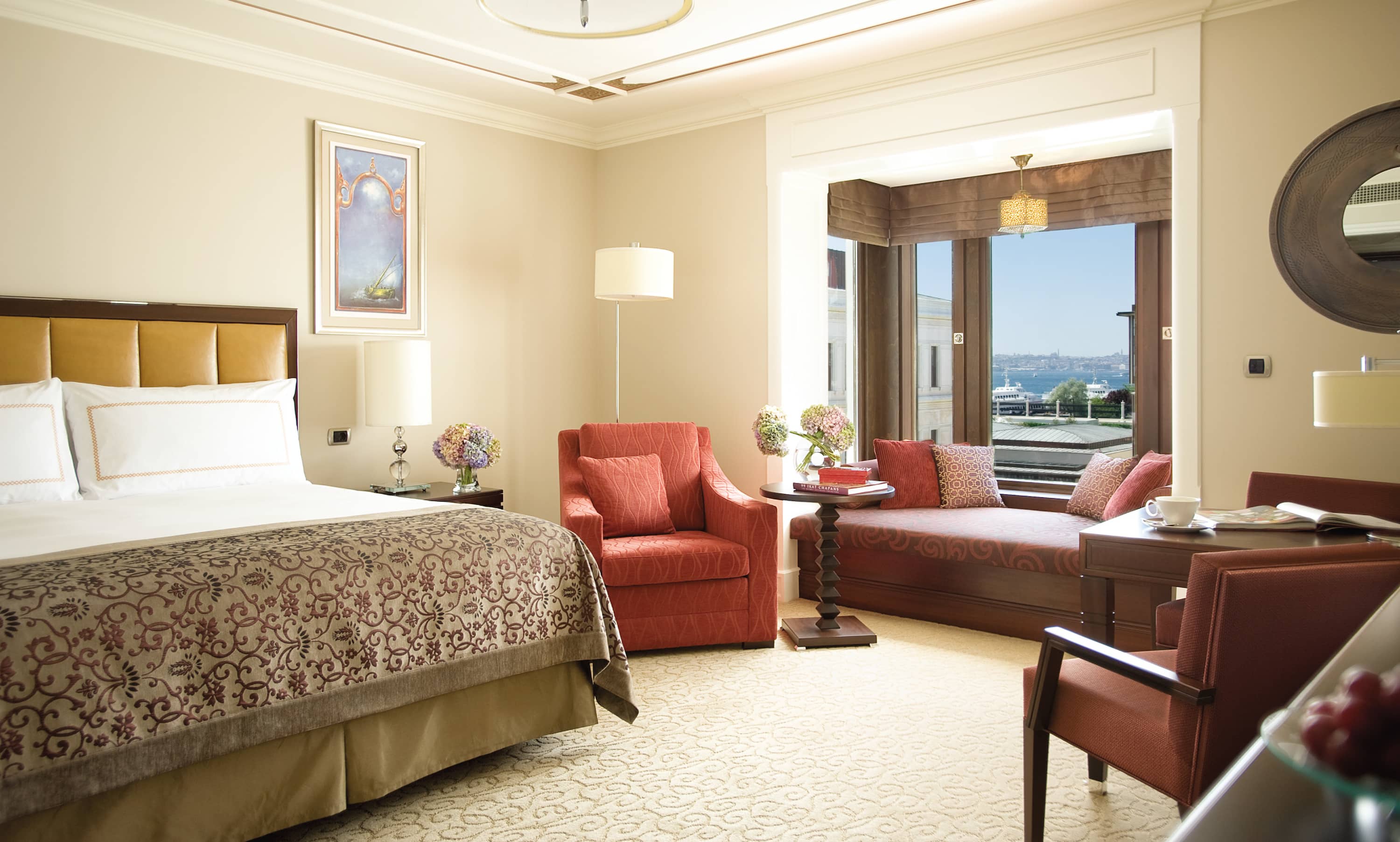 Deluxe Room
King or two twin beds, One rollaway or one crib

45 m2 (484 sq.ft.)

3 adults, or 2 adults and 1 child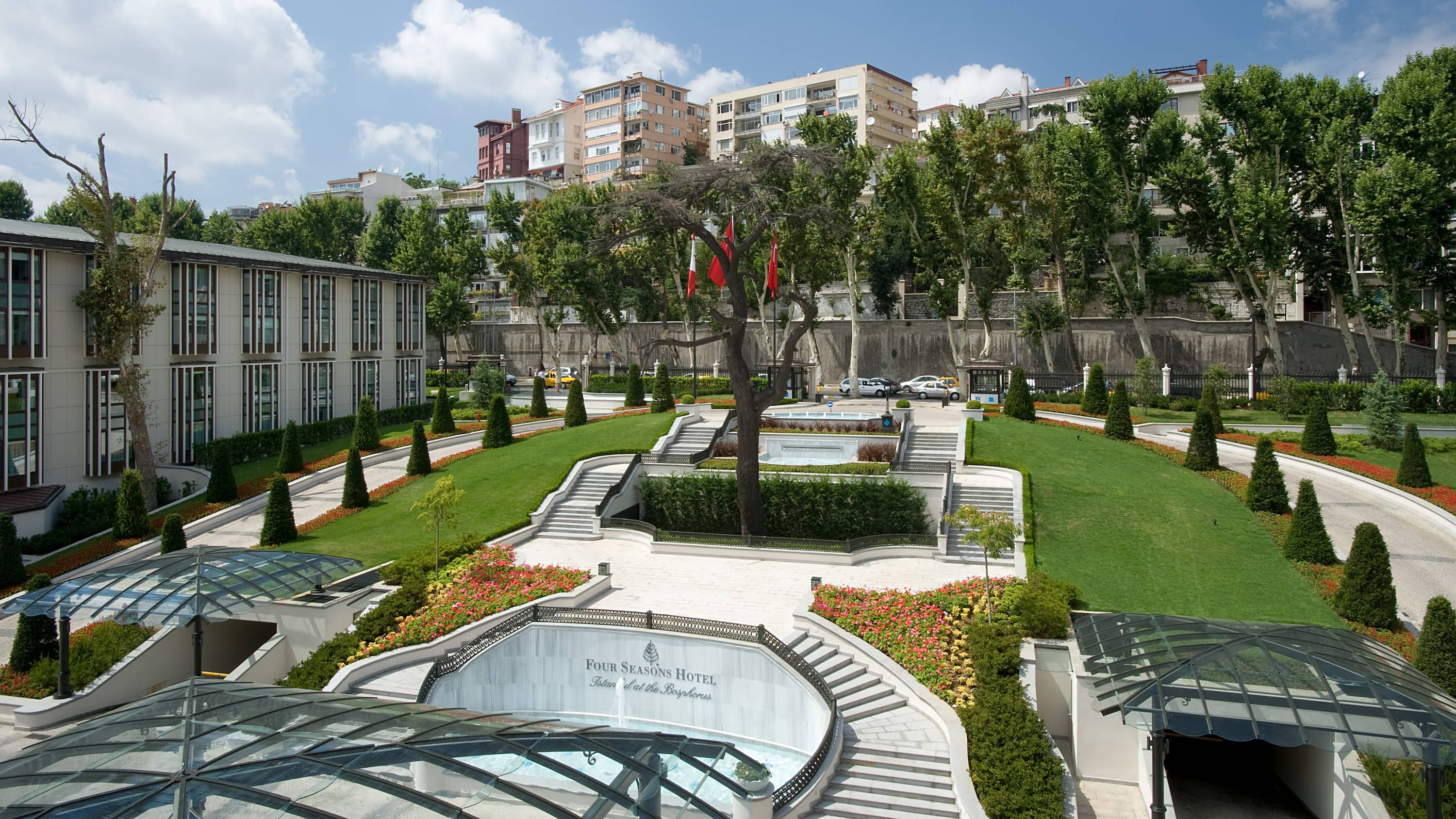 Palace Courtyard Room
King or two twin beds, One rollaway or one crib

45 to 50 m2 (484 to 538 sq.ft.)

3 adults, or 2 adults and 1 child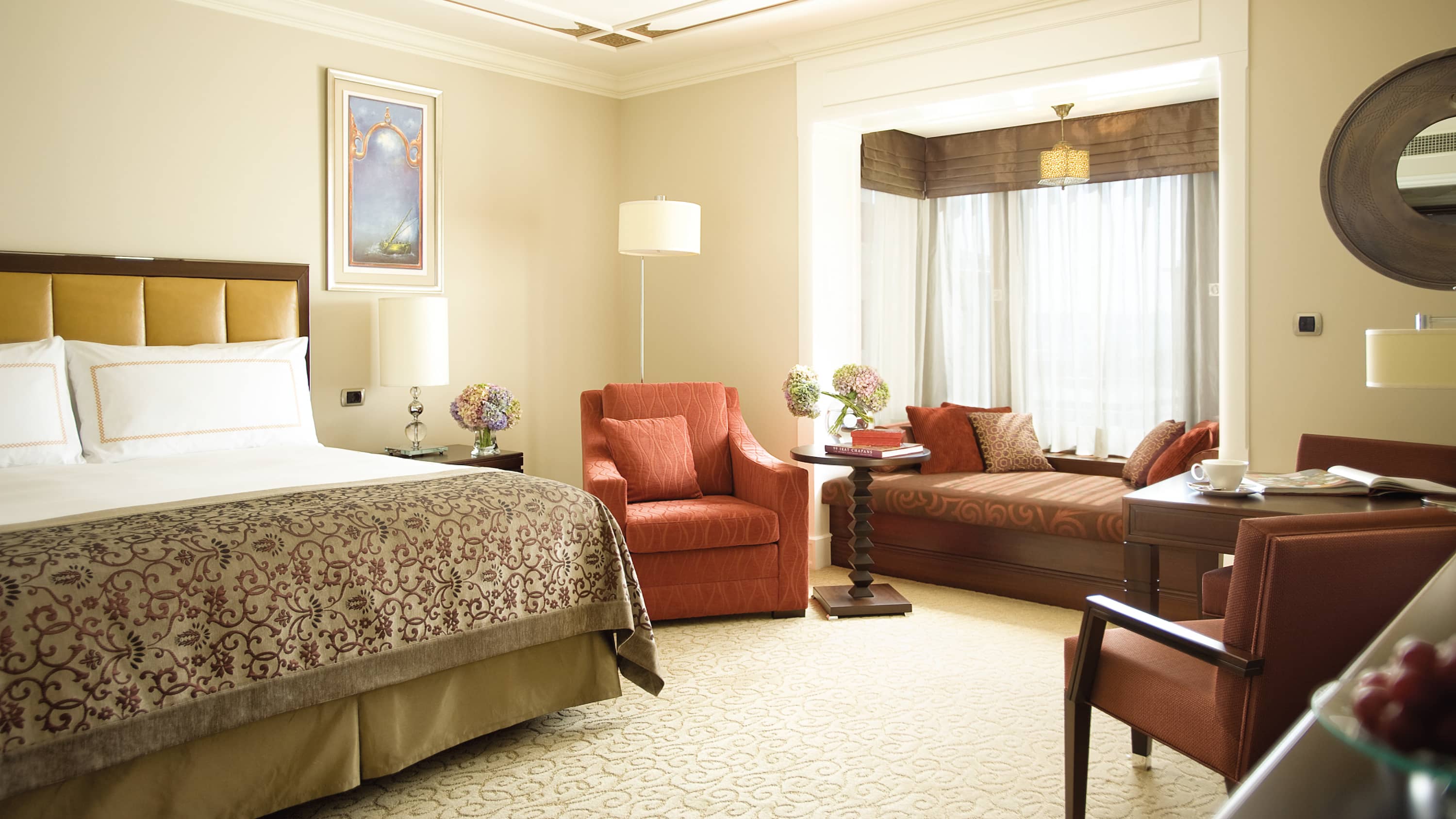 Courtyard Room
King or two twin beds, One rollaway or one crib

45 m2 (484 sq.ft.)

3 adults, or 2 adults and 1 child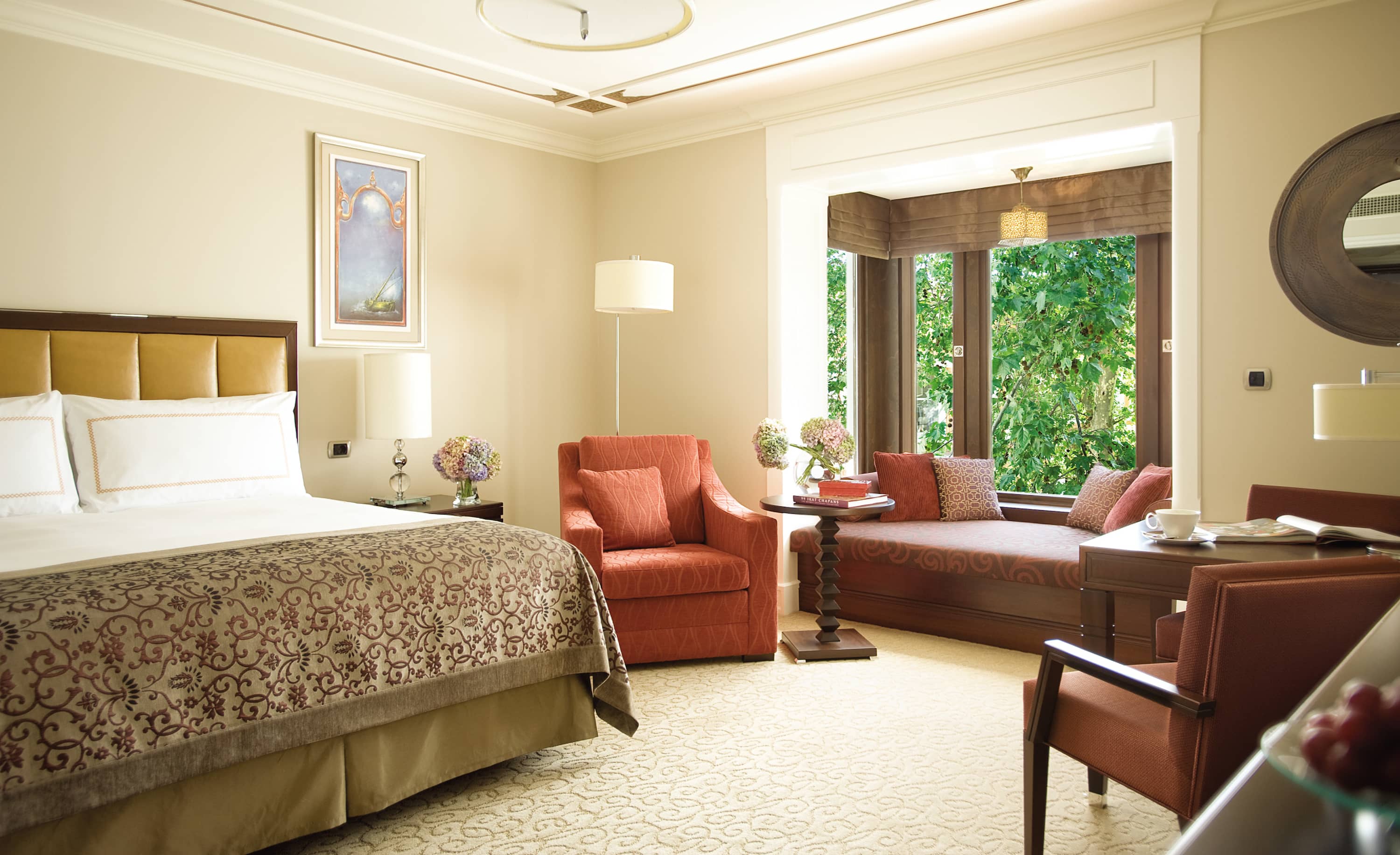 Superior Room
King or two twin beds, One rollaway or one crib

45 m2 (484 sq.ft.)

3 adults, or 2 adults and 1 child
Interior Design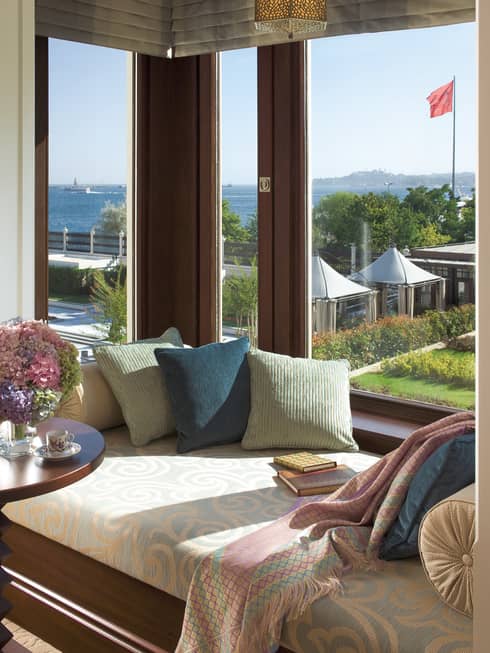 Let the Light In
Warm Turkish sunlight flows in through our rooms and suites' large windows, giving way to impressive waterfront, garden and city views.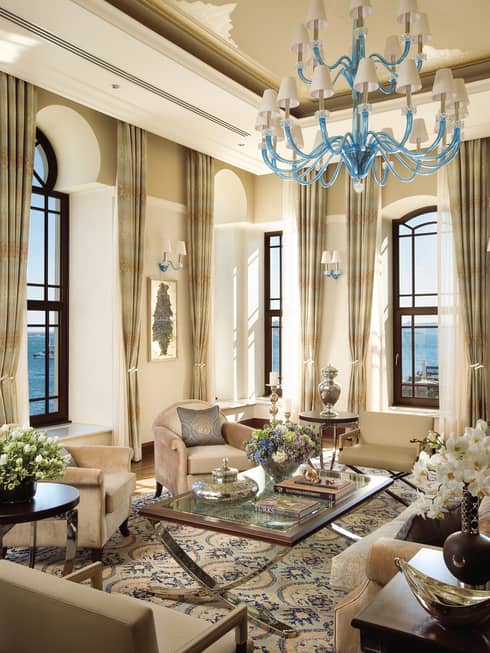 Old Meets New
Clean-lined aesthetics update centuries-old Ottoman opulence. Hand-painted ceilings and mahogany furniture add a sense of history while tastefully restrained palettes imbue the airy rooms with contemporary chic.
Policies
Check-in Time: 3:00 PM Check-out Time: 12:00 PM

If you expect to arrive early in the day and would like immediate access to your room, we recommend booking the room for the prior night to guarantee immediate access. Similarly, for late departures, reserving an additional night will guarantee access to your guest room until you depart. If you choose not to reserve, we will be glad to store your bags and make our fitness facilities available for you to freshen up.

At Four Seasons, a guaranteed reservation assures you of a room even if you check in late (after 6:00 pm). If a room is not available, we will arrange your accommodation in another hotel at our expense, and provide transportation to and from Four Seasons as reasonable. All reservations made through the website must be guaranteed by a major credit card. Certain arrival dates and rates may require a deposit. Please check for full deposit requirements at time of booking. Local laws require that the Hotel charge guests in the country's local currency, the Turkish lira (TRY), even though rates are quoted and confirmed in euros. Deposits are charged in TRY, and when guests check out, their bill will also be in TRY. Currency exchange rates are based on those announced by the Central Bank of Turkey on the guest's arrival date.

Cancellation and deposit requirements may differ by arrival date, room type and offer booked. For full details, please check at time of booking.

American Express, Visa, MasterCard, Diners Club, JCB, China UnionPay
Please note that smoking is prohibited in indoor areas of the Hotel under Turkish law. Smoking is also prohibited in guest rooms and suites in accordance with Hotel policies. If smoke is detected in a guest room, a cleaning fee of EUR 300 will be charged to the guest's final invoice. If smoke is detected in a suite, a cleaning fee of EUR 600 will be charged to the guest's final invoice.