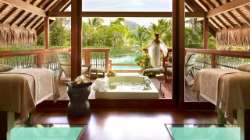 Earn spa credit worth EUR 150
Consider changing your overwater "point of view" and earn a EUR 150 spa credit. Enquire with our Resort reservation consultants and learn more about our Over-Water Bungalow incentive offer, in exchange for your flexibility in moving rooms during your stay with us!

Fitness
Our passionate personal trainer delivers effective, fun and interesting workouts to all levels. Programs are customized, and guests are given information or resources on nutrition, weight control and lifestyle issues. All classes are available for individuals, couples or groups.
Personal Training
Personal training is the best way to achieve your goal, and your trainer will be at your side to adapt your training according to your level and goals. All classes can take place around the lagoon, by the beach or pool, oceanside, or in your overwater bungalow suite or beachfront villa estate.
Body Sculpt
This class (beginner to intermediate) combines cardiovascular and strength training exercises to help tone muscle. Body Sculpt uses dumbbells, bars and bodyweights.
HIIT Challenge
With High-Intensity Interval Training, you give all out 100% effort through quick, intense burst exercise. Designed to improve strength loose fat and build lean muscle.
Tabata
This High-Intensity Interval Training (HIIT) consists of eight rounds of ultra-high-intensity exercises in 20-seconds-on, 10-seconds-off intervals. It only takes four minutes to complete a Tabata circuit, but those four minutes may well push your body to its absolute limit. Tabata burns calories and provides a full-body anaerobic and aerobic workout, and builds lean muscle for hours after the workout.
Yoga
Through the traditional practise of yoga, you will experience awareness about your own true movements, which are inspired by the rhythm of your breath.
YOGA STRETCH
This non-traditional yoga practice is ideal for those wanting to deal with stress. Work through slow, gentle strengthening and stretching yoga postures to balance your energy for the entire day.
ASHTANGA YOGA *
Intended to create balance in the body through developing both strength and flexibility, Ashtanga Yoga synchronizes breath and movement through a set series of asana. This combination creates an intense heat, rids body of toxins and removes impurities of the body and the mind.
STAND-UP PADDLEBOARD YOGA *
Yoga on a stand-up paddleboard will reinvigorate and push you to become an even better yogi than you thought possible – all while enjoying the natural splendor of floating on Bora Bora's famous turquoise lagoon.
ACU–YOGA *
In this yoga session, you'll be introduced to a combination of postures with acupressure points. Guests are shown points to press during the static poses or postures of observation. The goal is to optimize the relief of tension and stress, through simple gestures. These techniques can later be used in your personal practice, on a daily basis.
Note: For any yoga session, please book 48 hours in advance. Prices and treatments are subject to change without notice.