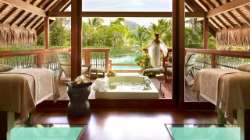 Earn spa credit worth EUR 150
Consider changing your overwater "point of view" and earn a EUR 150 spa credit. Enquire with our Resort reservation consultants and learn more about our Over-Water Bungalow incentive offer, in exchange for your flexibility in moving rooms during your stay with us!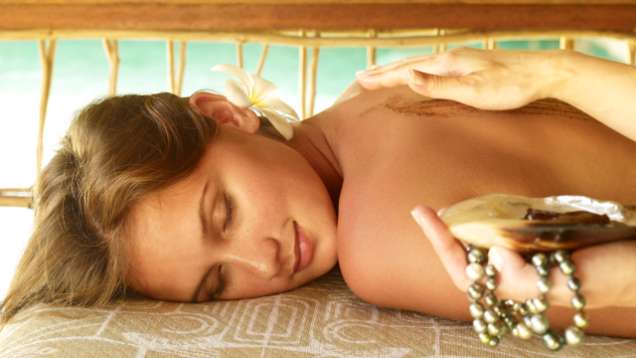 POLYNESIAN MASSAGE
Inspired by the culture of French Polynesia, this massage draws on rich therapeutic traditions and uses the graceful, dance-like style of taurumi to achieve a state of deep physical and emotional relaxation. Choose from a selection of local oils to relax, heal or uplift the spirit.
RELAXING SIGNATURE MASSAGE
Bespoke massage combining strokes and kneading at a slow and continuous rhythm. Ideal for jet lag and stress relief.
BALINESE MASSAGE
Balinese massage, a skill passed down through generations, features long strokes, gentle skin rolling, stretching and thumb pressure. It aims to relieve tension, improve blood flow, ease stress and calm the mind.
MOTHER-TO-BE MASSAGE
A complementary choice for prenatal care, our Mother-to-Be Massage is a healthy way to reduce stress during the pregnancy and promote overall wellness. This special massage relieves many of the normal discomforts experienced during pregnancy, such as backaches, stiff neck, leg cramps and headaches. Only available to those between months three and eight of pregnancy.
OFAI STONE MASSAGE
Melt away tensions and stiffness and stimulate energy points as warm volcanic stones are used in combination with a full body massage to provide penetrating heat to the body. This treatment induces a state of profound relaxation, allowing you to take a truly relaxing internal journey.
Specialized Massage Therapy
POST-WORKOUT MASSAGE
This massage with strong pressure is ideal for all types of athletes from beginners to experts, as it uses techniques to reduce deep muscle tension, chronic pain or limited mobility due to athletic training and repetitive movements. Perfect for anyone who wants to be more flexible, reduce muscle tension and cramps during workouts.
REFLEXOLOGY MASSAGE
This therapy is based on techniques that will allow you to experience a sense of total relaxation and healing. By applying pressure to specific meridian points of the feet that are connected to the primary organs of the body, reflexology allows blocked energy to once again flow freely, releasing accumulated tension.
THAI MASSAGE
This yoga-like massage focuses on deep stretches, energy lines and rhythmic compressions.
SHIATSU
A Japanese modality that balances your chi (life energy). Pressure is applied to stimulate the 12 meridians, or energy paths throughout the body.
REIKI HEALING SESSION *
REIKI HEALING SESSION
In Japanese "Rei" means universal consciousness and "Ki" is energy. Reiki is a hands-on healing technique, which enables emotional and physical wellbeing, while you are relaxed. The energy flow is stimulated to bring your body and mind harmony.
* Available by appointment 24 hours in advance.
Note: Prices and treatments are subject to change without notice.