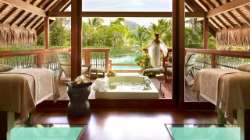 Earn spa credit worth EUR 150
Consider changing your overwater "point of view" and earn a EUR 150 spa credit. Enquire with our Resort reservation consultants and learn more about our Over-Water Bungalow incentive offer, in exchange for your flexibility in moving rooms during your stay with us!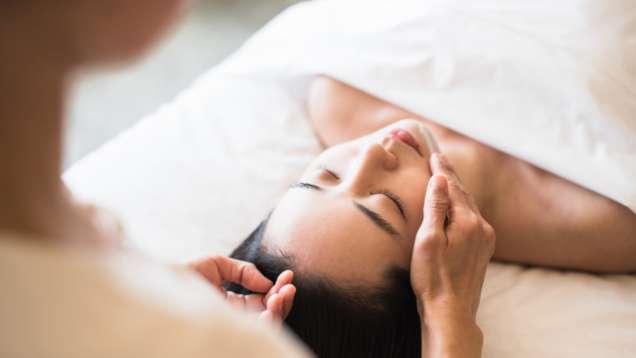 Tata Harper
Discover your ideal skin care with Tata Harper Introduction Facials. 100 percent natural, each is designed to deliver results to achieve your most beautiful and glowing skin.
Hydrating Therapy Facial
The ultimate drink of moisture for your skin! Healing for sensitive skin, this treatment will restore your internal moisture cushion with avocado peptides and beetroot extract, leaving your skin thoroughly quenched for a full 24 hours. Biocompatible Hyaluronic Acid is deeply penetrated in to the skin to promote healthy collagen production.
Intensive Results Facial
Intensify your results with a customized mask treatment to focus on hydration, firming or purifying. We will completely treat the skin with concentrated formulas of high-performing natural ingredients and specific techniques tailored to your concerns. Enjoy a nourishing and therapeutic face massage, leaving your skin with a healthy inner radiance.
Gentleman's Facial
Designed specifically for men, this facial is tailored to address irritation from shaving and environmental aggressors. After deep-pore cleansing, the skin is toned and conditioned to reveal a clean, fresh face. This is the perfect treatment to restore balance and hydration.
The Ultimate Anti-Aging Facial
This complete treatment, firms and lifts the skin using advanced muscle-relaxing neuropeptides to instantly reduce wrinkles, reinforce collagen and restore the skin's youthful cushion. Through therapeutic massage and high performing active ingredients, wrinkles are smoothed and reduced. By successfully stimulating the tissues of the skin, you will experience an instant uplift to the skin. This treatment also includes a luxurious Ageless Hand Treatment and Eye Therapy for youthful eyes.
Carita – Treatment Philosophy
A CARITA treatment is first and foremost time for yourself, where personalisation deepens the product's action even further. Let your decisions be guided by a transformative treatment with or without CARITA's beauty machine, which transcends the boundaries of topical cosmetics and reveals your most beautiful side.
A treatment tailormade to suit every guest, according to the desired benefits and target area. A flexible range designed hand-in-hand with CARITA's Beauty Experts for results which exceed your expectations. These time-based treatments better suit the rhythm of your day.
Lagoon Hydration
Lagoon water takes on exceptional minerality from the volcanic rocks of Polynesia over the course of thousands of years. Magnified by this infusion ritual, it travels deep into the skin to replenish the skin's reserves. Filled with new energy, the skin awakens, features soften and the face is left radiant.
Cotton of Softness
This unique treatment tailors CARITA's effectiveness to the most sensitive skin, combining a transformed complexion with perfect integrity.
Trio of Gold Global Anti-Aging
An exceptional treatment using the TRIO OF GOLD complex to perform precise filigree work on each area of the face, revealing your complexion and revitalising your features.
NEOMORPHOSIS ANTI-WRINKLE FACIAL
An ultra-concentrated treatment with a multi-dimensional approach, using three complementary actions: resurfacing, plumping and regenerating. Tackle all texture irregularities like wrinkles, pores and imperfections in the complexion to transform the skin from the inside out.
EYE TREATMENTS
A targeted eye contour treatment which smooths wrinkles, removes puffiness and opens up the face, visibly erasing signs of aging and fatigue.
Note: Prices and treatments are subject to change without notice.