Feel right at home in our Michelin-starred Italian restaurant, featuring two open kitchens, sofa-style seating and contemporary cuisine served in a casual and inviting atmosphere.
HOURS
Lunch

11:30 am – 2:00 pm

Dinner

5:30 pm – 10:00 pm
Signature Dishes
Sancho pepper, lettuce root, balsamic misticanza

Taggiasca olive paste, caper powder, sourdough sauce

Mascarpone cheese, lady fingers and espresso

Yuzu ganache, cedro lemon ice cream, milk crumble
The Team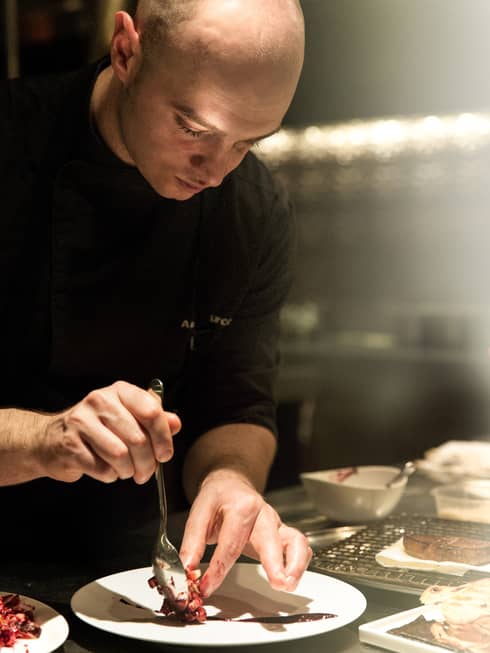 Aniello Turco
Chef de Cuisine of Mio
A native of Naples, Italy, Chef Aniello always knew he wanted to create culinary masterpieces. When he was just 13 years old, he was already learning his way around the kitchen of his parents' restaurant, getting a taste for the passion that would define his life. At 24, he embarked on a journey of working in Michelin-starred restaurants in Tuscany, Paris and London before setting his sights on the two Michelin-starred Noma in Copenhagen. For Aniello, a focus on natural fermentation was an eye-opening experience that unleashed a whole new world of culinary possibilities.
"Nature will be the protagonist of avant-garde cuisine."
Events
Absolute Mio

Take dining to a new level with Mio's thrilling absolute menu, featuring cutting-edge contemporary cuisine crafted by Michelin Star Chef Aniello Turco. Drawing on childhood influences from his parents' Neapolitan restaurant, an adventurous globe-spanning career, and innovative techniques such as fermentation, Chef Turco brings his exploratory flair to each dish. While the freshest of ingredients enliven every appetizer, pizza and risotto, it's Chef Turco's creativity that helps deliver the magic of Mio.