Feeling formal or more casual? Or perhaps a private room is in order? How you experience our extensive menu of award-winning, upscale Cantonese cuisine is entirely up to you in this dramatic and versatile restaurant.
HOURS
Lunch

11:30 am – 2:30 pm

Dinner

5:30 pm – 10:30 pm
Signature Dishes
Beijing-Style, Yellow-Mustard Cabbage Rolls

With spicy sea whelk

Steamed Vegetable Dumplings

With scallops and mushrooms

With abalone and black truffle sauce
Our Awards
Winner of 2016 Wine & Beverage Service Excellence Competition, Global Gourmet
The Best Hotel Restaurants of the 2016 Best Restaurant Awards, GL.Pictorial
Best Chinese Hotel Dining – Winner of Time Out Food awards 2016, Time Out Beijing
Best Taste 2017 – Chinese Cuisine Restaurant of the Year, Sina.com
China's Best Infinite Restaurant 2017 – Star Restaurants, Infinite
2018 Black Pearl Restaurant Guide – Two-Diamond, Dianping Meituan
Tatler 2018 Beijing's Best Restaurants
2018 Chinese Hotel Dining – Time Out Beijing
The Team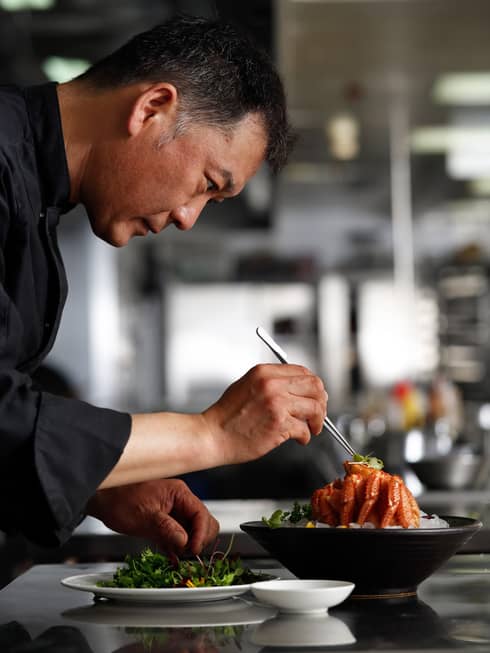 Li Qiang
Chef de Cuisine of Cai Yi Xuan
Born and raised in Tianjin, Chef Li Qiang has more than 20 years of experience in the various cooking styles found all over China, including Cantonese, Beijing, Tianjin and Teochew cuisine. He loves to highlight exquisite seasonal flavours and works with Chef Tony Lu to add a personal touch to each menu.
"I make creations based on heritage and traditions."
Events
A True Taste of Canton

Taste the true flavors of the south with a menu of modern twists on traditional Cantonese dishes. Savour live-cooked dim sum, authentic Cantonese-style seafood, desserts and specialties, including honey-marinated cod and fresh abalone.

From October 10

Indulge in a Crab Feast

Heaped plates of steaming hairy crabs are a traditional autumn favourite in China. Chef Li Qiang and his team will be featuring this sumptuous delicacy in all of its Cantonese-style glory across a range of tantalizing lunch and dinner dishes – from steamed hairy crab, crabmeat and lion's head meatball to bald-butter soup rice – all enhanced by Cai Yi Xuan's stylish grandeur.