Set beneath our towering butterfly wall, here you'll feel as though you've stumbled upon an old-fashioned Beijing courtyard, where the scent of fragrant tea leaves is subtle yet soothing, and tradition runs deep.
HOURS
Every Day

10:00 am – 7:00 pm
Signature Drink
An exclusive, first-harvest Oolong from the Bull Pit of Wuyi Mountain in Fujian
Every cup of tea has a story to tell.

Rita Feng

Tea Specialist
The Team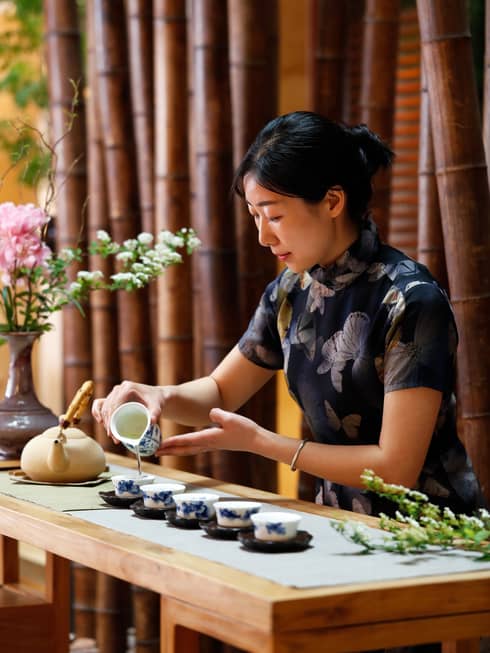 Rita Feng
Tea Specialist
Rita Feng has always had an interest in tea culture, having studied it in university before becoming a certified tea master in 2007. At Tea Garden, the focus is on the traditional Chinese gong-fustyle of tea, a ritualized and intimate act between guests and tea specialists that originated in Fujian and eastern Guandong provinces. As a tea master, Rita knows the origin of tea, tea production, processing and the characteristics of individual varieties, as well as the different techniques for bringing out the flavour of each.
"There is no limit to the art of tea."