Favourites
Unwind in one of our five spa treatment suites, surrounded by the island's exotic flora and fauna, creating a natural sense of tranquillity to soothe both body and mind.

Each of our treatments features products from this sustainably developed organic skincare line, designed to harness the potency of Africa's botanical heritage.
Spa Services
Wellness Services
Find your centre during a private or group class at our yoga pavilion or on the beach overlooking the Indian Ocean. We offer a range of weekly classes to choose from – for both beginners and experienced yogis.
Bring each day full circle with our complimentary morning and evening connection ceremonies that awaken intention and inspire gratitude.
Attune your senses to the rhythms, flavours, fragrance and textures of Desroches.
The Team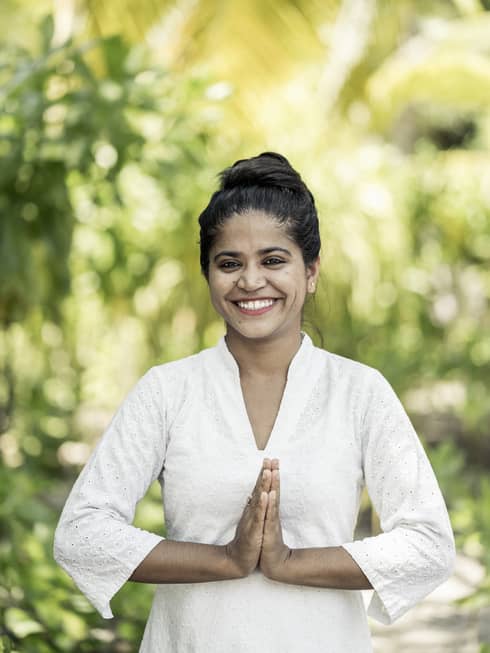 Ganga Sadhuka
Yoga Instructor
From a young age, Ganga has felt drawn to nature and sought a way to connect to it. At age 12, she began meditating daily, a practice that naturally developed her enthusiasm for yoga. As the first yoga instructor at the Resort's yoga pavilion and Spa facility, Ganga is excited about what she can bring to the Resort. Trained in the discipline of Reiki, she draws from her experience as a healer to complement her approach to yoga and offer another level to her practices.
"If you don't take a little risk, you will never grow."
Where else can you start your day doing yoga on an airstrip? Join yoga instructor, Ganga, on our island's runway, where you can stretch to the sunrise and start your morning with a different perspective.