My Four Seasons
Where the Parrots are Black & the Snakes are Purple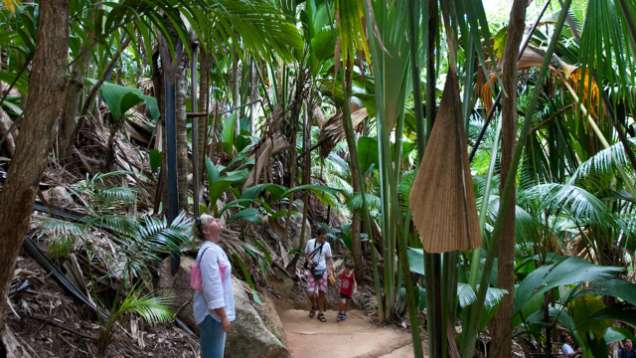 Travellers are quick to recognise the beauty of the Seychelles from the moment they set foot on the Resort grounds. However, few know that a 15-minute flight from the island can act as a sort of improvisational time machine, taking them 650 million years back in history. To give you a perspective, the earth's continents had yet to divide. The ocean floor was nearly formed and sponges were one of the only existing species.

The destination? The Vallée de Mai Nature Reserve, where virgin palm forests remain intact and almost completely untouched thanks to their UNSECO World Heritage Site designation. For those not familiar, UNESCO stands for the United Nations Educational, Scientific and Cultural Organization, an entity dedicated to the "building of peace" and (among a number of other objectives) promoting sustainable development. The UNESCO designates certain places as World Heritage sites based on a number of criteria, including those that "contain superlative natural phenomena or areas of exceptional natural beauty and aesthetic importance," a designation Vallée de Mai received in 1983.

What will you find in Vallée de Mai? The answer, in short, is abundance. Plant life includes the Coco de Mer, know for posessing the largest (and perhaps the most uniquely-shaped) seeds of any plant in the world. Notable animals include the black parrot, found nowhere else on earth, as well as the blue pigeon, bronze gecko and the caecilian, a type of snake resembling a worm and found in an array of beguiling colors, including purple. All in all, the Vallée de Mai can be thought of as a natural museum – a living record of the forest's development and home to untold numbers of endemic and endangered species .

If you visit Four Seasons Resort Seychelles, make sure you take a guided tour through one of the world's most beautiful and exquisite nature preserves. Your time off the property will be well worth it.