Whether you're longing for a relaxing escape to pristine beaches or for a thrilling adventure in a wild savannah, the unforgettable landscapes of Africa offer these experiences and more. The Four Seasons Safari and Islands Collection puts this captivating region within easy reach.
Choose to fly commercially, or make every second count with the speed and ease of a private jet – a collaboration between the Four Seasons Safari and Islands Collection and ExecuJet provides the ultimate combination of speed, convenience, flexibility and safety. You can visit two destinations, you can map out an itinerary that takes you to all five: Customize your own journey of discovery and let Four Seasons take care of all the details.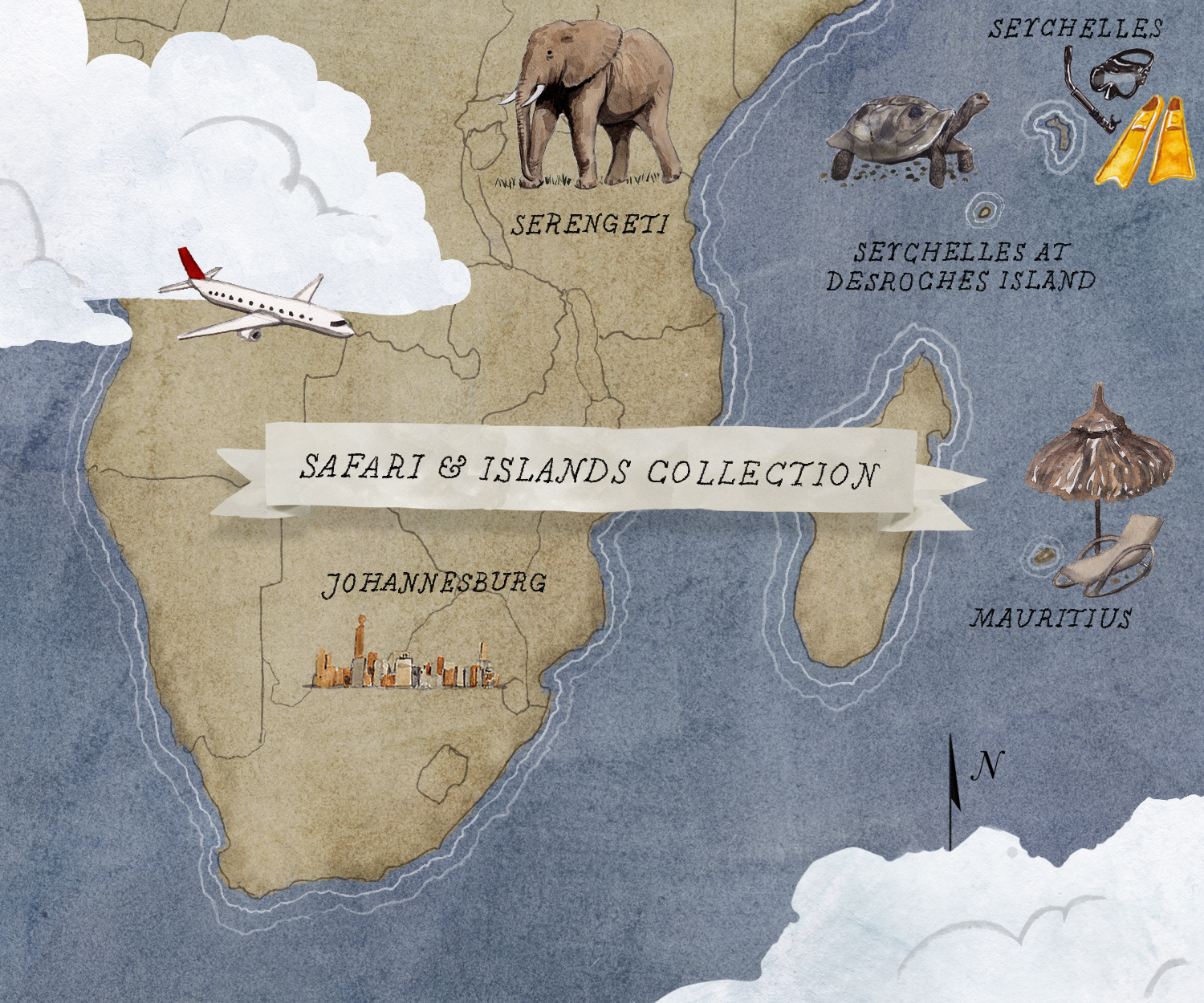 Hillside hideaway in Johannesburg
4.5 HOURS TO SERENGETI / 4 HOURS TO MAURITIUS / 5 HOURS TO SEYCHELLES AT DESROCHES ISLAND / 5 HOURS TO SEYCHELLES
The discovery of gold in the 19th century rapidly attracted people to Johannesburg. Today, the City of Gold is South Africa's largest city, offering open-air markets, art districts, trendy restaurants and cultural attractions like the Museum of African Design. Tucked away in the rocky hills that run through the city is Four Seasons Hotel The Westcliff Johannesburg – a chic hillside oasis. The best way to explore the city? With a local guide from Past Experiences, who can customize your tour based on your interests, from archaeology and photography to shopping or food. Afterwards, return to the Hotel and find serenity in the spa with a treatment inspired by the city's golden history: The Gold of Mapungubwe experience detoxifies and moisturizes the skin using a baobab seed cake mixed with salt from a pan used by the Mapungubwe people a millennium ago.
Indian Ocean playground in Mauritius
4 HOURS TO JOHANNESBURG / 5 HOURS TO SERENGETI / 2.5 HOURS TO SEYCHELLES AT DESROCHES ISLAND / 2.5 HOURS TO SEYCHELLES
The mangroves and coral reefs surrounding Mauritius hide an underwater world teeming with marine life – parrotfish, butterflyfish, angelfish, moray eels, urchins and more. Learn about these creatures and the Reef Restoration Project with a WiseOceans marine educator at Four Seasons Resort Mauritius at Anahita, then head out on a guided snorkel to see them for yourself. More experienced divers can go deeper, discovering shipwrecks and caves outside the coral reef. On land, spend an afternoon lounging in the sun alongside your villa's private plunge pool, or climb into a 1960s-style cabrio buggy-type vintage vehicle for a drive along the coast. End your day with a romantic candlelit dinner on the beach.
Tap or click a photo to launch slideshow
Private paradise on Desroches Island
5 HOURS TO JOHANNESBURG / 3.5 HOURS TO SERENGETI / 2.5 HOURS TO MAURITIUS / 35 MINUTES TO SEYCHELLES
You'll feel like a castaway who has struck gold when you arrive on Desroches Island. All you'll hear is the gentle crash of waves, the sweet song of local birds and tropical leaves rustling in the soft ocean breeze. The ideal spot for adventure on – or under – the water, Four Seasons Resort Seychelles at Desroches Island offers easy access to some of the world's best diving and fishing sites. Explore the crystal blue waters on a kayaking, stand-up paddleboard or surfing excursion, or go beneath the Indian Ocean waves to discover a dramatic underwater maze of caves and reef walls, inhabited by a colourful collection of marine life. End your day with a nightcap under a blanket of stars – after dark, the Resort's private runway transforms into an awe-inspiring viewing area, just for you.
Savannah sanctuary in Serengeti
4.5 HOURS TO JOHANNESBURG / 3.5 HOURS TO SEYCHELLES AT DESROCHES ISLAND / 3.5 HOURS TO SEYCHELLES / 5 HOURS TO MAURITIUS
"I never knew of a morning in Africa when I woke up that I was not happy," author Ernest Hemingway once wrote. The legendary writer found inspiration for several of his works, including Green Hills of Africa, during a visit to Serengeti in 1933. Discover the magic of the savannah for yourself at Four Seasons Safari Lodge Serengeti: Lift off aboard a hot-air balloon to watch the plains come to life as the sun crests the horizon. Join a Maasai guide on a short nature hike to the Lodge's kopje, where captivating views help clear your mind for a meditation session with the Lodge's yogi. Spend a quiet day lounging by the infinity-edge pool, watching elephants gather at the nearby watering hole. Or help Discovery Centre researchers better understand the region's wildlife. Did you know that every cheetah has its own distinctive pattern of spots? If you capture a photo of any of these big cats in the wild, the Lodge will help you send it to the Serengeti Cheetah Project. This national program uses guests' images to identify individual cheetahs and record their movements around the Serengeti.
Island adventure in Seychelles
5 HOURS TO JOHANNESBURG / 3.5 HOURS TO SERENGETI / 2.5 HOURS TO MAURITIUS / 35 MINUTES TO SEYCHELLES AT DESROCHES ISLAND
You're on island time when you arrive at Four Seasons Resort Seychelles, where gentle breezes and sun-kissed beaches remind you to take it slow. Splash in the waters of Petite Anse bay, or catch a wave with an expert Tropicsurf instructor. To truly unwind, start the day with one of the Resort's resident yogis for a private yoga and meditation class, followed by a serene breakfast in the secluded Foumba – meaning "old house" in Creole, the intimate open-air venue is tucked into the ruins of an ancient Seychellois house, hidden by lush tropical greenery. And you can arrange to leave a little piece of your heart behind when you go – help prepare a heart-shaped metal frame to support the growth of rescued coral fragments in an underwater nursery.
YOUR JOURNEY BEGINS HERE
What will your Africa itinerary include?