Rediscover London
Rediscover the beauty of the capital and make it a staycation to remember with daily breakfast,...
Weddings
Wedding Planning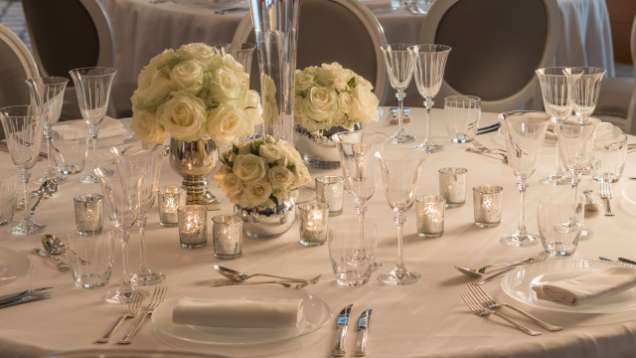 From invitations to wedding cakes, floral creations to memorable farewells, trust Four Seasons Hotel at Park Lane to simplify your planning and make your wedding day in London everything you have ever imagined.
Wedding Specialist
A Four Seasons London at Park Lane on-site expert will work with you or your wedding consultant to reserve your dates, plan the schedule of events, coordinate all food and beverage details, from menu design to linens, and assist with other aspects of your London wedding experience at the Hotel.
Wedding services
Flowers
Our in-house floral designer will be pleased to work with you to create the perfect arrangements for your event.


Cakes
Our talented in-house Pastry Chef can create a beautiful customised wedding cake in the flavour of your preference. If you have a photograph of a special cake, we will be happy to prepare that cake for you.


Menu creations
Four Seasons prides itself on culinary creativity and offers an extensive array of menus from which to choose. Or, we can completely custom-design a menu for you, along with recommended beverages. Whatever the wedding event, from an intimate family brunch to a sophisticated cocktail buffet to a grand reception banquet, our team will assist you or your bridal consultant from planning to completion.


Linens and tabletop décor
Four Seasons offers superior linens, cutlery, china and glassware for all banquet tables. Special colours, patterns or designs may be obtained for a nominal rental fee.


Entertainment
Our catering team is pleased to recommend entertainment services to enhance your wedding celebration, such as string quartets, harpists, pianists and bands.


Photography
We would be happy to recommend photographers to capture your special day.


Transportation
At your request, Four Seasons can arrange local transportation for you or your visiting guests. We can also organise transport to and from the ceremony. Underground parking and valet parking are available at the Hotel for an applicable fee.


Salon, spa and beauty services
A wedding can be a stressful time. While you are guests of Four Seasons, you are invited to make use of our on-site fitness facilities, with our compliments.


You may also wish to book a restful massage or rejuvenating spa treatment in our spa. Select beauty services can be arranged in your room. To arrange for hair and make-up on your wedding day, please speak to our Wedding Specialist.


Licence for ceremony
With civil marriage services no longer restricted to Registry Offices, Four Seasons Hotel London is licensed to host civil marriage ceremonies, under the terms of the Marriage Act 1994. Please contact our Wedding Specialist for details.