My Four Seasons
View From The Top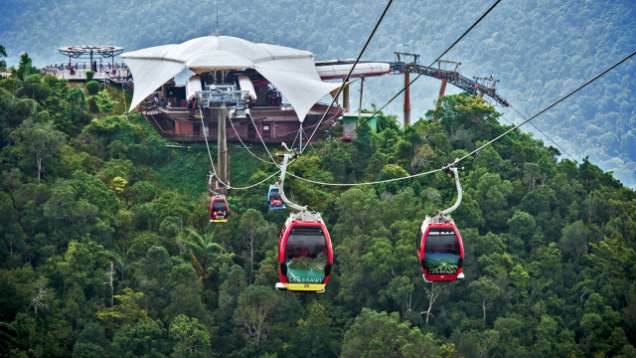 There's no denying that a sanctuary of surprises lies beyond Langkawi's sand-strewn shoreline: mangroves and mountains, rainforests and rivers, wildlife and waterfalls, cliffs and caves… But did you know the island is also home to the world's steepest cable car – or that it offers the best views of the archipelago in all its wondrous glory?
The spectacular Langkawi Cable Car transports visitors 1,700 metres from the Oriental Village Base Station (at the foothill of the Machinchang mountain range) to dramatic 360-degree viewing platforms located 650- and 708-metres above sea level at the top of Gunung (Mount) Machinchang
From here, the Langkawi Geopark stretches out as far as the eye can see in all its green and turquoise glory. Humbling bird's-eye views extend from a dense 'carpet' of rainforest to deep-forested valleys, the Telaga Tujuh (Seven Wells) Waterfall to the glittering western expanse of the Andaman Sea, dotted with sea stacks and islets, and with vistas across to Southern Thailand. And it's all flanked in majestic glory by the unique chasms, overhangs, pinnacles and caves of the UNESCO Geopark's much-studied Machinchang range, formed around 550 million years ago.
Carrying 6 people per gondola, travelling at 5-metres per second, and climbing 42 degrees at its steepest gradient, it's not so much the ride up that will leave you holding onto your seat as the dramatic, stomach-clutching descent… Don't forget to book a session of Prithvi Yoga with our wonderful yogi, Justin, to help 'ground' your physical self and restore mental steadiness when you get back down to earth!
Other Four Seasons Stories