Langkawi is an archipelago of 99 magical islets in the Andaman Sea – its name derived from the combination of the Malay word helang, which means "eagle" (a familiar resident here), and the Sanskrit word kawi, for the reddish brown colour of these majestic birds. This is an idyllic hideaway with dramatic mountainscapes, verdant rain forests, emerald lakes, black and white beaches, mysterious mangroves, lush padi fields, and spectacular jewel-tone sunsets. Here, even more reasons to choose Langkawi for your next escape.
Discover a UNESCO World Geopark
In June 2007, the archipelago of Langkawi was declared Southeast Asia's first UNESCO World Geopark. Showcasing 550 million years of geological history, including some of the world's oldest and most intriguing naturally formed gems, Langkawi was shaped by plate tectonics, volcanic activity, ocean submersion and erosion. Today, many different rock formations have evolved into exciting natural habitats. Areas as diverse as mangrove forests and rain forests, sandstone mountains and tidal flats, caves and reefs, coexist in abundance and harmony.
Embark on a mangrove safari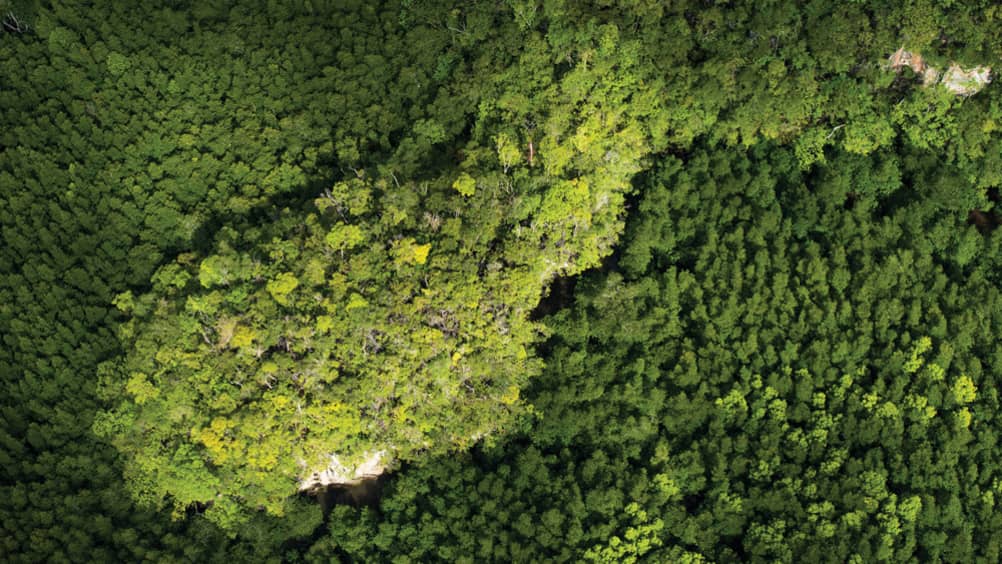 Photography courtesy Four Seasons Hotels and Resorts
Explore Langkawi's spectacular wetlands, limestone caves and secluded coves by boat, and discover a unique natural oasis teeming with wildlife. A magical ecosystem of unexpected surprises, these forests of the sea are veritable mazes waiting to be discovered. (Residents include walking fish, fiddler crabs, eagles and monitor lizards.) Immerse yourself in the wonders of Langkawi's rich ecology with a naturalist-led boat safari direct from the Resort's beach, and learn how the mangroves contribute to the essential cycle of life of the region. Amid this nursery for reef creatures and marine birds, you might even glimpse elusive otters, dancing dolphins and sleeping bats.
Sail among picturesque islands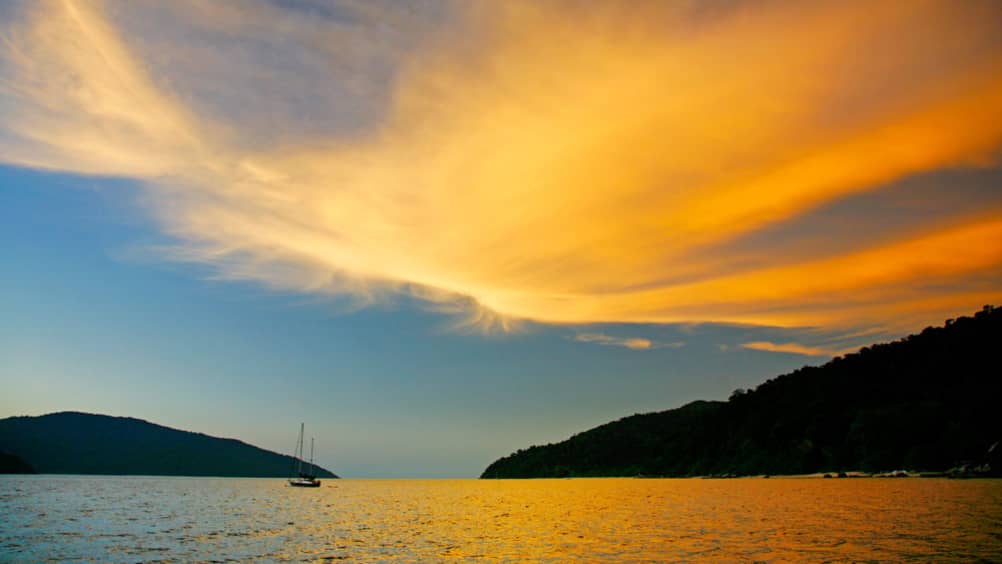 Photography Zach Holmes / Alamy Stock Photo
Langkawi's 99 islets are surrounded by placid waters that offer perfect sailing conditions for a sunset cruise or a day of island-hopping. In recent years, Langkawi has become a recognized boating destination, with four marinas playing host to events such as the annual Royal Langkawi International Regatta. Charter a private yacht, moor on a quiet bay for a picnic and swim in the tranquil lagoon before witnessing a magnificent sunset on glittering waters.
Encounter myths and legends
Nestled in the verdant valley of Pulau Dayang Bunting lies Tasik Dayang Bunting (Lake of the Pregnant Maiden). This tranquil freshwater lake was formed when a huge limestone cave collapsed. The name was bestowed because the marble and granite bedrock formed a figure resembling a pregnant woman lying on her back. Locals believe that the lake, famed for the legend of celestial princess Mambang Sari, possesses mystical powers.
Go on a cultural tour
Pedal around on a guided bicycle excursion that meanders through Langkawi's rural villages, and enjoy the bucolic beauty of rustic wooden houses amid far-reaching vistas of rubber plantations, lush padi fields and mud-soaked water buffaloes. Watch the local fishermen return with their day's catch at the village of Kuala Teriang, then break for afternoon tea at a roadside stand. Milk tea, a local tradition served with delicious deep-fried banana fritters, is sold only in the afternoon.
Explore the rain forest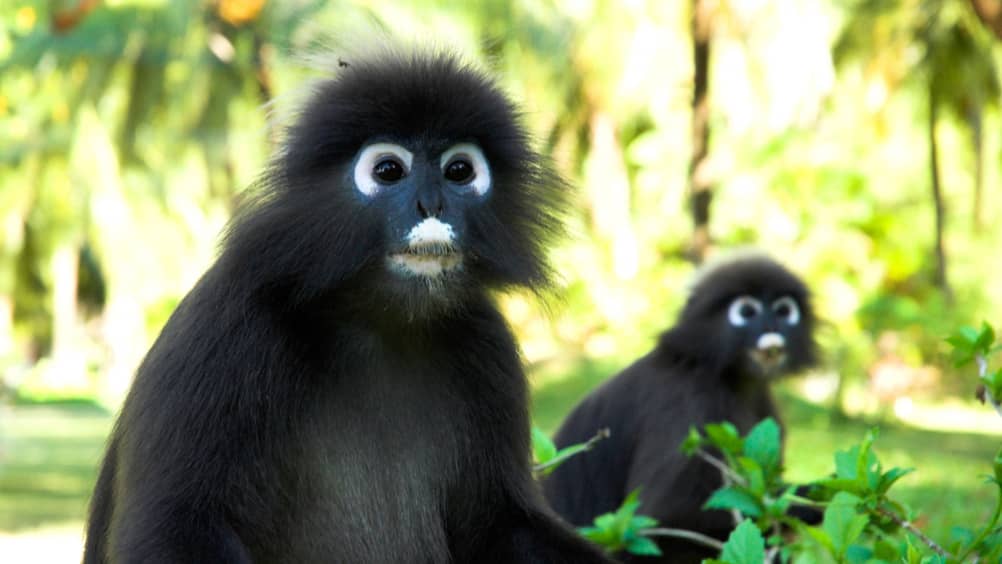 Photography Gary Goudzwaard / Alamy Stock Photo
At 1 million years old, Langkawi's rain forest is one of the oldest jungles in the world. Trek the ancient tropical landscape on foot, or reach remote locations by bike, to discover native exotic species, including unique lime plants and sintuk (a climbing plant), rare varieties of butterflies and birds, and even giant flying squirrels. One must-see spot is Telaga Tujuh (Seven Wells) Waterfall, a beautiful location and, according to local legend, the home of mountain fairies. Shower under the cool, clear waters that cascade from the seven waterfalls, bathe in the interconnected natural pools, or simply lounge on the wide rocks and enjoy a romantic picnic beneath the tropical foliage.
Sample Malaysian cuisine
Langkawi is a paradise for gastronomes, offering a wide variety of wholesome, flavourful cuisines from Malay-Indo and Indian to Chinese and Thai. For a taste of authentic and reasonably priced Pan-Asian food, visit Langkawi's colourful night markets, open every night at different locations around the island.
In addition, two of the best local eateries to visit are Wonderland and Orkid Ria. Established since 1993, Wonderland has a welcoming atmosphere, with an open kitchen that invites diners to view the chefs at work. Located in Kuah, it serves seafood delights such as butter lobster, juicy deep-fried squid and char-grilled tiger prawns. Head to Pantai Cenang to find Orkid Ria, another excellent seafood restaurant set in a beautiful orchid garden. The menu includes flavourful scallop sambal and Thai-style deep-fried snapper.
Ride a cable car to Mat Cincang Peak
The Mat Cincang mountain range is one of the oldest rock formations in Southeast Asia. To experience it fully, take an exhilarating 2.2-kilometre (1.4-mile) aerial ride in a cable car over the forest canopy and up the mountain escarpment to the summit at 708 metres (2,323 feet). Observe the 550 million-year-old sandstone outcrops, waterfalls and verdant mountain flora below while marvelling at the breathtaking 360-degree view of Langkawi's peaks, coastline and surrounding islands.
Spot birds on Gunung Raya
At 881 metres (2,890 feet), Gunung Raya is Langkawi's highest peak. Reach the top via a winding 13-kilometre (8-mile) road or an exciting jungle trek. From the peak, you'll see the islands of southern Thailand, Mat Cincang Mountain and the Kuah harbour. Amid the foothills of Gunung Raya, find forest birds in their natural habitat. Listen for the unique cackling noise of the great hornbill returning to nest. Bird-watching in Langkawi, home to more than 190 species of birds, is best between the months of October and April, when the winter migrants visit.
See underwater wonders at the Pulau Payar Marine Park
Pulau Payar, one of the most beautiful marine parks in the region, is surrounded by well-protected coral reefs that are home to numerous marine species. Snorkel or dive to discover the fascinating underwater life of the Andaman Sea. In a variety of diving conditions, from flat terrain to more challenging slopes, visibility can reach up to 15 metres (49 feet). Those preferring terra firma can step into the underwater observation chamber to view marine life. The largest of three other jade green islands in the marine park—Pulau Lembu, Pulau Segantang and Pulau Kaca—Pulau Payar lies 30 kilometres (19 miles) southeast of Langkawi and is just under an hour's boat ride away.
Four Seasons Resort Langkawi Malaysia