Langkawi has all the attributes of a tropical island idyll: fine beaches, labyrinthine mangroves and a hilly interior clad in ancient rainforest. But as Southeast Asia's first UNESCO World Geopark, there's more to discover here than meets the eye. To help you experience all that Langkawi has to offer, we asked Indran Santhirasekaran, Front Office Manager at Four Seasons Resort Langkawi, to share his top travel tips.
Rainforest immersion
Take in the sights and sounds of Langkawi's awe-inspiring rainforest on an exploration of Pulau Langgun. Cruise to the uninhabited islet from the Resort's beach, past craggy peaks sheltering rare plants and eagles. Ascend through the vibrant rainforest, where thousands of plants and animals inhabit a lush wilderness punctuated by dramatic limestone formations. Arrive at the secluded sanctuary of Tasik Langgun, a large freshwater lake, after exploring the intriguing Gua Cerita (Cave of Legends) – the mythical home of a giant phoenix, a captive princess and a deadly giantess.
Paddle the mangroves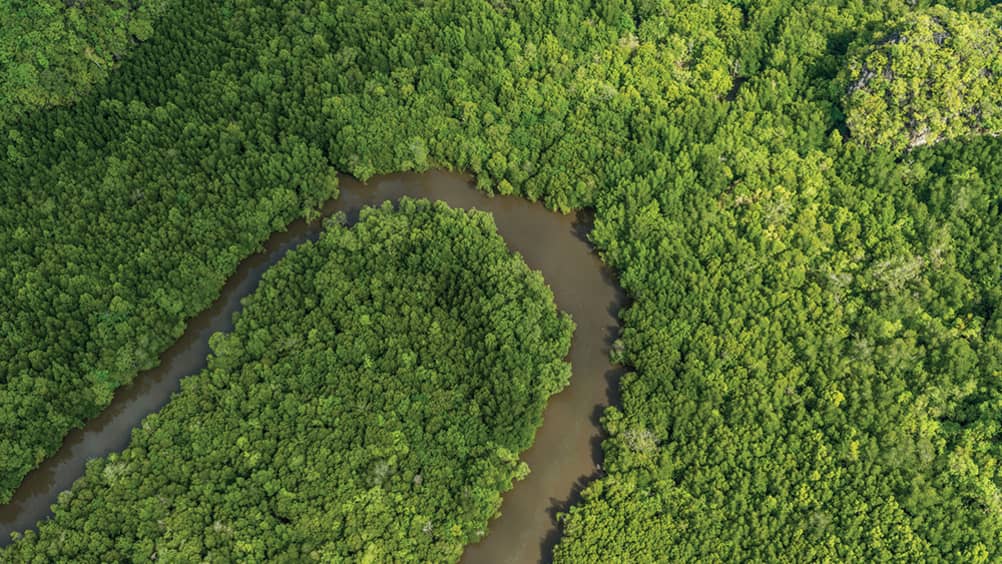 Photography courtesy Four Seasons Hotels and Resorts
For those who'd rather be on the water than in it, a kayaking trip through the mangroves of the Kilim Karst Geoforest Park in the company of the Resort's Naturalist is a thrilling treat. Traverse the 550-million-year-old maze of limestone cliffs and tangled mangroves that house majestic eagles and kites, mischievous macaques monkeys, fish that walk (mudskippers), colourful fiddler crabs, otters and sleeping bats. This excursion combines adventure with a fascinating insight into one of the world's most vibrant ecosystems.
Rock climbing and archery
Revel in the wonders of the surrounding UNESCO Geopark without ever leaving the Resort. At the natural rock-climbing site, just a short distance from the Resort's Royal Villa, you can scale an impressive limestone outcrop, up to 12 metres (40 feet) high, with four different levels to suit varying abilities. Before abseiling back to terra firma, take in the captivating view of the Andaman Sea. And with mini rock-climbing activities for children as young as five, everyone can enjoy the thrill of intrepid jungle exploration.
Near the rock-climbing site under a canopy of luscious greenery is the Resort's professional archery range, the place to wind down after a morning of strenuous climbing. Guided by a certified archery instructor, beginners as young as 12 can practise holding, aiming and shooting with a recurve longbow and a full-size target board.
Reconnect at the Geo Spa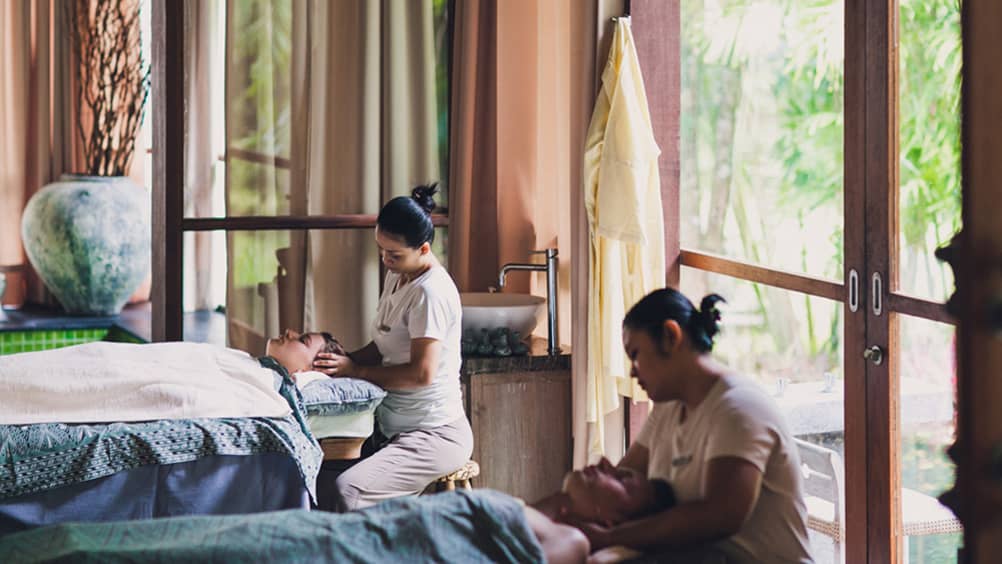 Photography courtesy Four Seasons Hotels and Resorts
The Geo Spa's signature ritual, Raja & Ratu (King and Queen), transcends traditional couples pampering to foster a level of connection rarely experienced in a spa environment. Performed by the Spa's highly specialized therapists, the treatment uses local oils and draws on the ancient energies of the surrounding botanical environment to help inner energies flow with blissful ease. A must-try for anyone keen to embark on an intimate, emotional journey with their partner, the ritual was named one of the Top 5 Valentine's Treatments in the Harper's Bazaar Malaysia Spa Awards 2013 and the Most Romantic Spa Treatment for Couples by The Malaysian Women's Weekly in June 2013.
A lesson in spice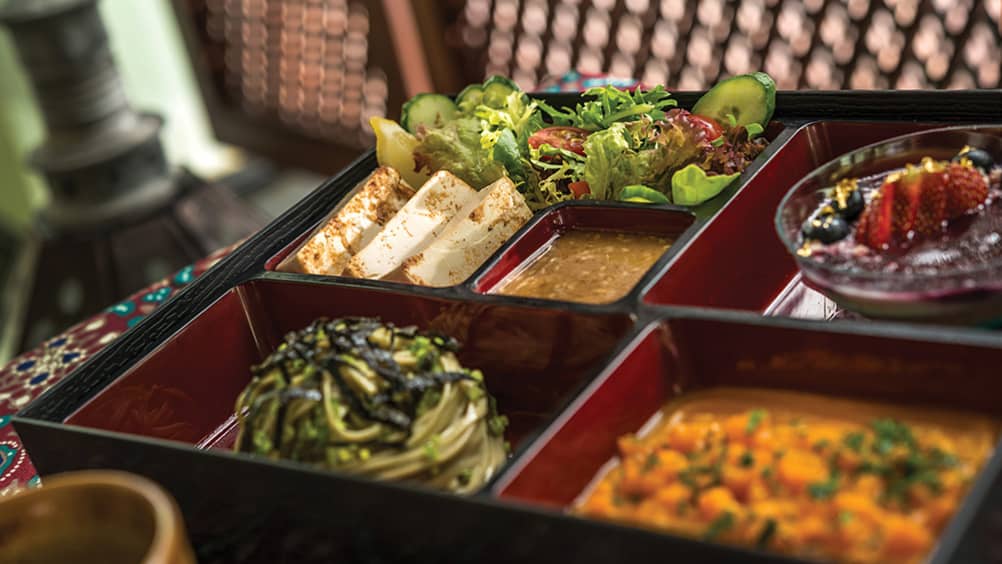 Photography courtesy Four Seasons Hotels and Resorts
Discover the spice sensations of Malaysian cuisine with a two-hour cooking class comprising a series of step-by-step demonstrations by the Resort's expert local chefs. Learn about local ingredients including serai (lemongrass) and pandan (screwpine) leaves, kunyit (turmeric) and bunga kantan (wild ginger buds). Then prepare a traditional three-course lunch, featuring classic Malay creations such as Chicken Satay with spicy peanut sauce, Gulai prawns and Sago pudding. Available for private group booking, these classes offer a chance to learn directly from some of the country's most accomplished culinarians in Serai restaurant.
Mountain high
For a spectacular view of the island, take the Langkawi Cable Car 708 metres (2,323 feet) up Mount Machincang. For the first time, visitors can observe at close range the unique geological formations of the Machincang range, which was formed around 500 million years ago. On a clear day, vistas extend as far as southern Thailand, and the views at sunset are unforgettable.
Rocky roads
The Langkawi Geopark trails take you past dramatic coastlines, hidden coves and towering peaks, where sedimentary structures, fossils and landforms preserve records of the past. Marvel at Langkawi's geological history etched in the landscapes of sea cliffs and caves dating back hundreds of millions of years. The Kilim Trail tour begins aboard a vessel that cruises toward Kilim Karst Geoforest Park, and continues through several points of interest such as Pulau Anak Tikus, Tasik Langgun, Teluk China Mati and Gua Kelawar.
Explore and dine
Embark on a day of exploration with a trip to the southern islands of the Langkawi archipelago. Arrive by boat and learn about the legend of the Lake of the Pregnant Maiden before cooling off in the surrounding water. A sunset cruise on a private yacht, a much-favoured activity, is also an ideal way to see the islands of Langkawi. Experience the romance of the sea as you set sail amid Langkawi's secluded islands. Celebrate with a gourmet picnic basket, and toast the setting sun with Champagne.
Fresh air and waterfalls
Located less than 20 minutes by car from the Resort in the neighbourhood of Lubuk Semilang, the Agro Technology Park was developed in 1990 as an ecotourism destination for Langkawi visitors. With a panoramic view of forested Gunung Raya, visitors can tour the park's tropical fruit farms, sheltered high-tech vegetable farms and naturally conserved recreational areas.
Just a short bike ride from the Resort, the 14-tier Durian Perangin Waterfall cascades from the slopes of Gunung Raya. The unique rock formation is perfectly suited for picnics and relaxing dips in the cool, clear water. A 5-kilometre (3-mile) trail leads to Gunung Raya Peak, the highest spot in Langkawi.
The island's tallest waterfall, Temurun, is another favourite outdoor destination known for its grandeur and natural beauty. This 30-metre (100-foot) fall cascades down the northern slope of Gunung Mat Cincang and falls into the Datai Bay, offering a scenic and peaceful setting for a swim or quiet meditation.
Four Seasons Resort Langkawi Malaysia