Langkawi is one of only four inhabited islands in an archipelago of 99 islands in the Andaman Sea. As Southeast Asia's first UNESCO Geopark, its opportunities are endless: from bird watching and snorkelling to jungle trekking to golf and island-hopping.
Four Seasons Resort Langkawi is adjacent to one of the undisputed highlights of the UNESCO Geopark: the Kilim Karst Geoforest Park, where Mangrove & Eagles Safaris will bring you up close with some of the world's most intriguing wildlife: eagles, monitor lizards, monkeys, walking fish, fiddler crabs, bats… and if you're lucky, even vipers and otters.
The Resort is also ideally placed for Rainforest Immersions, Wondrous Waterfalls hikes, village bike tours, deep-sea fishing and archipelago cruises. Go extreme walking along the Sky Bridge (700-metres above sea level). Or fly, swing and glide your way around the epic tree-to-tree Skytrex Adventure.
Langkawi is also a tax-free archipelago, which means guests (of Four Seasons Resort Langkawi) are exempt from paying the 6% GST levied throughout the rest of Malaysia.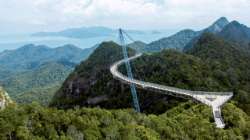 Sky Bridge & Langkawi Cable Car
If braving the world's steepest cable isn't enough, wait until you see the Sky Bridge that awaits at the top: a 125-metre (410ft) cable-stayed spectacular suspended 660 metres (2,170 ft) above sea level. Do you have what it takes to cross?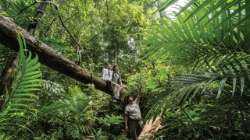 Rainforest Immersion
Immerse yourself in the incredible sights and sounds of Langkawi's awe-inspiring rainforest on this exhilarating exploration of Pulau Langgun, a haven of pristine rainforest encircling a karst lake. Departs by boat from the Resort's beach. Suitable footwear and fitness required.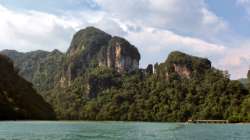 Southern Tour
Embark on a thrilling cruise around Langkawi's southern islands, past craggy peaks sheltering rare plants and magnificent eagles.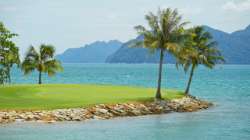 Golf
Discover golf as nature intended in Langkawi's UNESCO Geopark with the multi-award–winning Els Club (named 'World's Best New Golf Course' and 'Best New Golf Course in Asia' at the inaugural World Golf Awards 2014), and the impeccable Max Wexler–designed Gunung Raya Club (in the foothills of Langkawi's highest mountain).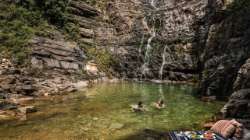 Wondrous Waterfalls
From the 14 cascading tiers of Durian Perangin to Seven Wells – the mythical bathing place of Langkawi's fairies – there's something truly magical about swimming in one of nature's pools. Add a picnic for lunch straight out of a fairytale...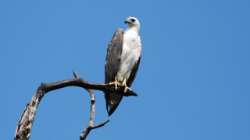 Bird Watching
Head to Gunung Raya – Langkawi's tallest peak – for the chance to spot some of the islands 200+ species, including the spectacular giant hornbills: at 1.2 m (4 ft) long, they are amongst the most impressive birds in the animal kingdom.