All Food and Drink
Events
Every Friday and Saturday from 3:00 to 5:00 pm

Apres Beats

Enjoy DJ entertainment this winter at The Handle Bar offered every Friday and Saturday from 3:00 pm to 5:00 pm starting the first weekend in January. After President's Day weekend, music will be offered Friday through Sunday. The combination of apres beats and slopeside dining is one not to be missed.

Every Other Friday (Summer)

BBQ, Bluegrass and Bourbon

In the summer months, join Chef Michael Lishchynsky in The Handle Bar every other Friday, as he serves up his famous house-smoked ribs, roasted chicken and pulled pork. Sit back and sip on bourbon from local distilleries while listening to local bluegrass bands.
Meet the Team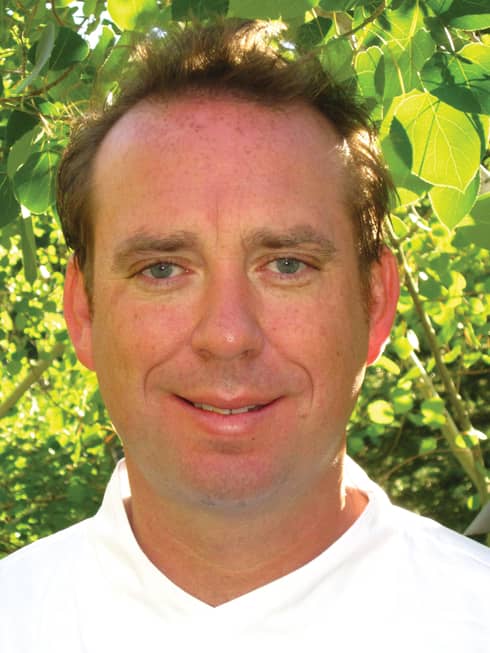 Michael Goralski
Executive Chef
After two decades in the industry, Michael Goralski knows that success comes from working with creative people. Mentoring his team is one of his most significant responsibilities as Executive Chef – and he has a lot to offer, having never been shy about employing cutting-edge culinary techniques. In Maui, he mastered sous-vide: the slow, vacuum-bag cooking method which works wonders on Rocky Mountain elk and buffalo. He also dresses up dishes with balsamic caviar and other dazzling elements of molecular gastronomy that impress foodies and chemistry professors alike.
"I love being in the heat of the battle."
Mountain Whiskey Ceremony

Choose from a list of whiskeys and their aromatic pairings and we'll heat each garnish tableside with a handheld torch until it smoulders, then cover it with a tumbler so the glass can absorb the flavour before pouring in the spirit. Bottom's up!

You've planned an exciting day out in Wyoming's great outdoors, but what about lunch? Don't worry: We've got you covered. Order a custom picnic basket to take with you as you explore Grand Teton or Yellowstone National Park.

No matter how you like your steak (or tuna), our chefs at Westbank Grill will cook yours to perfection on our 1,800-degree, infrared grill.