Chef Richard Sandoval introduces his Pan-Latin Steakhouse, Toro Toro, offering a twist on the contemporary steakhouse experience with Pan-Latin influences and Asian dishes. Rooted in the vibrant flavours and convivial dining culture of Central and South America, the menu features rodízio-style churrasco steaks, exotic game and seafood, including sushi and ceviche from the suviche bar.
Hours
Breakfast

Daily

7:00 am – 11:00 am

Lunch

Daily

11:00 am – 3:00 pm

Dinner

Sunday – Thursday

5:30 pm – 10:00 pm

Friday & Saturday

5:30 pm – 11:00 pm
Signature Dishes & Drinks
TORO TORO CHURRASCO for two

Brazilian-Style Picanha Steak, Rib Eye, Chicken Cusco, Lamb Chops

Hamachi, Leche de Tigre, Sweet Potato, Red Onion, Canchas

Jalapeño-Infused Altos Plata Tequila, Passion Fruit Purée, Hibiscus-Rosemary Foam

52 OZ PRIME TOMAHAWK for two

Spicy Tuna, Crab, Avocado, Cucumber

Achiote Marinade, Dashi-Braised Bok Choy, Ponzu Broth, Bacon Morita Chili Jam

Caramelized Almonds, Hibiscus Mezcal Sauce, Vanilla Crumble

Del Maguey Vida Mezcal, Ancho Reyes, Agave Nectar, Fresh Lime Juice, Pineapple Juice

Sierra Norte Yellow Corn Whiskey, Cocchi Torino, Nixta Licor De Elote, Bittermens Xocolatl Mole Bitters

Red Onion, Leche De Tigre, Ponzu, Sweet Potato

Bone Marrow, Salsa Macha, Lemon Juice, Togarashi, Charred Tostada

Ají Amarillo, Avocado Purée, Chimichurri
Events
October 3 – November 5

Dia De Los Muertos

Prepare to embark on a mesmerizing journey that blends the lines between the spirit world and the physical realm, creating an unforgettable experience. Witness a captivating fusion of our kitchen and bar during our Dia De Los Muertos celebration.

Tuesdays, 6:00 pm – 9:00 pm

Latin Live

Join us for live Latin musical entertainment, and enjoy the dinner menu offering a twist on the contemporary steakhouse experience with Pan-Latin influences, Asian dishes and elevated spirit offerings.

Reserve Now

November 2

Carne & Caymus Wine Dinner

Oenophiles are invited to Toro Toro for a special Carne & Caymus Wine Dinner. A spectacular five-course dinner, created by Executive Chef Paul Peddle, will feature five meat courses, including beef, bison, antelope and lamb, paired with renowned Caymus wines, including the prized Caymus Special Select Cabernet Sauvignon. This evening of bold, intoxicating flavours requires reservations and is priced at USD 175.

Reserve Now
This is an exciting opportunity to bring a refined and interactive dining experience to Houston! Chef Sandoval's global reputation and continued success with many of our sister Four Seasons properties are the perfect addition to our city's vibrant dining scene.

Tom Segesta

General Manager
Meet The Team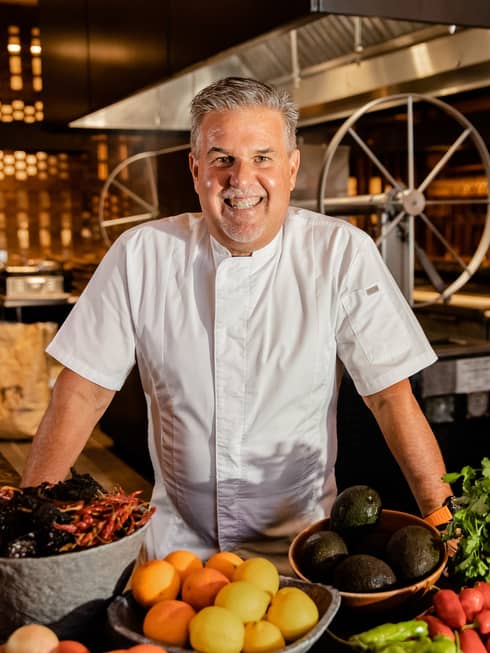 Richard Sandoval
Consultant Chef
Richard Sandoval Hospitality is a leading restaurant group founded by Mexican-born chef and restaurateur Richard Sandoval. Known for offering guests an unparalleled culinary experience, this internationally recognized contemporary Latin restaurant group successfully owns and operates over 60 restaurant concepts worldwide. Chef Sandoval's "made from scratch" approach and passion for introducing Latin cuisine to the world inspires him to combine authentic Latin ingredients with international flavors using inventive techniques to create one-of-a-kind concepts that include modern and coastal Mexican, Latin-Asian, Peruvian and Pan-Latin.
Located on the third floor of our Hotel, Toro Toro has been created with warmth and expertly outfitted by award-winning New York City design firm Meyer Davis. Upon arrival, the main focal point is the expansive central stone bar featuring floating, blackened steel shelving with backlit onyx light boxes and a custom made bar light by Kugler Ning that curves along with the shape of the bar. The surrounding dining space opens up entirely and is set with distressed, dark oak flooring, and marble clad fireplaces with custom, fluted, and hand finished plaster columns. Expect earthy green and rust accents, textured neutrals, custom wood tables and distressed blue and saddle leather accents that signify Texas style. The restaurant also features an elegant 2,700 square foot private event space. Specially curated for the space are an eclectic mix of custom lighting created from blackened metal and custom burnished brass designs, which highlight art installations from global Latina female artists throughout. Riveted black metal and glass vitrines filled with cacti set off the dining rooms and bar with upholstered leather seating and custom designed banquettes while keeping the openness and energy of the space.