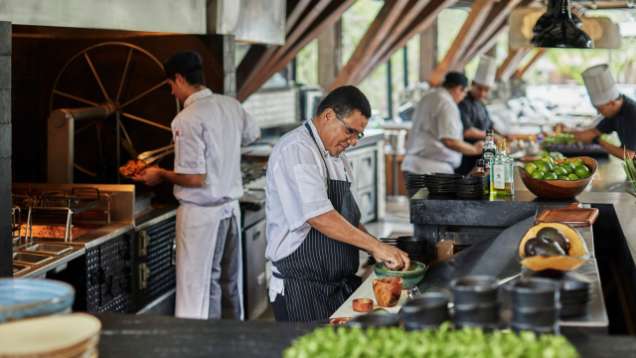 Catch of the Day

Come to the edge of Bahia restaurant, overlooking Playa Blanca, and meet our chef as he displays the fresh catch of the day and helps you select the perfect fish for your dinner. — AVAILABLE TUESDAY, THURSDAY AND SUNDAYS FROM 11:30 am – 12:00 pm.
Chocolate-Making Class

Chocolate lovers rejoice! Enjoy this hands-on class with local culinary artist Henrik Bodholt, who will take you on a chocolate-making journey, starting with roasting, peeling and grinding the cacao beans. At the end of the class, you can enjoy the fruits of your labour.
Cooking Demonstration

Cooking aficionados – beginners and experts alike – can learn some secret culinary techniques from our Four Seasons chefs. This fun one-hour class showcases cuisine with a Costa Rican twist. Ages 12 and up.
Show me the Cocktail

Thirsty? We have hundreds of delicious cocktail recipes from our expert bartenders. Whether you're looking for a classic cocktail, a punch for a party or an original concoction, we have a cocktail recipe for every taste and occasion. This one-hour session will teach you the right way to make the best cocktail of your life! What are you waiting for? Start mixing!
La Reserva Infused Rum Tasting

Become a rum master. We invite you to sample five distinct rums and infusions as our mixologist explains the history of this famed tipple and its connection to Costa Rica. Learn the best methods to taste rum and how to replicate the Resort's local Barril rum infusions using cinnamon, chocolate, vanilla, coffee, and anise. Take home a personalized bottle to remember the experience!
La Reserva Rum and Chocolate Tasting

A singular experience that combines two of Costa Rica's most popular exports – rum and chocolate. Sample a variety of premium rums, including the country's finest, and decadent locally-sourced chocolate. The Resort's famous Chocolate Rum Tasting is available Monday – Friday from 5:00 pm to 6:00 pm at La Reserva.