Hours
| | |
| --- | --- |
| Spa Services | 8:00 am – 8:00 pm |
| Salon | 9:00 am – 7:00 pm |
| | |
| --- | --- |
| 28,000 | Spa Facility (sqft) |
| 28 | Treatment Rooms |
| 14 | Outdoor Hales |
Breathe in the spirit of Hualalai
A legendary spirit lives in the land of Hualalai; powerful and inspiring. The island kupuna (elders) call it 'uhane (spirit). At the Hualalai Spa, we've created a uniquely Hawaiian experience that embraces 'uhane to refresh, restore and renew your sense of health and well-being.
The 28,000-square-foot (2,600-square-metre) Hualalai Spa integrates tropical gardens with cool interior spaces and feels distinctly Hawaiian. Enjoy relaxing by a quiet stream in the open-air Waiea (Water of Life) garden. Savour the lap pool, whirlpools, saunas, steam rooms and cold plunges, all set amidst lush greenery. Your choice of massage and body treatments may be enjoyed outdoors in our exotic new hales, secluded for privacy.
At Hualalai Spa, we honour the healing traditions of Hawai'i through a full complement of salon services, skin care, body treatments and massage therapies.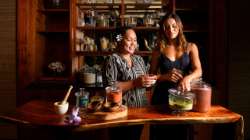 Salon Services
The full service Salon offers a wide range of luxury hair, nail and aesthetic services for special occasions or bridal design.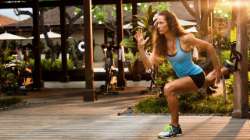 Fitness
Maximise your training and optimise your performance in our state of the art fitness facilities.
In-Room Massage and Spa Services
All massages, excluding the hot stone massage and body treatments, are available in guest rooms. Please contact the Spa Concierge for details.