We use food to make an emotional connection. Four Seasons leverages our relationships with nearby farmers and suppliers all around our bountiful state of California to deliver the highest quality menus using fresh, local ingredients. From interactive cooking classes to boardroom luncheons to gala dinners, we love the challenge of customizing menus that reflect your group's tastes.
EVERYTHING YOU NEED
Our chefs source seasonal ingredients from the local Santa Monica Farmers Market, as well as fresh Pacific seafood for dishes such as the Local Halibut Ceviche. Our live-action stations where chefs customize each dish are a guest favourite.

On-Site Restaurants & Bars

With two restaurants, a poolside cafe and two stylish lounges, our Hotel is home to some of city's most notable tables, including a chance to see the finest cuts of steak and seafood prepared in a sleek open kitchen at Wolfgang Puck's Michelin-starred CUT.

Details

For high-level meetings, wrap party dinners and special occasions, Petit CUT offers the same superior service and excellent food as the main dining room in a tucked-away, private setting with room for up to 30 guests. You also can opt to buy out THEBlvd, CUT and CUT Lounge for VIP soirées.

Details

Rodeo Terrace and our Royal Suite offer stylish outdoor spaces for al fresco cocktail and dinner parties. We also can arrange for a one-of-a-kind dining experience on nearby Rodeo Drive – either on the cobblestone street of Two Rodeo, atop a rooftop of a luxury boutique or on the famous street itself, shut down just for you.
Allow our master culinarians to help kick your next team-building exercise up a notch with a 'cook-off' on our Rodeo Terrace.

George Nickels

Director of Catering
Our Team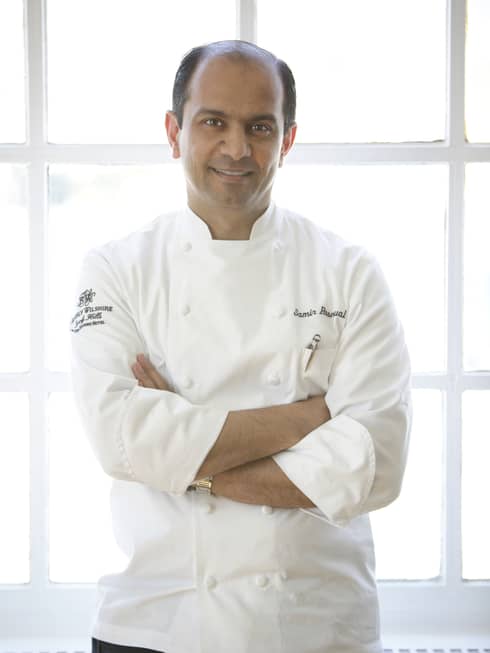 Samir Roonwal
Executive Chef
As soon as Chef Samir arrived in the summer of 2017, he immediately set out to transform the Hotel's culinary concepts by drawing on the variety of international experiences he has had over his three decades in the industry. As Executive Chef, he not only oversees THEBlvd – the living room of the Hotel – but also The Pool Bar & Café, in-room dining and banqueting. While the delight of his guests is paramount, Chef Samir also likes to keep his team on their toes by changing things daily, making sure they join him in his relentless pursuit for quality.
"Los Angeles is truly a celebration of cuisine from all over the world. When guests dine at the Hotel, I hope to share with them an authentic taste of what's out there."