A bold and modern space on the 21st floor, our Asian brasserie is a striking dining destination specializing in Chinese, Japanese and Thai dishes.
HOURS
Daily

12:30 pm – 3:00 pm

6:00 pm – 11:00 pm
Signature Dishes
Fresh and versatile bite-sized portions

Our sushi and sashimi experience

Sushi and sashimi prepared with the freshest ingredients

with Chinese Pancakes, House Pickles, Spring Onions, Bengaluru Farm Leaves and our Appointed Dressing Ritual
Meet the Team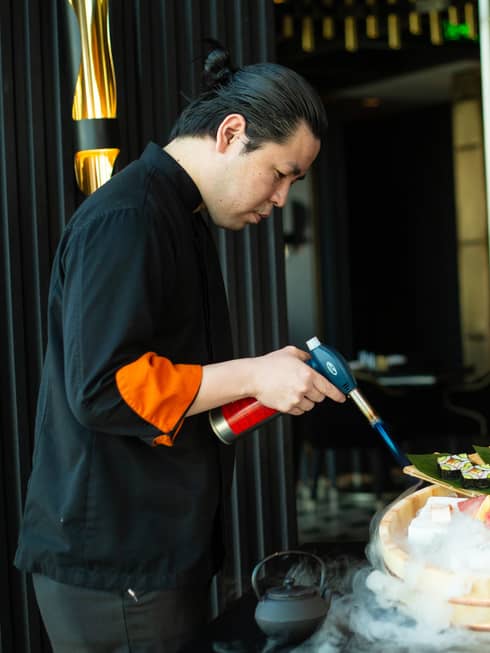 ATSUSHI YONAHA
Chef
Chef Atsushi Yonaha grew up in Okinawa, where the cuisine has claimed global fame for its simple, fresh ingredients impacting life expectancy. Leveraging this playfulness into the Far & East menu, Chef Yonaha brings in his Okinawan sensibilities and traditional Kaiseki multi-course training onto the stage, with an electric brushstroke of vivid colour. Though he trained in traditional Kaiseki culinary arts, his vision for Far & East is a bit of a departure from the predictable line of dishes.
Events
Sundays, 12:30 pm – 3:30 pm

Asian Affair Sunday Brunch

Unleash your inner foodie with our Asian Affair Sunday Brunch and craft cocktails at Far & East. Brunch only: INR 3200 per person; Brunch and cocktails: INR 5000 per person (excluding taxes).

Call to reserve