Explore a repertoire of modern Asian flavours against sky-high panoramic views of the city at Far & East. Marvel at our experts of wok and roll, who take pride in crafting Japanese, Thai and Chinese cuisine for unforgettable dining celebrations here in Bengaluru.
HOURS
Lunch

12:30 pm – 3:00 pm

Dinner

Sunday to Thursday, 6:00 pm – 11:00 pm

Friday & Saturday, 6:00 pm – 11:30 pm
Signature Dishes
Fresh and versatile bite-sized portions

Our sushi and sashimi experience

Sushi and sashimi prepared with the freshest ingredients

with Chinese Pancakes, House Pickles, Spring Onions, Bengaluru Farm Leaves and our Appointed Dressing Ritual
Meet the Team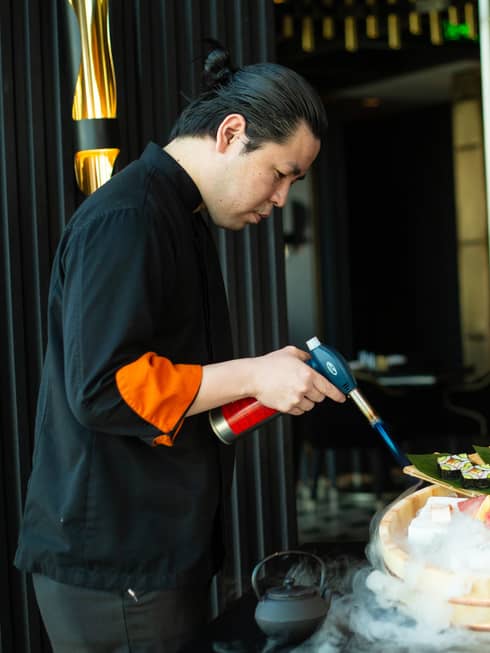 ATSUSHI YONAHA
Chef
Growing up in Okinawa, a Japanese region famed for its longevity, Chef Atsushi Yonaha developed an early appreciation for fresh, simple ingredients. Rigorously trained in Japanese haute cuisine, Chef Yonaha takes an unexpectedly playful approach in the kitchen — his stage for crafting bold and whimsical culinary delights at Far & East.
Events
Sundays, 12:30 pm – 3:30 pm

Asian Odyssey Sunday Brunch

Celebrate the art of Sunday brunch at Far & East with fine Asian flavours, including freshly made sushi, sashimi and yakitori, as well as the acclaimed Peking duck. Elevate your culinary adventure with our Asian-inspired cocktails.

Call to reserve