Take a seat overlooking the Mediterranean to enjoy plates of hot and cold mezzeh and authentic Lebanese and Syrian favourites, surrounded by elaborate woodworking, gilded ceilings and views of the Mediterranean, in our elegant formal restaurant.
HOURS
Sunday to Friday

2:00 pm – 12:00 midnight

Levantine Reimagined (winter only)

Thursdays, 6:00 pm – 11:00 pm
Signature Dishes
Lamb, Pistachios, Almonds, Nutmeg, Special Spices

Wheat, Onion, Lemon Juice, Olive Oil, Apple, Parsley
Meet the Team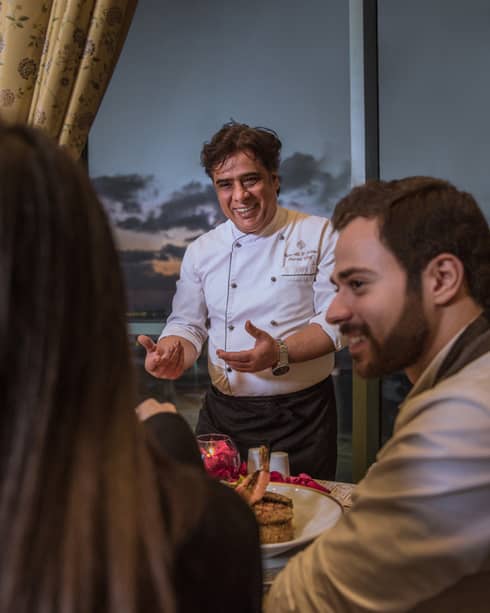 Essam Arabou
Senior Chef
Senior Chef Essam Arabou has been the creative mind behind every dish at Byblos Restaurant since 2017. He made his magic come alive where he poured his passion into it and sought the finest ingredients.
EVENTS
Romantic Dinner

Our hotel team is here to create your fairy-tale dinners – for a new relationship to a milestone anniversary – over views of the Mediterranean Sea. A personalized menu, flowers and candles set the mood for an intimate, dreamy atmosphere at Byblos Restaurant.

Call to reserve

Thursdays during winter, 6:00 pm – 11:00 pm

Levantine Reimagined

Chef Essam Arabaou creates his own innovative story as he brings the essence of Jordan, Palestine, Lebanon and Syria to life. Discover authentic flavours of these regions such Mansaf and Mussakhan. EGP 890.