Start your day with a casual and hearty breakfast in this family-friendly eatery, where morning specialties are served on the buffet or indulge in a Mediterranean seafood dinner made with the international cuisine delicacies and the fresh local ingredients.
HOURS
Breakfast

6:30 am – 11:30 am

Friday Brunch

3:00 pm – 7:00 pm

including live band and kids corner

Taste of the Sea À la carte

Saturday, Sunday, Wednesday and Thursday, 3:00 pm – 10:00 pm

Please note

Kala is closed during the summer but still available for private event bookings.

Closed Mondays, Tuesdays and Fridays during winter.
Private dining area for small group events available by reservation.
Signature Dishes
Lemon Butter Sauce, Tomato, Olive Sauce, Grilled Vegetables, Roasted Baby Potato, Sea Salt

Pan-roasted Sea Bass Fillet

Parsley Potato, Semi-dried Tomato, Crunchy Artichokes, Artichoke Purée, Lemon Sauce

Orange-scented Saffron Lentils, Root Vegetables, Balsamic Reduction, Basil Cream, Fennel Salad
Meet the Team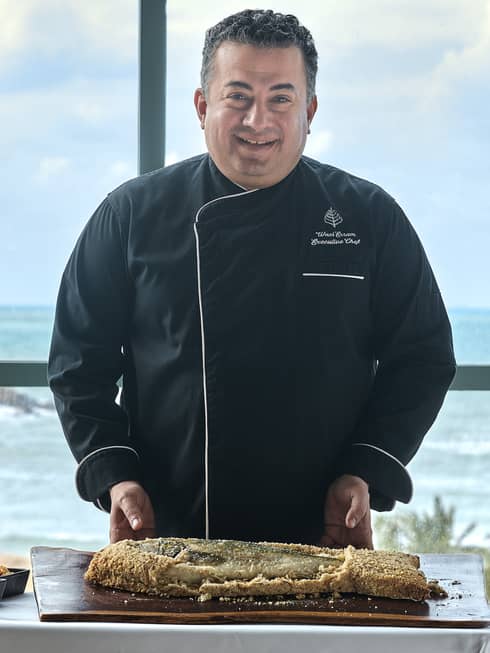 Wael Essam
Executive Chef
Executive Chef Wael Essam is a seafood lover and famous for his art of culinary infusion. At Kala Restaurant, he combines the ideal delicacies of international seafood cuisine and the local freshness from the sea to entice your taste buds.
Events
Saturday, Sunday, Wednesday and Thursday, 3:00 pm – 10:00 pm

A Taste of the Sea À la carte

Indulge in a Mediterranean seasonal seafood dinner made with the international cuisine delicacies and the fresh local ingredients crafted by Executive Chef Wael Essam.

View menu