Emerald City Staycation
Reboot and recharge with a getaway that includes daily breakfast, an accommodation upgrade,...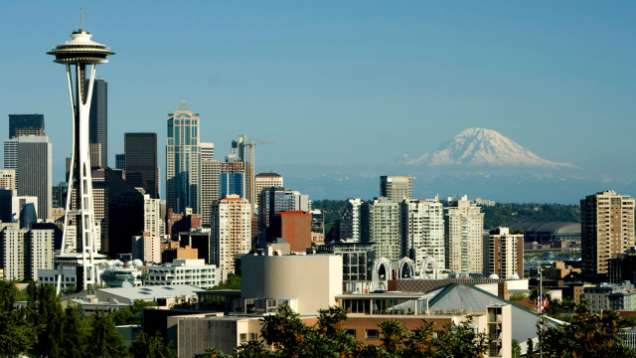 Seasonal highlights
January
Northwest Asian American Film Festival – This festival showcases the works of Asian American film and video artists.

Seattle Boat Show – This 10-day event is the largest boat show on the West Coast and features over a thousand recreational watercraft.
February
Northwest Flower and Garden Show – This show offers 6 acres (2.4 hectares) of inspiring gardens, as well as seminars and shopping related to gardening and outdoor living.
March
Moisture Festival – This comedy and variety festival showcases over 150 performers, including aerialists, jugglers, comedians, dancers and musical performers.
April
Seattle Mariners Opening Day – The date of the baseball team's first game varies from year to year.

Cherry Blossom and Japanese Cultural Festival – This event commemorates Japan's gift of a thousand blossoming cherry trees to the city of Seattle in 1976. Enjoy Japanese food, a traditional tea ceremony and Japanese artwork.

Taste Washington – Take a grand tour of Washington's best vineyards for a wine-tasting event that also includes coffee and dessert bars, live jazz and contributions from the area's best restaurants.

Skagit Valley Tulip Festival – This festival showcases over 15 acres (6 hectares) of tulip fields.
May
Northwest Folklife Festival – Held every year on Memorial Day weekend, this festival celebrates the ethnic, folk and traditional art activities of the Northwest through music, food and dance.

Seattle International Film Festival – With over 550 screenings of 270 features and 140 shorts films, this 25-day film festival is widely considered one of the most popular audience festivals in the world.

Boating Season Opening Day – Opening day of the boating season is the first Saturday in May each year.

University District Street Fair – With over 400 craft and food booths, this exciting fair is a celebration of arts, crafts, community, music and food.
June
Summer Season – Take advantage of the outdoor adventures the Pacific Northwest has to offer, including hiking, kayaking and sightseeing. The Pike Place Market offers fresh, regionally grown produce, from cherries and raspberries to peaches and apples.

Fremont Fair – Celebrate the summer solstice with exhibits featuring local food, great live music and the eclectic art scene.

Olympic Music Festival – This classical music festival is held at a turn-of-the-century dairy farm nestled on 55 acres (22 hectares) of tranquil farmland on the Olympic Peninsula.
July
Family 4th at Lake Union – Celebrate Independence Day at Lake Union, and take in the fireworks display Time Magazine rated one of the top five in the country. This event also features food and a beer garden overlooking the lake.

Seafair – This summer festival has been an annual event since 1950 and encompasses various neighbourhood events leading up to several major city-wide celebrations. In addition to many small block parties and local parades, the festival includes the Torchlight Parade and Run, hydroplane races, fireworks show and Blue Angels Air Show. Seafair takes place at the end of July and the beginning of August.

Bite of Seattle – This event is the Northwest's premier food festival, and also features several stages showcasing a variety of live music.
August
Best of the Northwest – This annual arts festival represents over 500 emerging and established artisans working in all mediums.
September
Bumbershoot – This international music and arts festival, the largest in North America, takes place every Labour Day Weekend. The festival attracts over 150,000 people annually.

Puyallup Fair – This event is one of the ten largest fairs in North America and features concerts, rides, food, livestock, flowers and exhibits.
October
Earshot Jazz Festival – This world-class festival features over a hundred musicians and attracts artists from all over the world.

Fremont Oktoberfest – This festival offers a beer garden featuring local microbrews, food and live music, and also includes a 3-mile (5-kilometre) run.
November
Seattle Marathon – Held each November, this event offers both a full and a half marathon.
December
Winter Season – The winter weather brings remarkable skiing conditions at many area resorts, some within 45 minutes' drive from the Hotel, and others several hours' drive from the city. A five-hour trip will bring you to world-renowned Whistler Blackcomb Ski Resort in British Columbia, Canada, and Four Seasons Resort Whistler.

Holiday Season – At Four Seasons Hotel Seattle, the holidays are a spectacular time to enjoy good cheer. Special events and a holiday atmosphere all contribute to the festive air that emanates from the Hotel.

Argosy Christmas Ship Festival – During this event, a seasonal ship visits over 45 communities in the area over several days, while a choir gives a 20-minute performance from aboard the ship. A parade of local ships, boats and yachts decorated for the holiday season follows closely behind.

Winterfest – This festival offers an ice rink, carousel, train display and giant tree display, and also features top-quality shows, events, performances and exhibits.
The most prominent city in the US Pacific Northwest, Seattle is situated on Elliott Bay in Puget Sound. Water, mountains and forests provide a spectacular backdrop for the continually evolving skyline.
The city is surrounded by lakes, including Lake Washington, Lake Union and Lake Sammamish. To the west rise the Olympic Mountains, and to the east, the Cascade Mountains. Nearby volcanoes include Mount Rainer and Mount St. Helens. The abundance of trees and greenery has earned Seattle the nickname of the Emerald City.
Mount Rainier National Park
Quick Reference
Time zone
GMT -8 hours
Pacific Standard Time

Language(s) spoken
English
Electrical system
Local voltage is 110 to 120 volts AC. Adapters available; please request through the Concierge.

Shopping hours
Monday to Friday 10:00 am to 9:00 pm
Saturday 10:00 am to 9:00 pm
Sunday 11:00 am to 6:00 pm

Working hours
Monday to Friday 8:00 am to 6:00 pm