Impress your guests with innovative Four Seasons cuisine. Our talented culinary team will elevate your program through creative food and beverage experiences – everything from oceanside private dining and interactive coffee breaks to extraordinary gala dinners. We love the challenge of customizing our Bahamas menus for your group.
EVERYTHING YOU NEED
Authentic Bahamian Cuisine

Our chefs know where to find the best local ingredients, such as pineapples from Eleuthera and crab from Abaco. We love infusing each custom menu with rich island flavours so you and your guests can experience a true taste of The Bahamas.

Explore French-meets-Mediterranean cuisine at Versailles Terrace, savour fresh-caught seafood at Ocean, and taste Michelin-starred chef Jean-Georges' imaginative blend of French-Asian cuisine at our signature restaurant, DUNE.

Sit down for an intimate meal on one of The Bahamas' most beautiful beaches, or join your guests beneath a covered terrace surrounded by verdant tropical greenery next to our picturesque Versailles pool.

Sway along to live island music as you sip a tropical cocktail and enjoy a cigar outside of DUNE Bar overlooking the waves, or let our mixologists at Martini Bar and Lounge conjure up your perfect martini.
The Team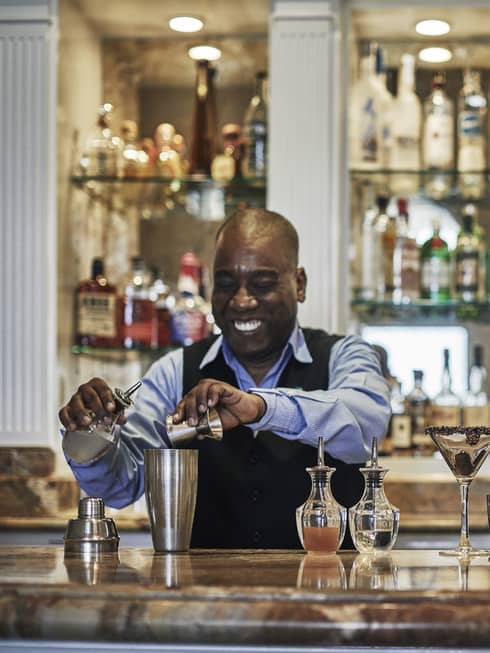 Keith Cash
Bartender at Martini Bar and Lounge
Cash brings more than three decades of onsite experience and an assured embrace of inviting service to every drink order he fills. He also sources every premium spirit and special ingredient featured on the cocktail menu. He regularly searches online, checks out other bars, and makes annual trips to Las Vegas to stay on top of the latest cocktail trends.
"There are always new challenges, new fruits, new cocktail recipes to learn."