Donald Link honours his Louisiana heritage in his newest venture, Chemin à la Mer. With panoramic views of the Mississippi River, enjoy a curated menu of Louisiana fare expertly executed with French technique, including classic and specialty steaks and a grand oyster bar, converging at the pathway to the sea.
Hours
Breakfast

7:00 am – 10:30 am

Lunch & Dinner

11:30 am – 10:00 pm

The Purple Grackle Bar

11:30 am – 10:00 pm
Events
Daily, 3:00 pm – 6:00 pm

Oyster Hour

Join us for oysters and libations every day from 3:00 pm to 6:00 pm
Signature Dishes
Beluga Lentils, Fresh Herbs

Served with Cocktail Sauce, Mignonette, Lemon and Saltines
Meet the Team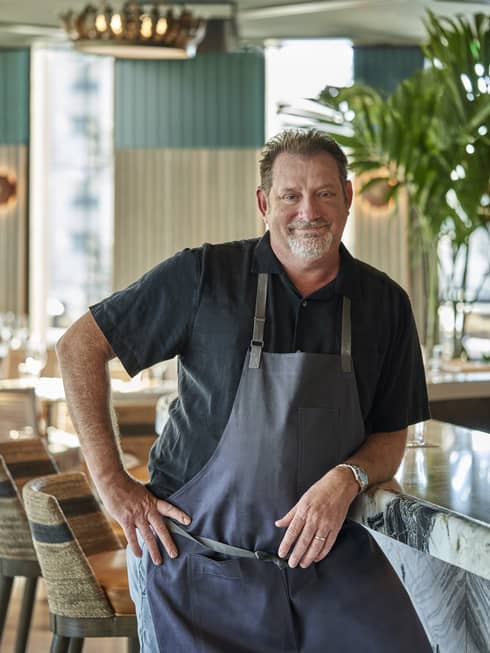 DONALD LINK
Chef Partner
A Louisiana native, Chef Donald Link was first inspired by the Cajun and Southern cooking of his grandparents. Over the past two decades, he has peppered the streets of New Orleans' Warehouse District with acclaimed restaurants, including Herbsaint, Cochon, Cochon Butcher, Pêche Seafood Grill, La Boulangerie, Gianna and his private event facility, Calcasieu. For this James Beard Award winner, his partnership with Four Seasons is an exciting opportunity to spotlight the best of Gulf Coast regional cuisine while providing the highest standards in service. According to Four Seasons Hotel New Orleans General Manager Mali Carow, "Chef Link's incredible, award-winning food, combined with this rare riverfront location, will make Chemin a la Mer one of the most prized dining experiences in the city."
In-Room Dining

In a city renowned for cuisine, Four Seasons delivers 24-hour private dining to the comfort of your guest room or suite. Whether you're craving a quick dinner or recovering from the night before, choose from a surprise-filled menu featuring regional cuisine and classic comfort foods. Or simply order cocktails before heading out on the town.

Details

Miss River

Welcome to a grand dining experience, as acclaimed chef Alon Shaya presents his love letter to Louisiana. Discover an elevated take on New Orleans favourites, highlighting bold flavours and local ingredients. Enjoy warm, knowledgeable service and a whimsical atmosphere, including the spectacle of the Food Stage where chefs extravagantly plate our signature dishes.

Details

Chandelier Bar

Celebrating the rich history of New Orleans cocktail culture, our lobby-level Chandelier Bar provides a glamorous welcome. Beverage Manager Hadi Ktiri presents stellar versions of the city's classic cocktails, along with exquisite champagnes by the glass. Enhance your experience with caviar and sharable cuisine by acclaimed New Orleans chef Alon Shaya.

Details