New Orleans is famous for its food and drinks, unique flavours and flare that every visitor needs to try. Our experienced culinary team incorporates local flavours, exceptional venues and creativity to make a dining experience your guests will soon not forget.
EVERYTHING YOU NEED
In New Orleans, we believe food is a celebration. Let our culinary team tell the story of your event through personalized menus prepared to your tastes to create unforgettable dining experiences rooted in rich local flavours.

Impress your guests with stellar versions of classic New Orleans cocktails, or work with our talented bartenders to create a unique signature cocktail that is sure to amaze everyone.

In a city renowned for its cuisine, Four Seasons Hotel New Orleans offers innovative fare within the hotel and its partner restaurants. Discover exclusive New Orleans offerings from Chef Alon Shaya in his love letter to Louisiana at Miss River. Adding to the local flavour, Chef Donald Link and his culinary team deliver Chemin à la Mer, a curated menu of Louisiana fare expertly executed with French technique.

PRIVATE DINING ALONG THE RIVER

With panoramic views of the Mississippi River, Chemin à la Mer's private dining room provides an intimate oasis for a remarkable dining experience for up to twelve guests. For a larger soiree, a full restaurant buyout is available at both Miss River and Chemin à la Mer.

Our iconic lobby bar set beneath a massive chandelier is the perfect gathering place – a casual spot for guests to network and discuss the day's activities. The menu at Chandelier Bar is full of New Orleans' classic cocktails, along with craft cocktails, wine and champagne by the glass and shareable cuisine by award-winning chef Alon Shaya.
Our Team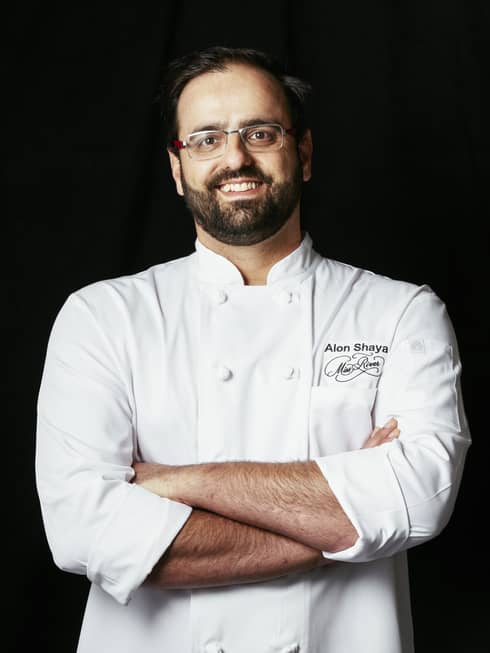 CHEF ALON SHAYA
A New Orleans resident for nearly 20 years, Chef Alon Shaya began his culinary career by studying at the esteemed Culinary Institute of America. He went on to work in Las Vegas, St. Louis and Italy before making New Orleans his home. He has since earned numerous James Beard Award nominations and wins. In 2018, he opened two new restaurants: Saba in New Orleans' Uptown neighbourhood and Safta in Denver's River North. Chef Shaya opened Miss River in Four Seasons Hotel New Orleans as his love letter to Louisiana – with his contemporary and lively menu fit for New Orleans celebratory dining. The menu is elevated and unique with surprising takes on beloved local dishes. Chef Shaya's Miss River dishes can be included in any event menu and a full restaurant buyout is also available upon request.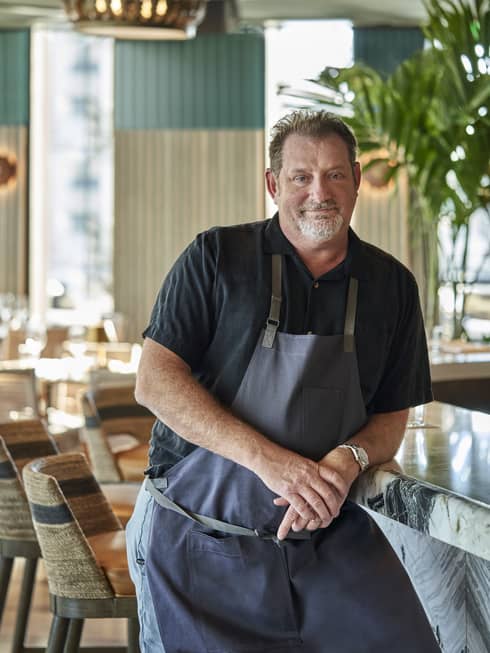 CHEF DONALD LINK
A Louisiana native, Chef Donald Link was first inspired by the Cajun and Southern cooking of his grandparents. Over the past two decades, he has peppered the streets of New Orleans' Warehouse District with acclaimed restaurants, including Herbsaint, Cochon, Cochon Butcher, Pêche Seafood Grill, La Boulangerie, Gianna and his private event facility, Calcasieu. For this James Beard Award winner, his partnership with Four Seasons is an exciting opportunity to spotlight the best of Gulf Coast regional cuisine while providing the highest standards in service. Chef Link's Chemin à la Mer is perched on the fifth floor of the Hotel and offers sweeping views of the Mississippi. The Louisiana and French menu offers a curated selection of classic and specialty steaks and seafood dishes reflecting the flavours and styles of cooking Link finds through his travels around the world, while honouring his Louisiana heritage. Chef Link's unique dishes can be added to any banquet event. Additionally, a full restaurant buyout is available upon request.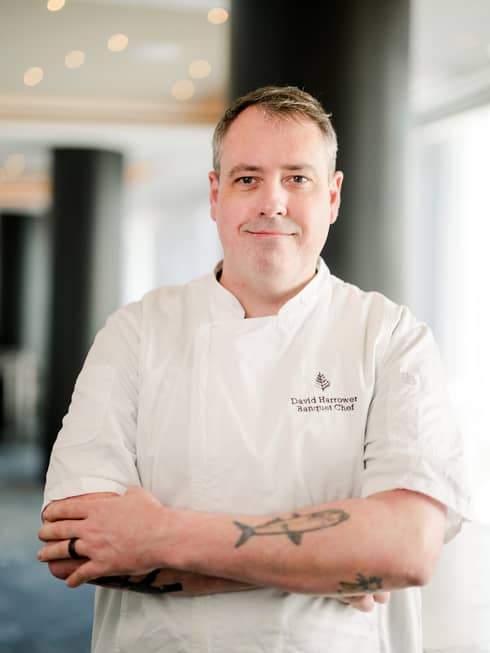 CHEF DAVID HARROWER
Born in Glasgow, Scotland and raised in Lafayette, Louisiana, Chef David Harrower has been exposed to a broad range of cultural and gastronomic experiences from a very young age. David started his career at the Culinary Institute of New Orleans in 2002. In 2014 the seasoned chef returned to the Crescent City and has served as Sous Chef at Purloo in the Southern Food and Beverage Museum; Sous Chef for Susan Spicer's Lakeview restaurant Mondo; Chef de Cuisine at Donald Link's Calcasieu; and, most recently, Chef de Cuisine at Mosquito Supper Club. Chef Harrower joined us at Four Seasons Hotel New Orleans in 2022 as Executive Banquet Chef. Chef Harrower provides customized menus for any event.