Formerly known as Bombay, modern Mumbai is a vibrant, bustling city along the western coast of India. Comprised of seven connected islands and more than 13 million people, Mumbai is the business and finance capital of India and home to the glamour and intrigue of Bollywood, India's renowned movie industry.
Worli District
Set in the business and commercial hub of Worli, Four Seasons Hotel Mumbai brings unparalleled service and hospitality to one of the cities' most desirable neighbourhoods.
Concierge Recommends: Mumbai
The Concierge at Four Seasons Hotel Mumbai offers insider tips on what to see and do in the city—from the best restaurants to a visit to Gandhi's former home.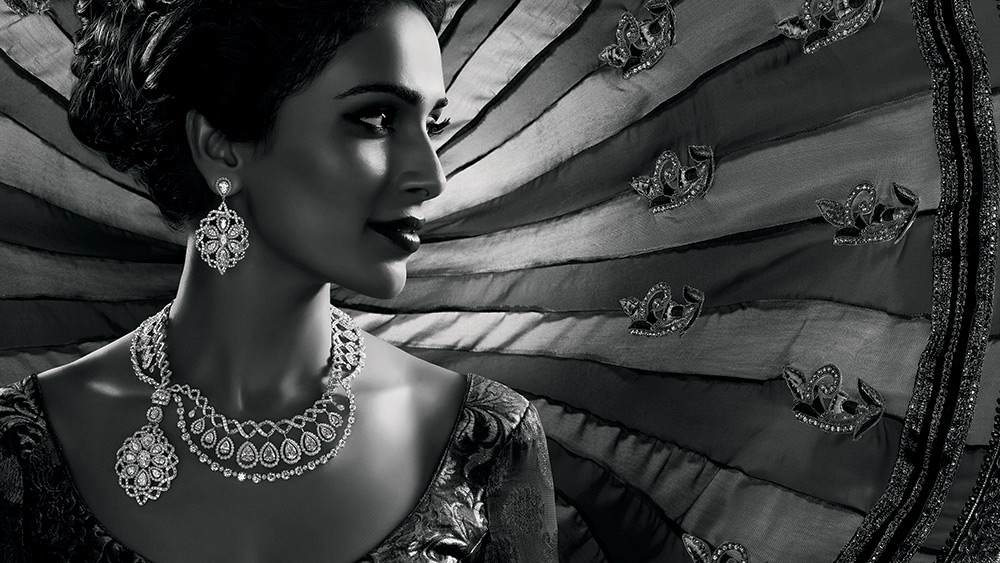 Where to Shop for Jewellery in Mumbai
Find stunning gems and bespoke creations by the finest Indian designers at these Mumbai boutiques.
Dhobi Ghat

The Dhobi Ghats offer an unforgettable view of a timeless tradition unique to Mumbai. Around 200 dhobi families toil in this open-air laundry – soaking, then pummelling the city's garments, before they are hung out to dry, ironed and returned to residents across the city.
Haji Ali Mosque

At the end of a long causeway, the Haji Ali Mosque and Tomb can only be accessed at low tide. At high tide, the majestic whitewashed complex, which honours a Muslim saint, appears to float above the water, in splendid isolation.
Mani Bhavan Gandhi Museum

The Mani Bhavan Gandhi Museum is a house that served as the Mumbai headquarters of Mahatma Gandhi from 1917 to 1934. In 1921 he staged a four-day fast here, in order to restore peace to the city. Exhibits in the quiet, three-story home help to explain his legendary life.
Gateway of India

Mumbai's most famous landmark, the Arc de Triomphe–like structure was completed in 1924. Its design is influenced by the Muslim architecture of 16th-century Gujarat. The last British troops to leave India passed through the gate in a special ceremony on February 28, 1948.
Elephanta Caves

The Elephanta Caves, located just a ferry ride away, are a complex of ancient cave systems. Designated a UNESCO World Heritage site, these ancient caves are a great vantage point from which to soak in the city's scintillating skyline.
Siddhivinayak Temple

Siddhivinayak Temple is dedicated to Lord Ganesh, the elephant-headed god of good fortune, and was rebuilt on the site of a 200-year-old temple. It attracts followers from all over India, and it is considered especially auspicious to visit on a Tuesday.
Chor Bazaar

This is Mumbai's famous 'Thieves Market' where bargain-hungry tourists rummage for Ming vases and Muranos at throwaway prices. The main avenue is Mutton Street, flanked by rows of little antique shops that look like musty attics and sell just about anything from old ship parts, grandfather clocks and gramophones, to crystal chandeliers and old English tea sets. Others offer authentic Victorian furniture, wonderful for art browsers, antiquarians and restorers.
Crawford Market

Poised between what was once the British Fort and the local town, Crawford Market has elements of both. It's a blend of Flemish and Norman architecture with a bas relief depicting Indian peasants in wheat fields just above the main entrance The frieze, incidentally, was designed by Lockyard Kipling, father of the famous writer Rudyard Kipling, and the Kipling's' cottage still stands next to the JJ School of Art across the road.
Ban Ganga

The sacred waters of the Baanganga Tank in Mumbai are a vivid representation of the paradox of traditional life coexisting with unbridled modernisation. The temple complex of Baanganga is overlooked by many tourists, but is one of Mumbai's most sacred sites and the oldest surviving structure in the city.
Bhau Daji Lad Museum (Prince Albert Museum)

The oldest museum showcases the history and culture of Mumbai city. It has also received an award of excellence from UNESCO. Closed on Wednesdays.
SHOPPING
The Collective, Palladium | Premium Lifestyle store

This lifestyle store offers a host of international apparel & accessory brands with its unique point of view.

The Collective also offers several product and lifestyle services such as made to measure, personal shopping, specialized dry cleaning and Bespoke Cafe.
Good Earth | Contemporary Indian Home Decor

A trend-setting Design house located in one of the former Worli mills and offering home accessories, table tops and accent furniture reflecting contemporary Indian style. You will enjoy the shopping experience here and if you have time, do drop in for a glass at the wine bar upstairs. Great, if you are looking for a gift to take back home!
FabIndia | Indian textiles

FabIndia has several locations around the country and sells a wide variety of cotton fabrics including pashmina shawls and hand printed block prints. Here you will find clothing for men and women, bed and table linen, gift items as well as fabrics for curtains and upholstery.
Curio Cottage | Jewellery

Want to feel like a bollywood star? They deal in varied silver and semi precious stone jewellery. Customised contemporary Indian jewellery also available if you're willing to pay the price.
Courtyard | High End Designer Clothing

Come and pamper yourself at these exclusive designer showrooms including designers like Payal Jain, Narendra Kumar and Rohit Bal.
Bungalow 8 | Home decor and Houseware

This establishment offers stylish home decor and house ware items in interesting materials, such as hammered copper, lacquer and mother of pearl. An interesting place, if you are looking for a gift for someone special.
Le Mill | Lifestyle concept store

Leisurely set up for home, furniture, textiles, clothing, accessories shopping. By putting in an organic cafe, a flower shop and a book section, the quartet hopes to foster a laid-back social atmosphere.
Palladium | High end Luxury Mall

This 200,000 square foot mall is spread across four levels. It caters to all your lifestyle and luxury requirements. Compliment it with great dining, relaxing spas and salon options for the complete personal pampering package.
Bombay Store

A perfect blend of traditional and contemporary style, The Bombay Swadeshi Co-operative Store Co. Ltd. epitomizes Indian panache. The Bombay Store offers its customers an array of beautifully designed products such as fine tableware and luxurious home decor items, pure authentic skin care and home fragrances, silver plated accessories and a stylised range of apparels based on natural hand woven fabrics, using traditional craft skills.
Bombay Electric

Bombay Electric is a distinctly Indian platform for fashion and design. Bombay Electric features the best of established Indian designers such as Manish Arora and Rajesh Pratap Singh, and is known as the first to spot and nurture rising Indian talent. The cherry picked fashion collection shares the space with a curated selection of international design brands, such as Comme des Garcons and United Nude, rare gems, antique tribal jewellery, hand woven scarves, cashmere, limited edition & vintage pieces.
Discover a vibrant metropolis where ancient civilisation meets high tech and traditional culture mingles with modern experiences. Four Seasons Hotel Mumbai is pleased to help customise an itinerary for you and compliment it with multilingual tour guides. The following is a sample itinerary – we invite you to discuss your needs with us.
A Day in Mumbai

Duration: 4 hours

This tour tells the story of the transformation of Mumbai from a mono-cultural sleepy fishing hamlet into a melting pot that is today the commercial capital of India. The tour will showcase all aspects of Mumbai – the narrow geographical layout, the coastline, the daily commuting, the various communities that make up the city, the old heritage district, the old commercial and residential districts and the upcoming districts.

The must see places:

The Gateway of India
St. Thomas Cathedral
Prince of Wales Museum
Bombay University and the Oval Maiden
Town Hall
Victoria Terminus
Crawford Market
Marine Drive and Chowpatty Beach
Mani Bhavan, home of Gandhi
Malabar Hill and the Hanging Gardens
Banganga Temple Tank
Haji Ali Mosque
Dhobi Ghat
The People Of Mumbai – Many Faiths, Many Cultures

Duration: 2 hours

This tour will give you a fascinating insight into Mumbai's diverse people- their clothes, religion, food and ways of life.

Start the tour with the Kolis, the fisher folk who were the original inhabitants of Mumbai. Drive to colaba to see the Parsis.
You can also see St. Thomas Cathedral , one of the oldest Anglican Churches in Mumbai. Two Jewish communities, the Baghdadi Jews and the Bene-Israel have given the city many of its important landmarks.
Drive or walk through the by-lanes of Mohammed Ali Road for a glimpse of large Muslim population, including Bohras, Khojas, Memons and several other communities.
The Banganga water tank and the Walkeshwar temple, two of the oldest religious monuments of the large Hindu community in Mumbai.
Elephanta Caves – An Ode to Shiva

Duration: 4 hours

Elephanta is a World Heritage Site, showcasing legends of Lord Shiva carved in rock temples. The cave complex is a collection of shrines, courtyards, inner cells, grand halls and portico arranged in the splendid symmetry of Indian rock-cut architecture, and filled with exquisite stone sculptures of Hindu Gods and Goddesses. The island is an hour's boat ride from the Gateway Of India. This tour does not run during the monsoons.

Elephanta Caves are closed on Mondays.