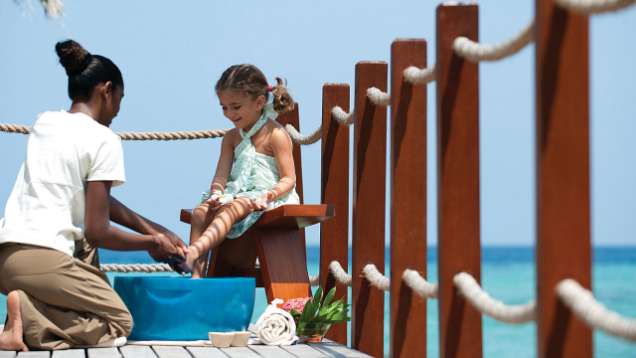 As any grown-up will tell you, spa treatments make you feel great. But did you know they can also help your body and mind run at their best? Here at the Island Spa we've squeezed the ocean's magic into a series of marine-inspired treatments designed specifically for young bodies and minds. Discover miracle shells, nourishing seaweeds, wobbly waterbed massages and private yoga sessions on land and at sea. And with our special interactive sessions, you'll learn that your health really is in your hands.
Drift Off
Create your own blend of essential oils then drift off as we massage you from top to toe. Includes 15-minute oil blending session.
Magic shell massage
Witness our self-heating lava shells warm up before they work their magic on your muscles. Includes 15-minute shell activation session.
Wobble Wobble
A fun and fabulous massage on a water mattress.
Seaweed Bath
The wild way to chill out and get clean.
Sea Nymph Mani
Hand nurturing and nail art for a bit of seaside glitz.
Sea Nymph Pedi
The ultimate treat for little feet.
Private SUP Yoga for Kids
Yoga on a stand up paddleboard! Can you keep your balance? (Please note, maximum of 2 children, aged 8 or above. Must be accompanied by a parent/ guardian.)
Private Yoga for Kids
Special kids' yoga to delight and develop young bodies, minds and hearts.
Side by side
A parent-child bonding experience, with Gigartina Deep Conditioning Treatment and either Reflexology or nail pampering.
Please note: Prices and treatments are subject to change without notice. Prices will be subject to 23.2% combined taxes and services charges.