Go top-down and take the iconic French N7, better known as The Holiday Route (Route des Vacances), between Paris and Saint-Jean-Cap-Ferrat on the French Riviera, making your scenic road trip a feast for the senses. Inhale the soothing smell of lavender fields, hear the music of cicadas and take in the breathtaking views of the Mediterranean Sea – this is the perfect road trip to immerse yourself in French culture, food and historical landmarks.
Distance & Travel Time
Distance

949 km (590 miles)

Travel Time

10 hours by car
Extend your road trip! Complete the Four Seasons French Collection, then on to Switzerland.
Megève & Geneva
Discover the best Loire Valley wines in Sancerre or Pouilly

World's Best Vice-Sommelier Eric Beaumard, Head Sommelier and Director of the three Michelin-starred Le Cinq, is renowned for his unique knowledge of France's vineyards. He'll personally recommend the best wineries to visit in the Loire Valley, from famous Sancerre or Pouilly-Fumé to more exclusive gems like Quincy or Côtes de la Charité vineyards dating back to Middle Ages. In a landscape of rolling hills and plains, you can spend an extra few days during your scenic route here, discovering each renowned wine district. Orléans, Meung sur Loire, Sully sur Loire – don't miss these jewels flourishing across the longest wine road in France and largest UNESCO World Heritage Site in the world.

2 hours from Paris / 8 hours 15 minutes from Cap-Ferrat
More Experiences Along the Way
Lavender is Provence's purple gold. From June, lavender spreads its fragrance and transforms the already beautiful landscape. Take the longer scenic route between Paris and Cap-Ferrat to enjoy a stop in the Provençal village of Grignan, known for its Renaissance castle, or in the charming town of Nyons.

6 hours 15 minutes from Paris / 3 hours 45 minutes from Cap-Ferrat

The capital of Vaucluse and the Côtes du Rhône, Avignon is famous as the city popes fled to during the 14th century. "Le Palais des Papes" is the world's largest Gothic edifice. The old town offers picturesque strolls on cobblestone streets among stone houses.

7 hours from Paris / 3 hours from Cap-Ferrat

Feel the wind blow through your hair along the spectacular road of the Grande Corniche, where Grace Kelly drove her roadster in the movie To Catch a Thief. Its landmark is the grand Trophée des Alpes at La Turbie, an ancient Roman monument visible from all directions.

10 minutes from Cap-Ferrat
I love travelling throughout France's regions, and the N7 offers it all, from delicate wine tastings to the most enchanting regions in Provence and French Riviera. It's a true feast for the senses.

Eric Beaumard

Sommelier, Four Seasons Hotel George V, Paris
Discover Paris From the River

Cruise along the River Seine in a private wooden boat. Warmly recommended by our concierge team, this experience allows you to take in the city's main sights in comfort while enjoying a glass of Champagne and canapés.

Pick Vegetables in Versailles

Begin your day at the entrance of our Hotel, from which Chef Simone Zanoni will personally drive you to the Domaine de Madame Elisabeth in Versailles, home to the Kitchen Garden of Le George. Zanoni will help you pick seasonal fruits and vegetables for your guided cooking lesson at Le George.

The first hotel in Europe to offer five Michelin stars across three restaurants, the George V offers an unprecedented culinary journey – and a wine cellar nesting 50,000 bottles. Enjoy a Michelin-starred feast on a private outdoor terrace facing the Iron Lady.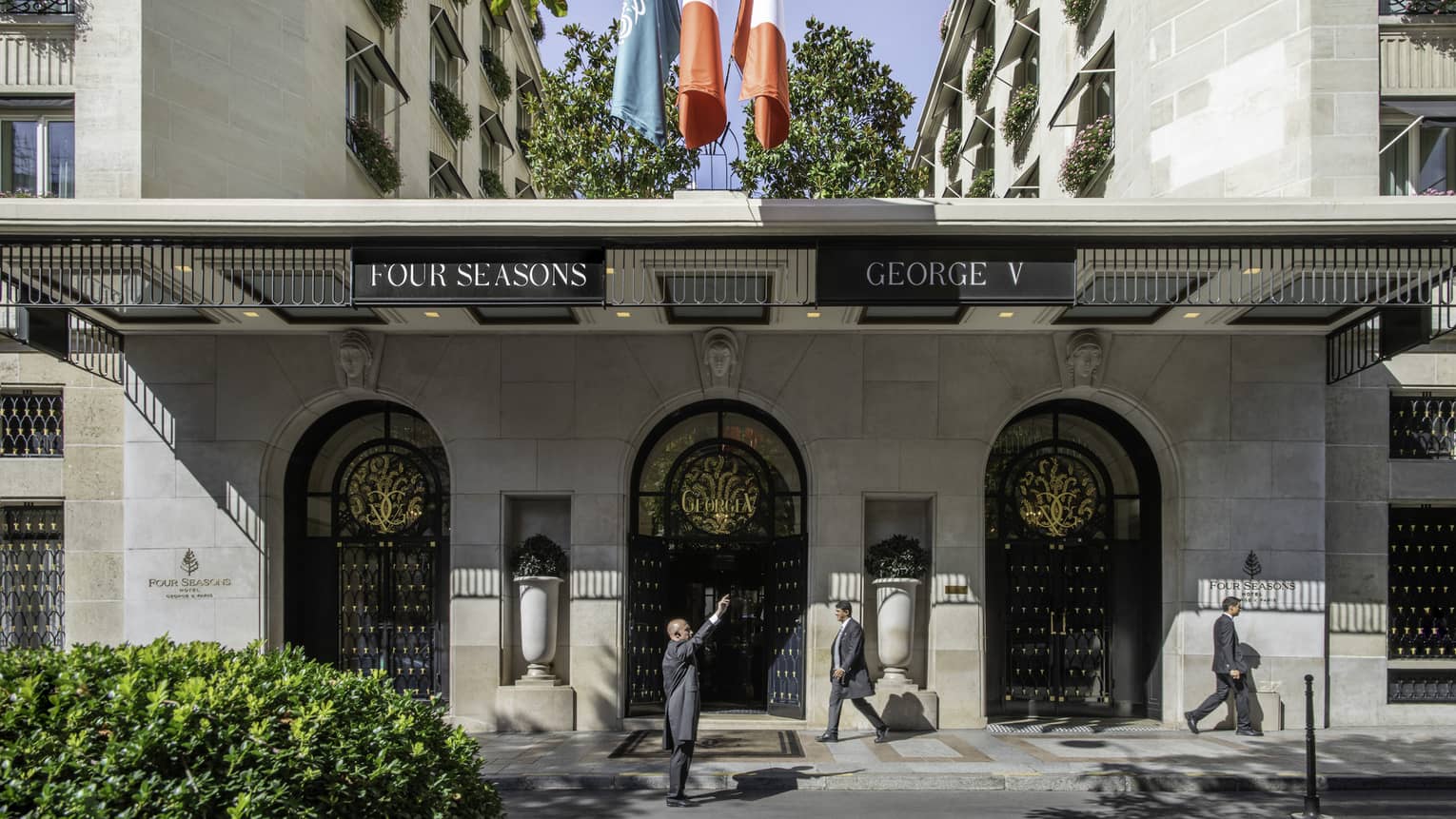 Four Seasons Hotel George V, Paris
Set in the Golden Triangle of the city, our Hotel offers oversized suites with Eiffel Tower views, a new Spa, three restaurants – with five Michelin stars among them – and world-renowned floral arrangements, making it a destination on its own.
Gourmet Moments
Join us for a memorable staycation and enjoy a Michelin-starred feast and our signature breakfast.
offer valid for:

Oct 20 2021 – Dec 23 2021

Jan 2 2022 – Mar 31 2022

minimum stay:

1 night

maximum stay:

9 nights
included
Daily full American breakfast for up to two adults
A three-course gastronomic menu by our Michelin-starred chef, Alan Taudon, for up to two adults to enjoy at La Galerie restaurant or in the comfort of your room (drinks and butler service are available for an additional charge)
Upgrade to premium wireless Internet access
more details
Sip Sundowners on the Med

Discover the beauty of the French Riviera coastline aboard a romantic sailing boat at sunset over the Mediterranean Sea. Sip Champagne and enjoy traditional French amuse-bouches crafted by our Michelin-starred Chef Yoric Tièche as you take in sublime sea views.

Tour Villa Ephrussi de Rothschild

A short drive from the Hotel, Villa Ephrussi de Rothschild is a jewel of the French Riviera. Renowned for its remarkable gardens and stunning architecture, the villa also hosts rare works of art. Let us organize a private picnic in the Villa's gardens and a private guided tour of the art collection for you.

Breathe in all the elements of the Mediterranean Sea with a sunrise run along the picturesque coastline of Cap-Ferrat, followed by a personalized yoga session facing the waves gently lapping the shore.

After your consultation with our Michelin-starred chef, let us customize an exclusive dinner to be savoured near our iconic swimming pool, Club Dauphin, with a spectacular view of the Mediterranean.

More Dining Details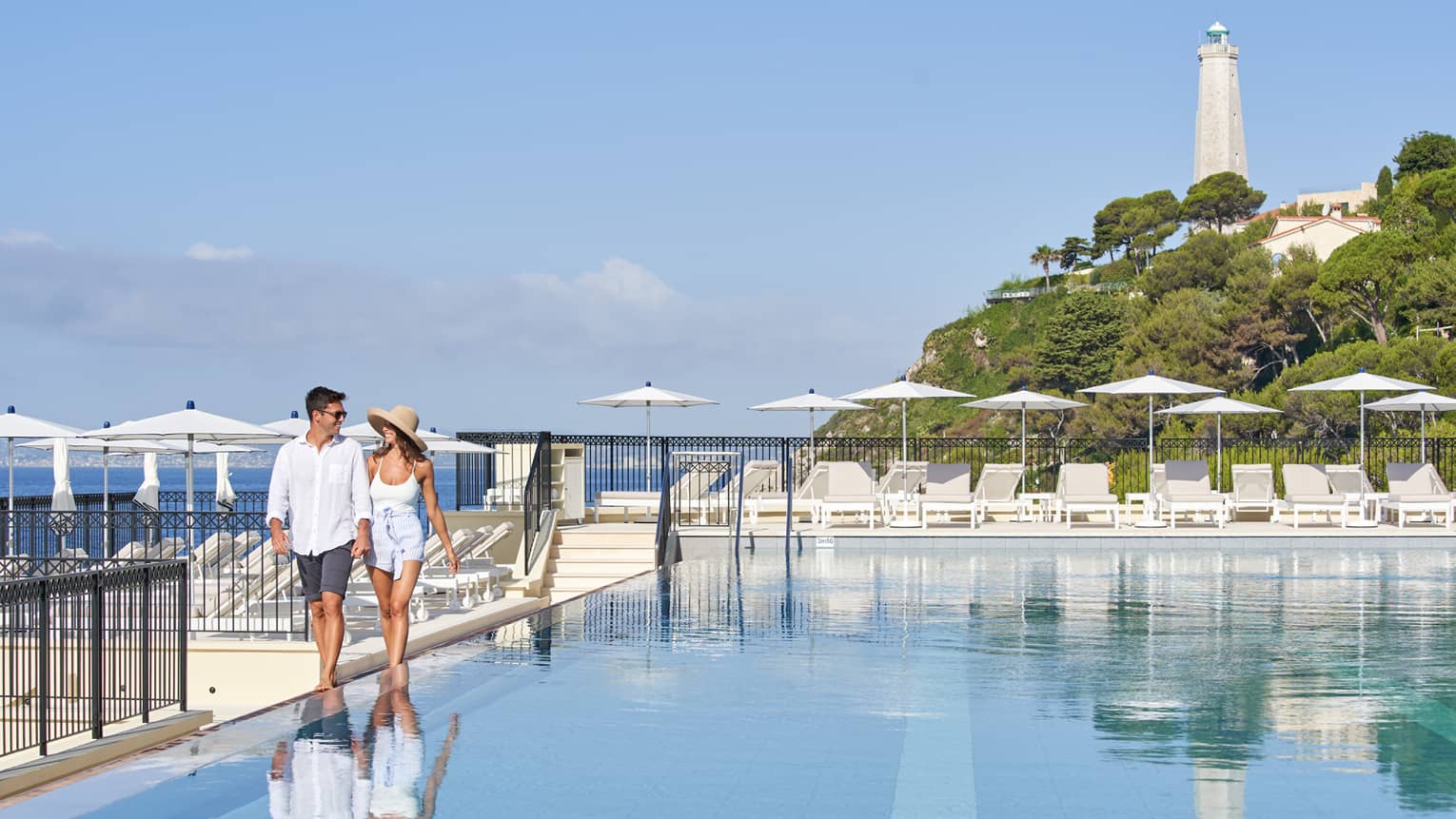 Grand-Hôtel du Cap-Ferrat, A Four Seasons Hotel
With a guestbook signed by everyone from Elizabeth Taylor to Winston Churchill and an enviable location overlooking the Mediterranean Sea, the palatial spread of our Hotel has been the epitome of Côte d'Azur chic for more than a century. Today, our sumptuous rooms, Michelin-starred cuisine and a lively pool club keep this landmark hotel at the forefront of Riviera life.
More About Cap Ferrat From Our Team
Local Gems That Can't Be Missed

Insiders from Grand-Hôtel du Cap-Ferrat, A Four Seasons Hotel, share their favourite spots to eat, drink and play around the Hotel.

Details

It's not the things you take with you that define your journey; it's the experiences you have and the memories you bring home. Explore our general manager's five sensory "souvenirs."

Read More
Inspiration From Fellow Travellers
@alexpreview

@couchpotato_vs
Ready to take the scenic route?
Reserve your stay at Four Seasons and start planning your road trip today.