Connect to inspiring mountain landscapes and refreshing lake views with a road trip between Megève and Geneva. We suggest taking the longer (and more scenic) mountain road between the two cities, allowing yourself to soak in the very best of the glamorous French Alps. Indulge in memorable culinary highlights, drive through spectacular natural scenery and experience the regions' rich outdoor activities.
Travel Time
Distance

70 km (44 miles)

Travel Time

1 hour (2 hours 20 minutes via mountain road) by car
Extend your road trip! Discover the other destinations in the Four Seasons French Collection.
Paris & French Riviera
Lake Annecy from Above

Make a detour a plan to stop for lunch and take in spectacular views along the mountain road in Col de la Forclaz, France. Here, you can enjoy a unique vantage point over Lake Annecy, one of the most beautiful lakes in Europe. Set up a picnic, or if time allows, drive to the nearby L'Auberge de Montmin, a quaint Michelin-starred restaurant with peaceful mountain views. Feeling adventurous? Col de la Forclaz is a famous paragliding launch point, allowing adrenaline junkies to fly directly over the sparkling lake. Let us arrange a tour with one of the local companies.

1 hour 30 minutes from Megève / 1 hour 15 minutes from Geneva
More Experiences Along the Way
The French Alps region has an outstanding gastronomic heritage. Honour local producers with a stop at a traditional Savoyard farmhouse where you can pick up cheese and honey for a picnic along your way.

La Ferme de Lorette is one such place to check out. Located on the mountain road between Geneva and Megève, it can be reached via a seven-minute cable car and 10-minute walk. The Alpine farm offers many traditional cheeses to discover, but you can't leave without the reblochon.

If time permits, stay for a tour of the farm and see how the cheese is made first-hand. We'll be happy to arrange a tour for you.

1 hour from Megève / 50 minutes from Geneva

Enjoy a detour to Talloires, France, on the shores of Lake Annecy. The town is famous for its breathtaking views of the mountains reflected in the water. Rent a bike and explore the lakeside, or cool off with a dip in the clear waters.

1 hour from Megève / 1 hour from Geneva

In Switzerland, the shores of Lake Geneva are studded with charming lakeside villages such as Hermance, home to delightful streets and a pretty stretch of beach. Stopping here for lunch or a souvenir is well worth the 30-minute detour from Geneva.

Dating back to the 13th century and dominated by a beautiful church, Hermance is exceptionally well preserved, with magnificently restored ancient buildings. Its narrow lanes are accented with restaurants and shops that embody the village's friendly atmosphere.

1 hour 15 minutes from Megève / 30 minutes from Geneva
Use the Hotel as Your Launching Pad for the Great Outdoors

When you come to the French Alps in the summer, the mountains are your playground. Soak in the fresh Alpine air each day you're here with activities such as hiking, e-biking or golf at Mont d'Arbois Golf Course. Craving a different view? Let us arrange a helicopter tour over the snow-capped peaks – an adventure you'll never forget.

Hike to a Picture-Perfect Resting Spot

Embark on a 1.5-hour hike from the Hotel (or a 10-minute gondola ride) through bright green pastures and past grazing cows to Ideal 1850, our restaurant just above Megève. You'll have an unobstructed view of the valley and the Mont Blanc massif, including the highest peak in Europe. While the restaurant is closed in the summer, our team can arrange a gourmet snack to enjoy with Champagne.

Breathe in the fresh aromas of our Alpine wonderland during an outdoor yoga session. Choose from a variety of locations, such as the Hotel grounds, a scenic spot among the bright green pastures or the terrace of mountain restaurant Ideal 1850. Reconnect with yourself and nature.

Let our chefs prepare a gourmet picnic basket full of the best local flavours, including French wine and Alpine cheese, to enjoy at magical Lake Javen, just 3 km (1.9 miles) from the Hotel and surrounded by huge pine trees.
More About Megève From Our Team
LOCAL GEMS: OUR GUIDE TO THE MEGÈVE AREA

Insiders from Four Seasons Hotel Megève share their favourite places to eat, drink and play in their stylish Alpine destination.

Read More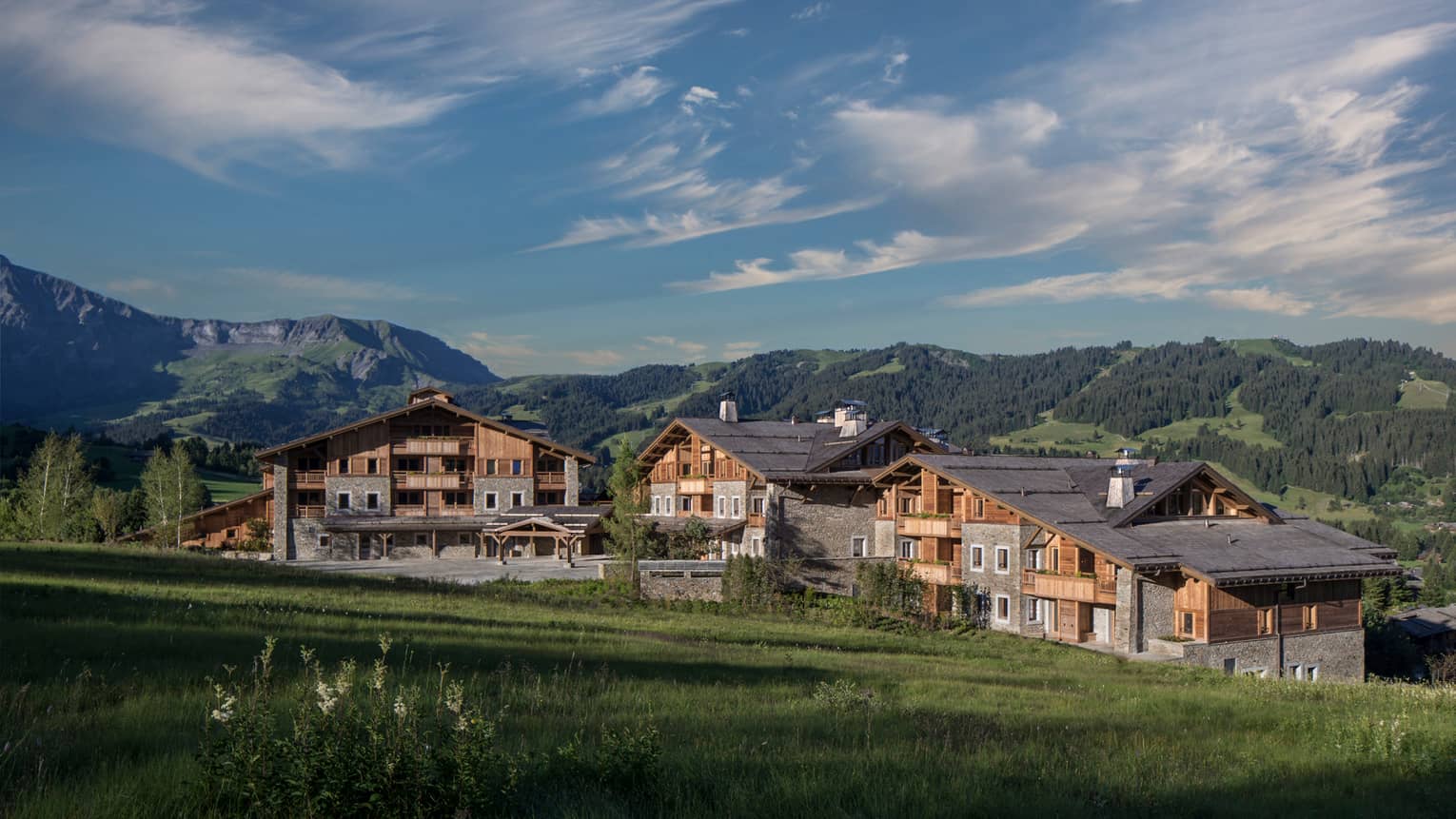 Four Seasons Hotel Megève
In the heart of the French Alps, our chic Hotel builds on the legacy of the Edmond de Rothschild family, who set out to create an unrivalled resort experience nearly a century ago. Distinctive French character, pure Alpine tradition, and an intimate and inviting setting define this mountain retreat.
Start Your Day at the Lake

Discover the sparkling magic of Lake Geneva, the largest freshwater lake in Europe, and improve your swimming skills with one of our swimming instructors. "Start your training at sunrise," advises Head Concierge Mina Bayat. "You'll be surprised by the lake's beauty and stillness."

Indulge in velvety Swiss chocolate as you follow the steps of a master during a gourmet chocolate workshop. At renowned Du Rhône Chocolatier, particularly known for artisanal production methods that respect the traditional Swiss techniques, you'll learn the secrets behind one of the world's finest chocolates.

Try wakeboarding, paddleboarding or thorough relaxation on a private cruise at sunset – we can arrange for you to embrace the best of Lake Geneva. For a family-friendly activity, head out on a fishing trip with Captain Balthazar, who will take you to the best spots on the lake. Take your catch back to the Hotel, where our chefs will prepare it for you in a delicious meal.

Breathe in the natural beauty of Mont Salève, commonly referred to as the "Balcony of Geneva," with unbeatable views over the city, its countryside and the snow-capped Alps in the distance. First, enjoy a panoramic 1.5-hour hike to reach the summit.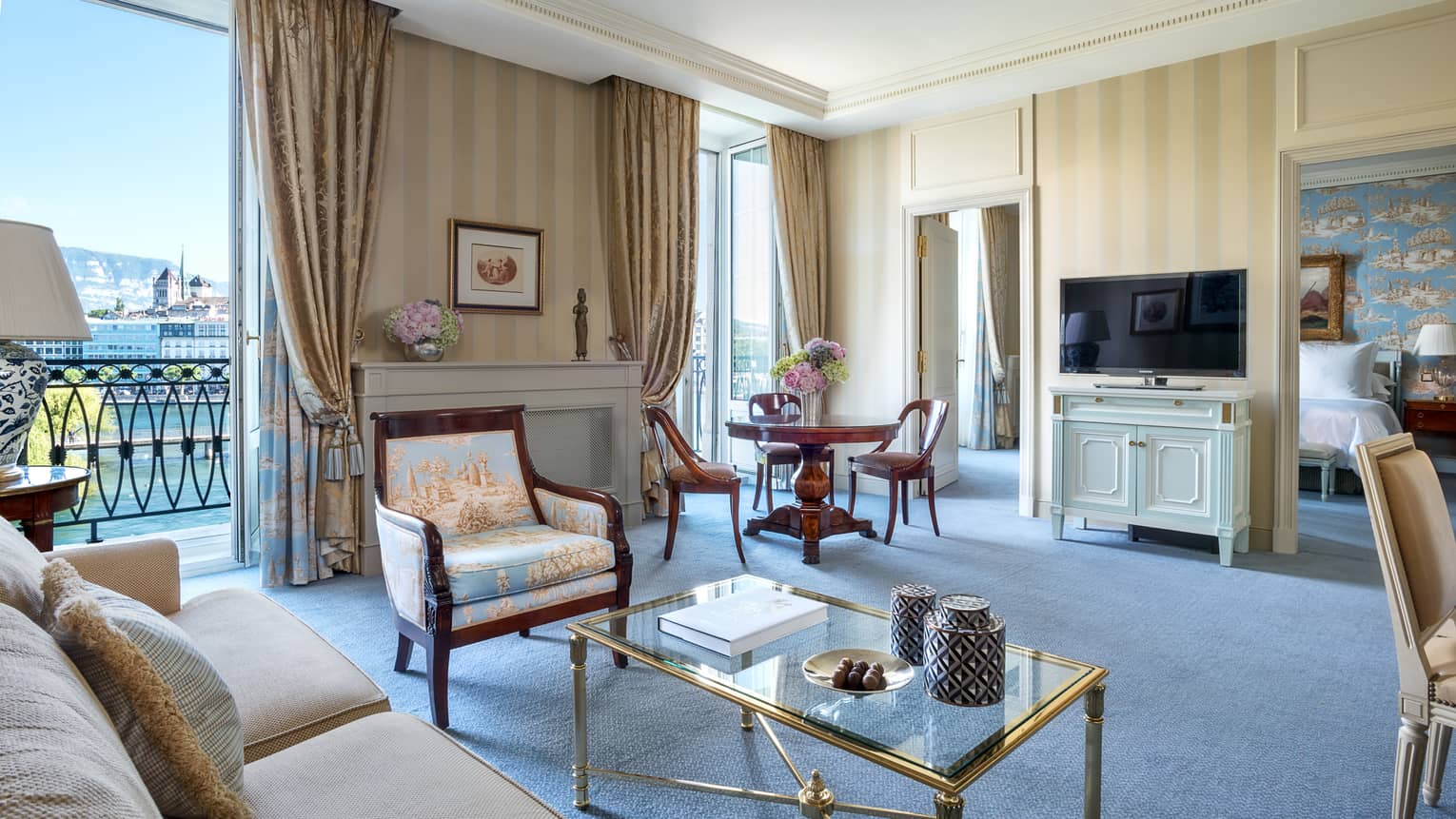 Four Seasons Hotel des Bergues Geneva
With enchanting views of the lake and the snow-capped Alps in the distance, and just steps away from the Old Town, Four Seasons Hotel des Bergues Geneva offers a destination of choice, blending a revitalized sense of history with warm and genuine personal service in the very heart of the city.
Inspiration From Fellow Travellers
@epiwander

@golfmontdarboismegeve