Jin Sha at Four Seasons Hotel Hangzhou at West Lake offers outstanding traditional Zhejiang flavours expertly prepared by Executive Chinese Chef Wang Yong, whose passion and vision knows no bounds whilst making the most finest local and seasonal ingredients. Jin Sha is celebrated for its boundless innovation, finest tea, premium wine selection and Chinese yellow wine (huangjiu). A traditional architectural style and a lively ambience with stunning landscape garden provides harmony between human and nature.
HOURS
Lunch

11:30 am – 2:00 pm

Dinner

5:30 pm – 9:00 pm
Signature Dishes
Our MASTERDISH: Shanghainese Braised Pork

Abalone in Sweet Soy Sauce, Green Beans

Longjing Tea-Flavoured Cream Bruleé

The essence of longjing tea lingers in the silky custard and evokes a delicate sweetness.
MEET THE TEAM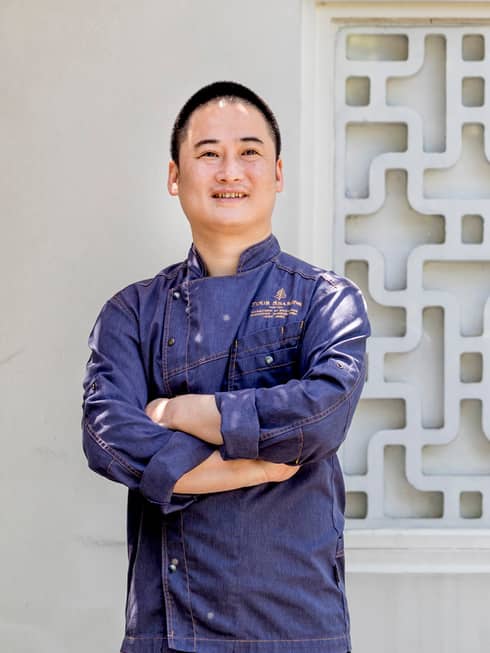 WANG YONG
EXECUTIVE CHINESE CHEF
With nearly 20 years of culinary experience, Chef Wang is a culinary mogul of Zhejiang and Shanghainese cuisine. Under his leadership, Jin Sha has become the only restaurant in Hangzhou to be awarded the prestigious four-star award by Forbes Travel Guide for five consecutive years. The chef, though, is quick to point out that all the honours that recognize Jin Sha are not solely his to claim, but belong to his entire team. On top of receiving many accolades, he is also the recipient of China's "Chef of The Year" by GQ Magazine (2017).
"I love travelling as it can open my mind and expand my personal horizons. Every time when I go to a different place, I am always very excited to see and try local cuisine and different dishes. Chatting with associates also gives me a lot of inspiration."
In-Room Dining

Whether you want to share a romantic dinner in the privacy of your room or are simply craving a burger in the middle of the night, our in-room menu features a range of Western-style and Asian dishes perfect for quiet nights in or outside on your patio beneath the stars.

Details

WL Bistro

West Lake Bistro is known in Hangzhou for homemade fresh pasta, risotto, dessert trolley and a well-priced selection of Italian wines and sparkling teas by the glass. It offers an unparalleled outdoor dining experience with stunning views of the landscaped gardens, an infinity pond and West Lake.

Details

Lobby Lounge

Join us for a cup of Hangzhou's famous Longjing green tea in our comfortable lounge, nestled right beside our lobby and the perfect spot for catching up with friends or colleagues.

Details