Named after the elegant white wildflower that graces the fields of Dogmersfield Park, Wild Carrot incorporates local and sustainably sourced ingredients. Enjoy a truly British experience with Executive Chef Talha Barkin and his culinary team's seasonal menu, including a traditional English breakfast.
HOURS
Breakfast

Monday – Friday

7:00 am – 11:00 am

Saturday & Sunday

7:00 am – 11:30 am

Lunch

Monday – Friday

12:00 noon – 2:30 pm

Saturday & Sunday

12:30 pm – 2:30 pm

Dinner

Monday – Sunday

5:30 pm – 9:00 pm
Seasonal Dishes
Pickled Red Onion, Garlic Yoghurt, Sourdough Crouton, Parsley

Truffled Mash Potatoes, Buttered Carrots, Scallion, Sage Jus

Avocado, Salmon Caviar, Young Radish, Green Onion

Brown Shrimps, Potatoes, Caper Butter Sauce
Events
A Taste of Hampshire

Wild Carrot invites you to continue your dining journey at home with a delicious range of jams and chutneys. Crafted by Four Seasons Hotel Hampshire Executive Chef Talha Barkin, the country-inspired products have all been made with locally sourced ingredients, with a choice of strawberry jam, orange marmalade, tomato relish, BBQ sauce and onion chutney.
Need to Know
Private Dining

For intimate dinners, group celebrations or corporate events, Wild Carrot features a private dining room. Our team will be happy to customize a special menu for your event.

Children's Menus

Children are welcome to dine at Wild Carrot any time daily, and a children's menu is available.

Dog Policy

Dogs are allowed in the bar with permission.

Complimentary Dining for Kids

Kids 5 years old and under dine with our compliments in Wild Carrot restaurant.
The Team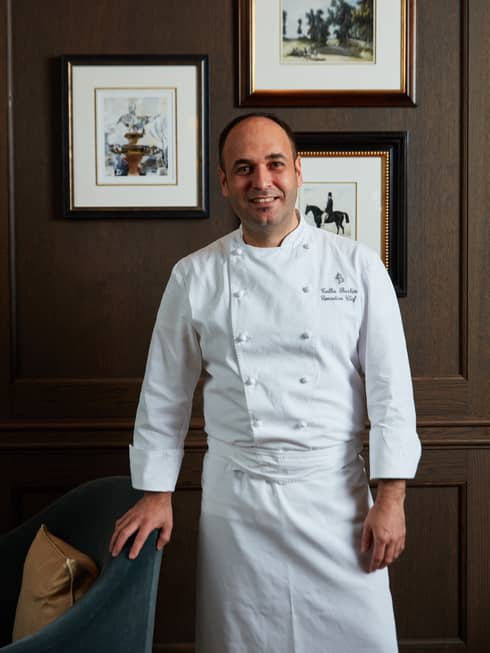 Talha Barkin
Executive Chef
Talha's philosophy has roots in the environment he grew up in – Koycegiz, Mugla, a lakeside town in Mediterranean Turkey where his mother's and grandmother's cooking, combined with abundant, soulful ingredients, inspired his palate. As a young chef, he gained exposure to world cuisine through worldwide assignments, and now with a more than 20-year career, he has received numerous medals in prestigious culinary competitions in Dubai. When asked what attracted him to working in Hampshire, he said it was the beauty and history of the property. "My arrival at Four Seasons Hotel Hampshire was very special. To see the manor house through the rolling hills on first approach was something everyone should experience." Bringing valued experience and an abundance of energy, Talha creates memorable dishes for hotel guests. Seeking the finest locally sourced produce, he blends flavours from his journeys and adds his own twist to his dishes. Talha believes that a passion for the craft equates to the love poured into a dish, and that's the most important ingredient of all.
"My intention is to always appreciate the value and origin of ingredients. I aim to create something that respects and brings out the ingredients' natural character in a fine gastronomic presentation."
La Terrazza

Enjoy a feast for the senses at La Terrazza. Featuring a traditional pizza oven and lush countryside views, our al fresco dining experience delivers a rich rustic setting, infused with warm and welcoming Italian spirit.

Details

The Library Bar

Soak up the fresh Hampshire air on our outdoor terrace and enjoy your nightcap with nature at The Library Bar, an elegant space to unwind, socialize and sip vintage artisanal whisky or a signature cocktail prepared by our mixologist, Bar Manager Surinder Virk, serving the art and poetry of taste.

Details

Café Santé

Experience nutritionally balanced and tasty offerings, from bento boxes and poke to acai bowls – and Friday and Saturday evening sake and sushi – to leave you feeling nourished and energized.

Details

The Bar at Wild Carrot

Choose from classic craft cocktails and artisanal concoctions inspired by seasonal ingredients found in the Hampshire countryside.

Details

The Drawing Room

Located in the heart of our historic 18th-century manor house, The Drawing Room is the perfect setting to experience a traditional British afternoon tea crafted by Executive Pastry Chef Maxime Gourlain. With a selection of bespoke teas, chilled champagnes and local English sparkling wines, immerse yourself in the expansive views of the rolling green hills while lounging in a grand yet homey atmosphere.

Details

Off Piste

Nestled within the picturesque woodland of our 500-acre estate, our pop-up Alpine restaurant – serving light lunch and snacks by day and a Swiss-inspired menu by night – sits inside a cosy tepee decorated with oak tables and a rustic bark bar.

Details