All Food and Drink
Local and seasonal

Wild Carrot

Named after the elegant white wildflower that graces the fields of Dogmersfield Park, Wild Carrot incorporates local and sustainably sourced ingredients. Enjoy a truly British experience with Executive Chef Talha Barkin and his culinary team's seasonal menu, from a traditional English breakfast to the classic Sunday roast.

Fresh and nutritious

Café Santé

Experience nutritionally balanced and tasty offerings, from bento boxes and poke to acai bowls – and Friday and Saturday evening sake and sushi – to leave you feeling nourished and energized.

Enjoy a feast for the senses at La Terrazza. Featuring a traditional pizza oven and lush countryside views, our al fresco dining experience delivers a rich rustic setting, infused with warm and welcoming Italian spirit.

Cocktails

The Bar at Wild Carrot

Choose from classic craft cocktails and artisanal concoctions inspired by seasonal ingredients found in the Hampshire countryside.

Traditional afternoon tea

The Drawing Room

Located in the heart of our historic 18th-century manor house, The Drawing Room is the perfect setting to experience a traditional British afternoon tea crafted by Executive Pastry Chef Maxime Gourlain. With a selection of bespoke teas, chilled champagnes and local English sparkling wines, immerse yourself in the expansive views of the rolling green hills while lounging in a grand yet homey atmosphere.

Artisanal cocktails

The Library Bar

Soak up the fresh Hampshire air on our outdoor terrace and enjoy your nightcap with nature at The Library Bar, an elegant space to unwind, socialize and sip vintage artisanal whisky or a signature cocktail prepared by our mixologist, Bar Manager Surinder Virk, serving the art and poetry of taste.

In-Room Dining

We're happy to serve you 24 hours a day.
Please note: Pre-booking through our Reservations team or the Four Seasons Mobile App and Chat is required for all meal periods.
Featured Culinary Experience
Great food, great company – there's no better combination. From culinary creatives, to master mixologists, light up your stay with our tailored collection of awe-inspiring gourmet adventures.
Enjoy a traditional afternoon tea of homemade pastries and cakes, warm scones and a variety of finger sandwiches while sipping on a glass of exclusive Louis Roederer Cristal Champagne, originally produced for Tsar Alexander II in 1876.

Learn More
The Team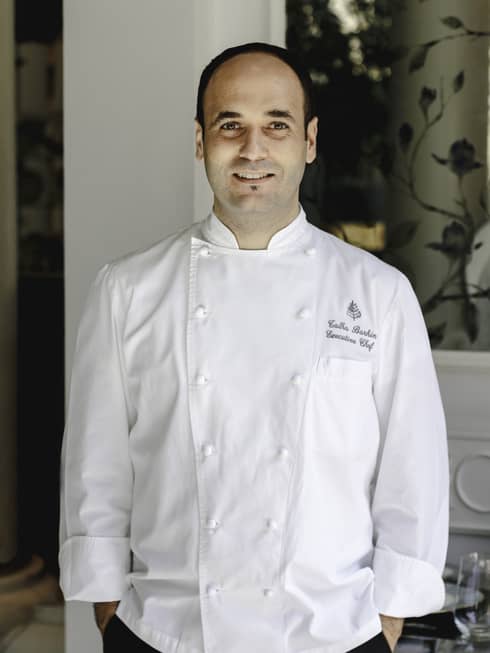 Talha Barkin
Executive Chef
Talha's philosophy has roots in the environment he grew up in – Koycegiz, Mugla, a lakeside town in Mediterranean Turkey where his mother's and grandmother's cooking, combined with abundant, soulful ingredients, inspired his palate. As a young chef, he gained exposure to world cuisine through worldwide assignments, and now with a more than 20-year career, he has received numerous medals in prestigious culinary competitions in Dubai. When asked what attracted him to working in Hampshire, he said it was the beauty and history of the property. "My arrival at Four Seasons Hotel Hampshire was very special. To see the manor house through the rolling hills on first approach was something everyone should experience." Bringing valued experience and an abundance of energy, Talha creates memorable dishes for hotel guests. Seeking the finest locally sourced produce, he blends flavours from his journeys and adds his own twist to his dishes. Talha believes that a passion for the craft equates to the love poured into a dish, and that's the most important ingredient of all.
"My intention is to always appreciate the value and origin of ingredients. I aim to create something that respects and brings out the ingredients' natural character in a fine gastronomic presentation."
Events
Sunday Roast

Wild Carrot invites you to celebrate with a traditional roast every Sunday at Four Seasons Hotel Hampshire. Lovingly crafted by Executive Chef Talha Barkin, with the finest locally sourced produce that the English countryside has to offer, relax and indulge as you take in the views of the rolling Hampshire hills.

Menu

"The Seven Moods of Drinking"

Now is an exciting time for craft spirits. We hope you'll enjoy our cocktails that are devoted to seven different moods: Imaginative, Bucolic, Gastronomic, Adventurous, Contemplative, Poetic and Social.

Menu