Services & Amenities
Fitness Facilities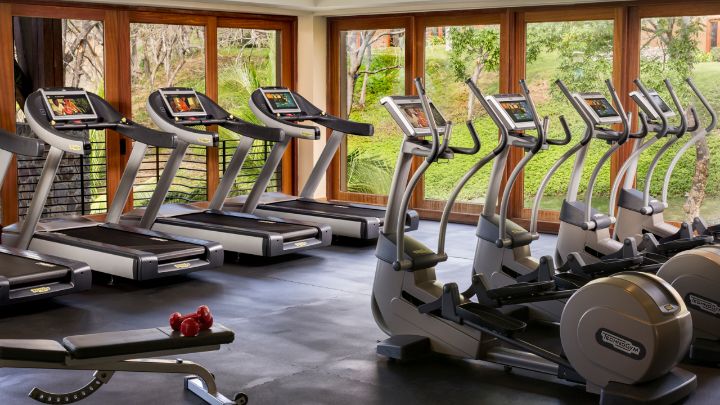 One of the many paths to pura vida may be found in our full-service, state-of-the-art fitness center that overlooks the beach and is surrounded by trees and greenery. The two-level facility offers workouts that incorporate a range of TechnoGym cardio machines, equipped with TVs and smart phone connectivity. Options include exercise bicycles, elliptical cross trainers and treadmills. Also available are resistance-training machines and free weights. Personal trainers are available by appointment for guidance and motivation.
Explore new and innovative classes or simply continue your at home regimen with classes taught by professional instructors. Experience empowerment, progressive thought with a contemporary fitness twist in the wide range of classes offered.
Recover and round off your workout in the comfort of the Spa, located just steps away. Consider this your oasis for inner and outer health. Here, you may take a dip in the outdoor hot and cold plunge pools and then unwind in the sauna. For added relaxation, see the Spa Concierge to book a Deep Tissue or Thai Stretching massage.
CLASSES OFFERED
Partner Stretching: Learn the benefits and relaxing techniques of stretching with your partner.
SUP Fit: Complete an energizing, short workout along the beach, then hit the water with your paddle and stand up paddle board to continue exercising on top of the board. Super fun way to get your exercise in! Squats, planks, dips, abdominal work will have you bronzed and fit in no time!
Mat Pilates Flow: This class consists of exercises performed on a mat in either a sitting or lying down position using resistance rings and Swiss balls. The primary focus is the awareness of the spine, proper breathing and posture through the strengthening of the core and all the postural muscles, which are important to help alleviate and prevent back pain.
H.I.I.T.: This hardcore High Intensity Interval Training class will have you using all muscle groups. We will do 40 second intervals of an exercise for your legs, arms, abs and cardio, which will complete one round. Once we get to six rounds in total, you have successfully finished the class. These challenging sequences will burn fat and boost metabolism!!

Boot Camp: Challenge yourself with this calorie-blasting, full-body workout, using various cardiovascular and strength training styles to keep your muscles confused and working hard!

Hatha Yoga: This class is an eclectic blend of Ashtanga, Anusara and Power Yoga styles, combining strength, flexibility and concentration. This practice is a powerful tool for self-transformation.

Spinning: This cardiovascular cycling class focuses on endurance, strength, intervals, high intensity and recovery, while providing a motivational experience.
Pura Vista Climb: Pura Vista means "Pure View", which is what you will see along this outdoor workout! As you climb 1,000+ stairs on both sides of the beaches, take notice of all the Costa Rican wildlife around you, while admiring the pristine views of the peninsula's coastline! We will stop along the way for pushups, dips and abdominal work for extra fun!
Kickboxing: This is an all-over body, calorie-burning workout to help you lose weight, tone muscle, increase energy, and learn a little bit about self-defense. You will be working out muscles that you did not even know you had.
Fitness Center Hours: Everyday 6:00 am – 8:00 pm
Guests 12 years of age and older are welcome to use the fitness facilities. The Spa's locker rooms, hot and cold plunge pools and sauna are available to guests 14 years of age and older. All classes are 50 minutes and may be subject to a fee. Reservation for classes is required. See the Concierge for the Schedule. Private Yoga or fitness sessions are available upon request.