My Four Seasons
Five Surfing Tips for Summer
by Clare Baranowski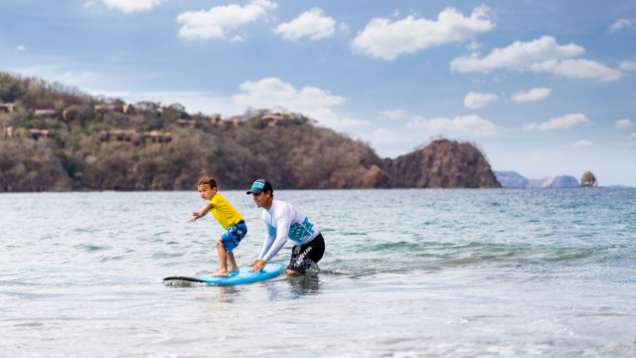 Perfectly located on Playa Blanca, Tropicsurf is the pioneer in luxury surfing teaching guests regardless of age or ability. With Tropicsurf everybody can enjoy surfing's ultimate thrills in style, comfort and safety.
1. Protection: Surfing is a sport that transports your mind away from the real world. When surfing, one hour can easily become three, and there is always the dilemma of 'one more wave,' which almost always turns into an extra three. During this time, our skin is exposed to the elements and with the reflection of the sunlight on the water's surface, surfers can easily suffer from sunburn. To combat this, we recommend long-sleeved SPF 50+ rashvests and a ton of 30+SPF sunscreen and zinc. If you have fair skin, we also advise a pair of lycra leggings to really protect the backs of the legs. With your arms and legs covered and some zinc under your eyes, this should help protect you no matter how long you want to escape into the waves.
2. Hydration: When learning to surf, it is often the mistakes we make that help us learn how to master a new skill successfully. This process takes courage and a lot of energy, so it is very easy to become dehydrated. You don't notice it as your skin is constantly being cooled whilst wet, but when you finish a session, it is important to rehydrate properly. We suggest you have a glass of water and coconut water both before and after surfing. Due to the the high electrolyte content of coconut water, it is a good way to ensure your body is rebalanced after so much exercise. Here in Costa Rica, you can find 'pipas frias' or cold coconut water on most beaches.
3. Motivation: Surfing is a sport that takes time, practice and patience. Paddle fitness is impossible to train for and can only be obtained through training on a surfboard. Reading waves can take months to learn, but once you have developed the ability, you never lose it. As surfing can be a challenge, it is important to have someone to support and encourage you. Who better than a close friend! By learning to surf together, you can start on the same level and talk about your progress. You also have someone to laugh at when they wipe out! It's also a great way to hold yourself accountable to reaching your surfing goals.
4. Location: When starting a new adventure sport, it's sometimes a little daunting. Surfing can be nail-biting, as learning often involves taking a few tumbles in the waves. The great thing about the Pacific Coast of Costa Rica is that most surfing spots have a sand bottom. This means you can push your boundaries and know that you can fall without worry.
5. Operation: The quality of your surf guide can both make and break your surfing adventure. This is why Ross Philips, Founder of Tropicsurf, scours the globe for guides who can find the best waves, offer the best tips and take any stress out of the experience. He then drops these guides into paradise to help teach others to surf to the best of their ability. Each guide is trained to deliver a step-by-step coaching technique. This strategy reduces the complex skill of surfing into smaller more manageable learning phases. It also helps by allowing you to identify your strengths and weaknesses and encourages you to plot your improvement in a progressive manner. With an expert guide and exceptional surfing tips, you will be a better surfer by the end of your Tropicsurf experience.
other four seasons stories