Your Private Butler
Mae Baan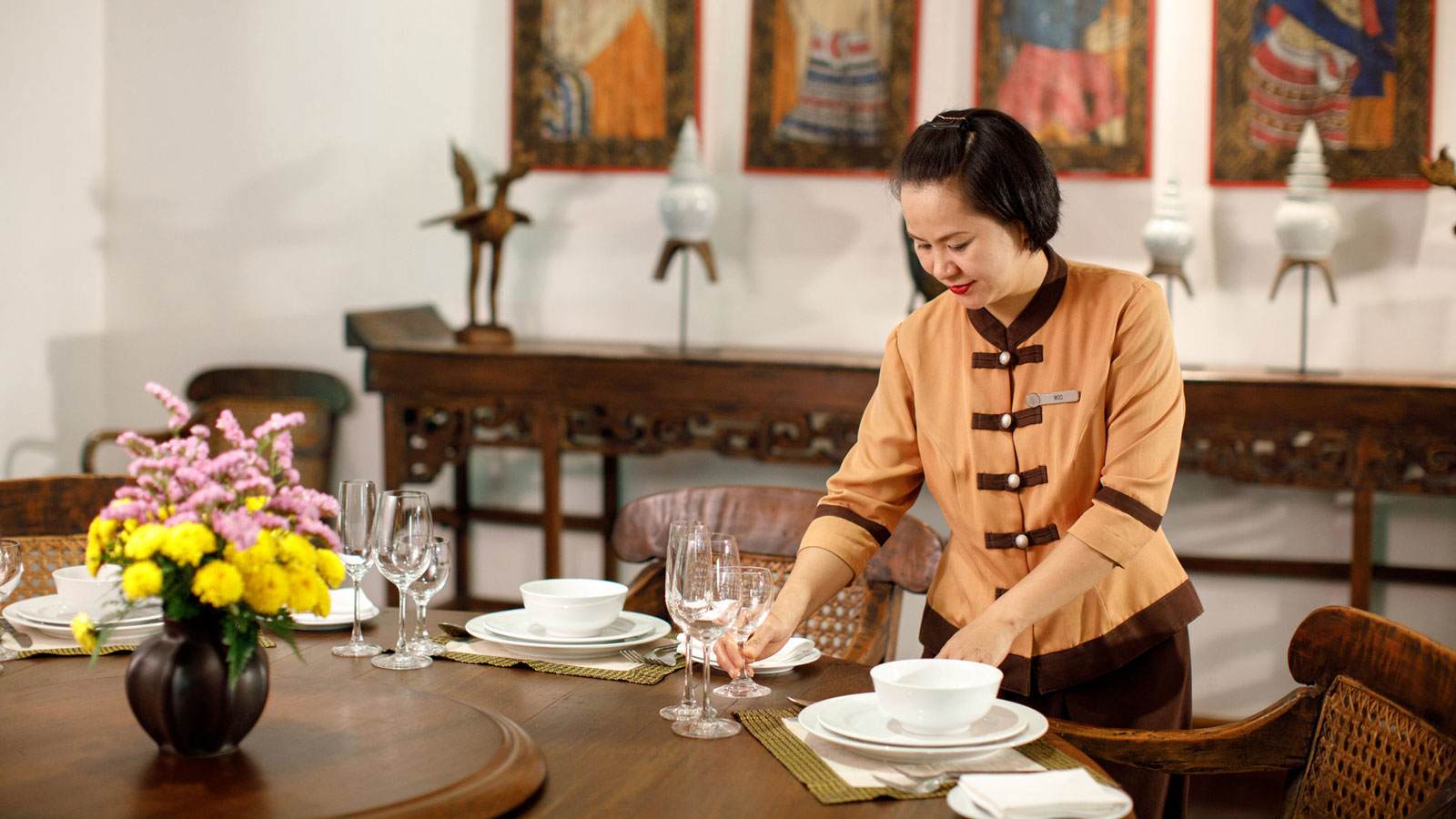 Miss Chaweewan Promma (affectionately known as Miss Moo) joined the Four Seasons family as a housekeeper in 1996, just one year after the Resort opened. This makes her one of our oldest staff members – and a favorite with guests, many of whom cite her warm service as their reason for coming back.
Around here, Miss Moo is the undisputed expert at creating the feeling of a home away from home. In the following conversation, she explains the Thai concept of a Mae Baan (housekeeper) and her various roles. Miss Moo also gives us a look into her personal joys and inspirations.
What is a mae baan?
The Thai phrase Mae Baan means Mother of the House. She is someone who works from the heart, anticipating what a guest needs even before they realize it. Her ultimate goal is to make the guest's stay smooth, personal and memorable.
To do this, a Mae Baan needs many skills. She must be observant, attentive, responsible, and energetic. She should also know how to cook, make drinks, sew, look after children, and plan activities. Finally, she must be able to adapt quickly to changing situations.
How many roles does a live-in Mae Baan carry out?
A live-in Mae Baan has a range of different roles. Apart from housekeeping and babysitting, she must also be a secretary, concierge and personal shopper. Most interesting of all, the Mae Baan often becomes a Thai language and dance teacher for our guests!
Do you have any special skills?
I love to cook. I think my best dish is Thai omelet because my guests always ask for a second or third helping. Fruit carving is another specialty of mine – I believe presentation is as important as taste. I also like to make beautiful flower arrangements, be it in vases or water bowls.
What is your proudest moment at the Resort?

Many years ago, I stayed with an American family as a live-in Mae Baan. I looked after their two young daughters, who were seven and nine years old, and we had such fun together. I taught them a bit of Thai language and traditional Lanna dance – the one with the umbrellas. We also did lotus-folding and played hide and seek. I think the girls really enjoyed themselves – and I certainly loved spending time with them.
Ten years later, the entire family returned to the Resort and put in a special request for the same Mae Baan – me! That was a memorable moment for me, it made me very happy to be remembered after all that time.
What is your favorite inspirational quote?

My sister told me something that I know by heart, and even passed on to my own children: "Make your work enjoyable, this will help you find happiness in your career and in your life."