Destination
Winter Activities
During the winter, a dedicated Ski Concierge is available to simplify your activities on the mountain, providing customised rentals, equipment transfers and direct ski lift access.
Arrive at the Ski Concierge and be welcomed and presented with dry boots, skis/boards, poles and other equipment such as helmets. For ease and convenience, enjoy transportation between the Resort and the Ski Concierge, and from the Ski Concierge to the base of Whistler Mountain.
The Ski Concierge can arrange ski rentals through the Mountain Products Store, on the main floor of the Resort.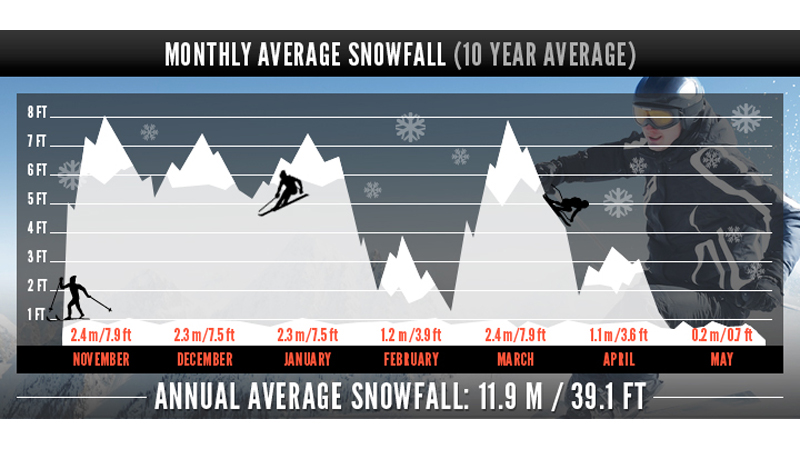 Ski Programs
Ski Lite program
With this program, you can pack light for your winter getaway. Guests will be suited up from head to toe in skiwear, such as designer wear from Prada and Spyder, at the Whistler Blackcomb Mountain Products store located on the lower level of the lobby. To ensure ultimate carving on the hill, the Ski Lite program also includes high-performance rental equipment featuring Salomon, Rossignol and K2 skis and Burton boards. For more information on skiing equipment, please contact the Concierge.


Check the latest snow conditions

View Whistler and Blackcomb trail maps

Lessons in skiing and snowboarding
Opportunities abound for mountain skill development at Whistler Blackcomb. Enrol in a telemarking clinic, a mogul lesson, a Gatebuster program, a backcountry tour or even get certified by the Canadian Ski Instructors' Alliance (CSIA). Customise your learning experience by taking advantage of the private lessons, multi-day programs, daily improvement workshops, women's programs and snowboarding clinics. Advance registration is strongly recommended.

Learn more about lessons at Whistler and Blackcomb
Skiing/snowboarding
When it comes to skiing and riding, Whistler Blackcomb offers variety. More than 3,237 hectares (8,000 acres) of skiable terrain on two side-by-side mountains. Choose from steeps, deeps, chutes, high alpine bowls, glades, superb corduroy, long cruisers and gentle rollers. Riders and skiers will revel in the Parks and Pipes on Blackcomb, the World Cup Superpipe, plus natural launch pads, hits, wind-lips, cornices, cliff drops and ridges – the place is like a huge natural terrain park.

Heli-skiing/snowboarding
Hire your own air-borne limo service and fly to untouched mountains coated with virgin white powder. It is an exhilarating experience to rival all else – unadulterated skiing and uninterrupted snowboarding down 1,830 metres (6,000 feet) of powder. Heli-skiing/riding requires participants to be of intermediate ability or better and in good physical condition.

Cross country skiing
More than 28 kilometres (17.5 miles) of track-set cross-country trails wind through scenic trails located around Lost Lake and the Callaghan Valley. Cross-country ski trail maps, lessons and rental equipment information are available from the Ski Concierge.

Other Activities
Fresh Tracks breakfast
Fresh Tracks offers early birds a mountain-sized breakfast buffet and early loading privileges. Upload to the Roundhouse Lodge on Whistler Mountain between 7:30 am and 8:30 am. As soon as Whistler Ski Patrol gives the okay on avalanche clearance, you are free to hit the open runs on the upper half of the mountain.

Dog sledding
Huskies pull a sled through the spectacular Soo Valley. Expect an adventure through Whistler's backwoods and snow-covered forests. Dog sledding is fun for the whole family.

Ice climbing
Take some crampons and ice tools and join a professional guide for a day of waterfall ice climbing.

Ice skating
Enjoy indoor ice skating or drop-in hockey at Whistler's Meadow Park Sports Centre. Skate rentals are available; hockey equipment is not provided.

Snow Cat tour
Climb on board the best winter snow vehicle and charge up the mountain for a few hours. A gourmet fondue dinner awaits you at the top in a cosy, secluded cabin.

Snowmobiling
Exhilarating snowmobile adventures take you off the beaten track. Tours are available for all levels and include qualified guides.

Snowshoeing
Trek along tranquil forest trails on snowshoes.

Sleigh ride
Join in on a cosy sleigh ride through a winter wonderland. Some tours include bonfires and hot chocolate or fondue.

Winter fishing
Fish in the warmer elevations of Squamish and the Lillooet River Valleys as you cast out trout, Dolly Varden, char and steelhead.

Bald eagle viewing
The mountains seasonally feature the highest concentration of bald eagles in the world, as they are drawn to the river corridor to feast on thousands of spawning salmon. Travel 45 minutes south of Whistler for a guided walking tour or a gentle raft trip and witness these magnificent birds.