Located at the front door to Vail Village, Four Seasons Resort and Residences Vail offers the ideal setting to celebrate the holidays in the heart of the Colorado Rockies.

We will be accepting reservations for Flame Restaurant while The Remedy will operate on a first-come, first-served basis. Reservations for The Spa are recommended. Please note these reservations may be changed or cancelled if there are any changes or updates on local COVID-19 guidelines impacting maximum capacity. The information in this guide is for reference only. Dates, times and menu items are subject to change.
Dining Requests for Christmas Eve, Christmas Day and New Year's Eve must be made in advance.
1 (970) 477 8600
Contact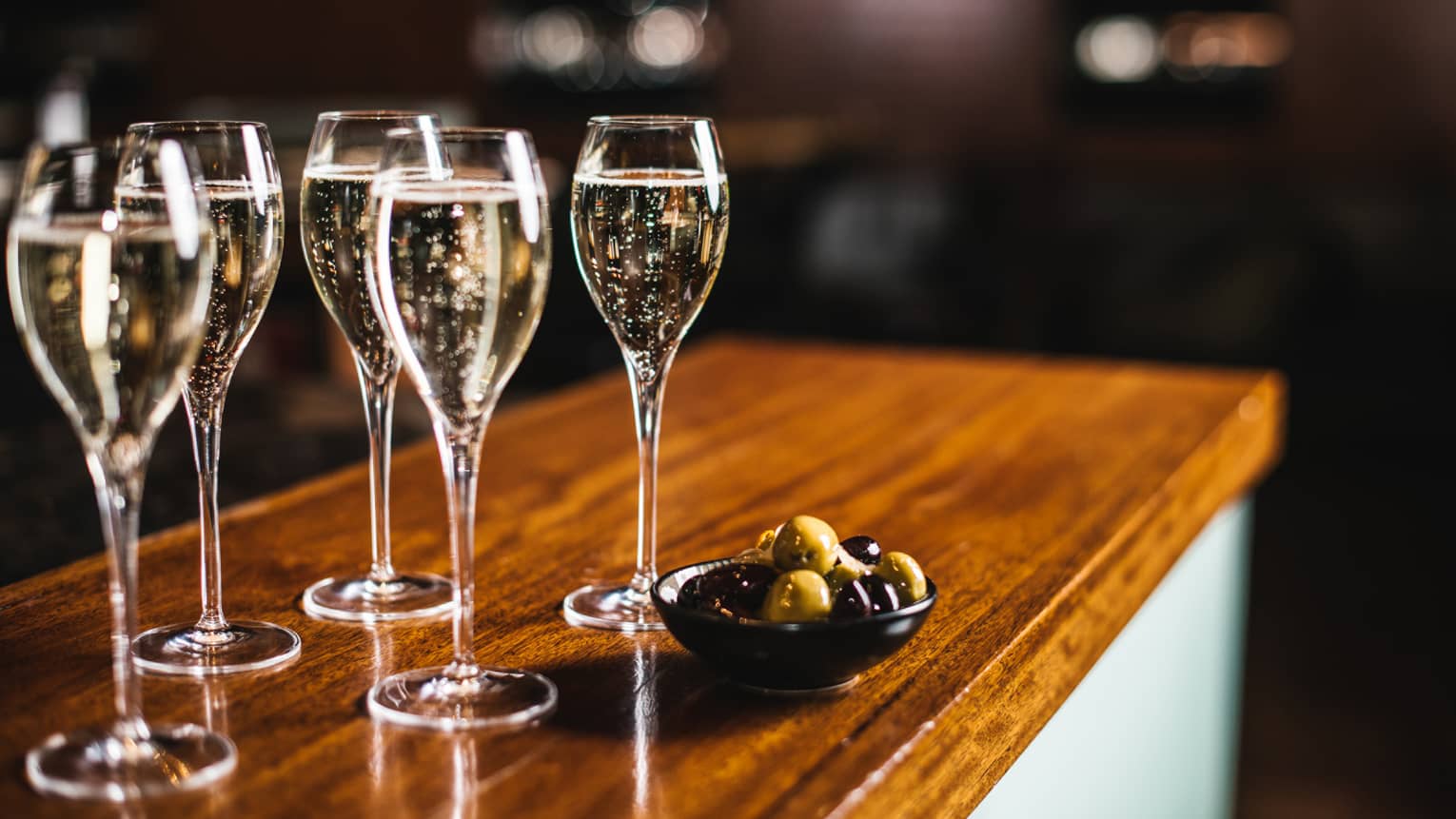 Thanksgiving Dining
Thanksgiving at Flame Restaurant

Enjoy a memorable dinner at Flame Restaurant featuring either Thanksgiving Turkey, Seared Beef Tenderloin or Grilled Tofu with an array of sides and our dessert trio, featuring caramelized phyllo and pumpkin mille feuille, Manjari chocolate mousse with chocolate sable and milk chocolate croquant, and salted caramel panna cotta with praline crumble.

4:00 pm – 9:00 pm November 26

USD 129 per adult

USD 65 per child ages 5-11 years old

Thanksgiving at The Remedy

The Remedy will offer Thanksgiving Specials in addition to the menu. Specials will include butternut squash soup, Thanksgiving turkey roulade stuffed with cornbread, raisins, dried cranberries, sundried tomatoes and porcini mushrooms. Served with turkey gravy and cranberry sauce. Sides include baby carrots, Brussels sprouts and buttermilk Yukon golden mashed potatoes. Dessert includes pumpkin creme brulee with pepita tuile and fresh berries.

4:00 pm – 9:00 pm November 26

USD 74 per adult

USD 39 per child ages 5-11
Takeaway the Holidays
Turkey To-Go for 4-6 guests includes a traditional roasted turkey with corn bread stuffing with mushrooms, raisins, sun-dried tomatoes and apples. Sides include buttermilk mashed Yukon gold potatoes, roasted Brussels sprouts with cinnamon apple gastrique, green bean and mushroom casserole and bourbon-pecan roasted sweet potato and marshmallow, plus cranberry sauce and turkey gravy. Iceberg salad with cherry tomato confit, candied pecans, crispy pancetta, crumbled garlic bread and black truffle vinaigrette, quinoa salad with roasted butternut squash, chickpeas, orange segments, dried cranberries and shallot vinaigrette and shrimp cocktail with romaine, arugula, horseradish cocktail sauce, avocado relish and lemon. Choice of apple or pumpkin pie.

Feeds 4-6

Orders must be placed by November 23

Pick up on November 26

USD 315 plus 18% service charge
Christmas Dining
Christmas Eve at Flame Restaurant

Our signature restaurant Flame will be offering a prix-fixe menu including an amuse bouche, featuring Togarashi charred ahi tuna followed by a first course of either porcini mushroom bisque or roasted winter squash and beet salad. The entree is a choice of grilled Wagyu beef tenderloin, tangerine-glazed crispy arctic char or green lentil and chickpea casserole. Dessert includes a delicious trio with spiced pear toffee pudding, eggnog cheesecake and chocolate Luxardo cherry gateau.

5:00 pm – 9:30 pm December 24

USD 190 per adult

USD 95 per child ages 5-11

Christmas Eve at The Remedy or In-Room Dining

Christmas Eve dinner at The Remedy will feature a 7X Wagyu beef tenderloin, butter poached lobster, smashed potatoes, swiss chard and tarragon butter sauce.

5:00 pm – 10:00 pm December 24

USD 90 per person

The Remedy's full menu is also available

Christmas at Flame

Enjoy a lavish Christmas meal with our culinary team featuring choice of a Jerusalem artichoke soup or baby kale and gem salad as the first course, followed by four choices for the entree: IPA braised prime beef short ribs, citrus glazed Scottish salmon, pommery mustard and mint crusted Colorado lamb or chili brushed tofu. Dessert is a choice of raspberry almond torte or bourbon pecan pie.

2:00 pm – 9:00 pm December 25

USD 190 per adult

USD 95 per child ages 5-11

Christmas at The Remedy or In-Room Dining

Christmas at The Remedy or in the comfort of your own room will feature a soy charred Chilean sea bass, wasabi whipped potatoes, miso glazed wild mushrooms and scallion-sesame sauce.

2:00 pm – 9:00 pm December 25

USD 70 per person

The full menus for The Remedy and In-Room Dining are also available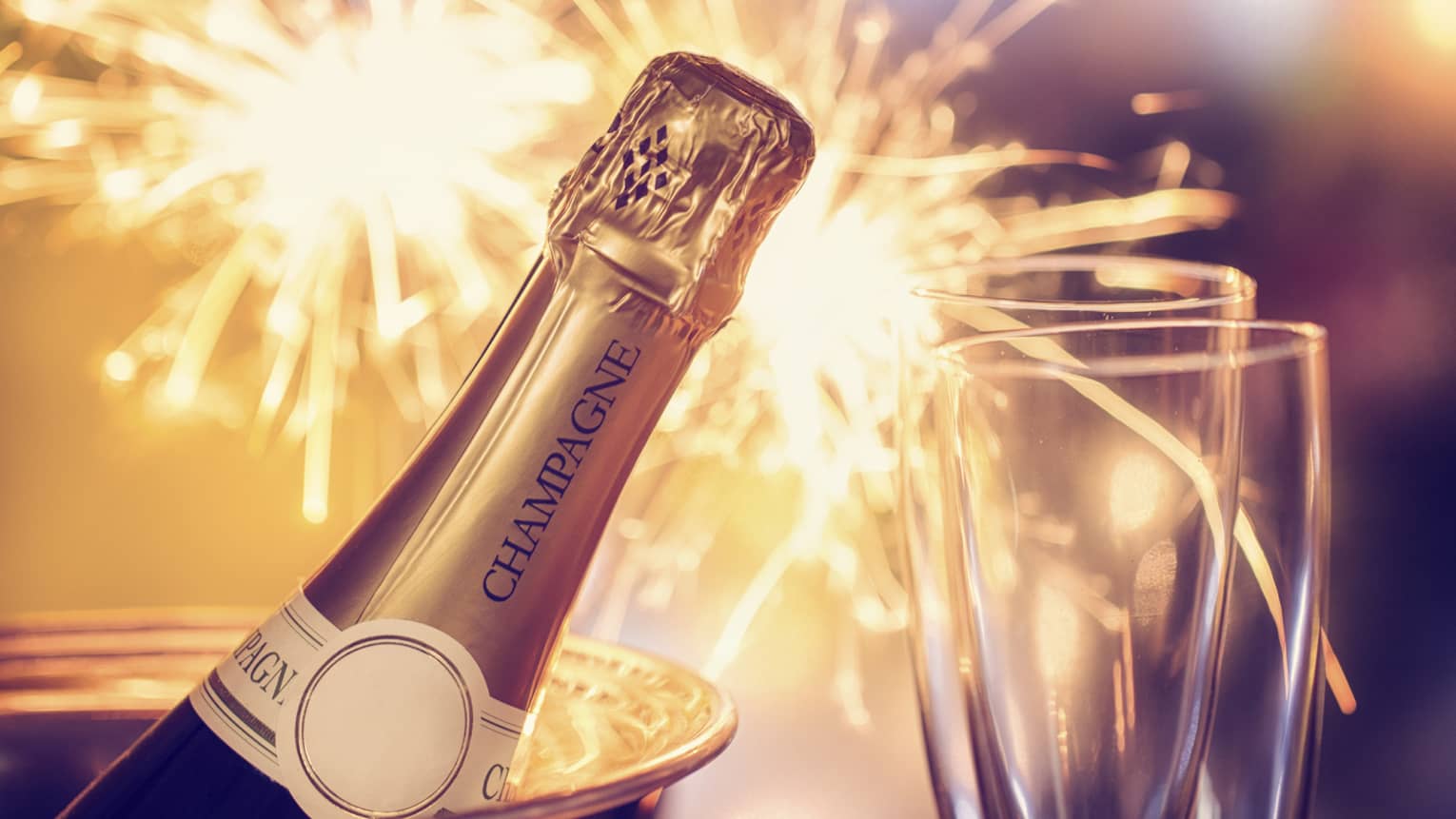 New Year's Dining
New Year's Eve at Flame Restaurant

Flame Restaurant's New Year's Eve dinner includes a split of Laurent Perrier Champagne per person, artisan bread and Shigoku oyster as an amuse bouche followed by three courses, entree and dessert. Courses include creamy Maine lobster bisque, port roasted Bosc pears and pan-seared foie gras. The entree is an exceptional duo of espresso roasted prime beef tenderloin and lemon grilled jumbo scallops. Dessert is a choice of gold-dusted chocolate sphere or Manjari chocolate mousse with raspberry ganache.

5:00 pm – 10:00 pm December 31

USD 250 per adult

USD 100 per child

New Year's Eve at The Remedy

In addition to The Remedy's menu, the New Year's Eve special will include an espresso roasted prime beef tenderloin, soubise, baby beets and peppered blackberry sauce.

5:00 pm – 10:00 pm December 31

USD 70 per person

New Year's Eve In-Room Dining

In addition to our In-Room Dining menu, we are pleased to offer an Italian Osetra Caviar (30 grams), served with blini, eggs, parsley, capers, red onion, creme fraiche and toast points.

5:00 pm – 10:00 pm December 31

USD 155 per person

New Year's Day at Flame Restaurant and The Remedy

Start off 2021 right with brunch specials including house-smoked salmon Benedict with smashed avocado English muffin, tomato, poached eggs and basil hollandaise or braised prime beef short rib hash with sunny-up cage free eggs, peppers, Yukon gold potatoes, sweet Vidalia onions and cilantro-chipotle butter.

7:30 am – 12:00 pm January 1

USD 30 per person
Hanukkah
Light the Menorah

Join us in Private Residences Lobby as we celebrate the Festival of Lights with the sacred lighting of the Menorah every evening during this eight-day Hanukkah celebration. Open to everyone.

6:00 pm nightly

December 10 – December 18
Events for the Family
Visit our Dr. Seuss Whoville-inspired gingerbread house façade, located by The Remedy Bar. The structure's detail and patterns, designed and created by our team, along with the colorful gingerbread tiles, provide endless enjoyment for all! Available December 11 through the festive season
Roasting S'mores

After a day enjoying Vail Mountain in all its splendor, grab a S'more kit from the entrance to our pool and cosy up near the fireplace in the S'more Haus on the pool deck to toast marshmallows and create your very own S'more, however you'd like it!

4:00 pm – 6:00 pm daily

Board Games and Puzzles

Ask our Concierge for a list of the available board games and puzzles for the entire family to enjoy in the privacy of your guest room or Private Residence.

Elf on the Shelf

Our Elf on the Shelf is keeping a watchful eye over our youngest guests. Each night, after everyone has gone to bed, our Elf flies to the North Pole to report to Santa on the day's activities. In the morning, he returns to the Resort and hides in a new location. Find him and post a selfie on Instagram or Facebook, tagging @FSVail, and then show the Front Desk to receive a treat.

December 18 – December 24

Christmas Morning Surprise

Visit our lobby on Christmas morning for a surprise you don't want to miss!

9:00 am – 10:00 am

December 25
Celebrate in Vail
Magic of Light

Part of the Town of Vail's Reverly Vail celebration, this 25-minute ticketed experience includes a walking tour of the Betty Ford Alpine Gardens at Ford Park. The family-friendly, socially distanced tour follows an approximately half-mile walking loop, taking participants past an array of majestic lights displays, made from half a million individual low-impact LED lights.

December 11 – January 24

Vail Holidays

Vail's beautiful mountain village – with its twinkling lights and crisp mountain air – is the ideal backdrop for the holiday season. The town is hosting a variety of events, including a holiday market, a tree-lighting ceremony, the Holiday Sweater Run and more.

December 11 – December 13

Vail Après

After a day of adventure, join in on a treasured tradition: après-ski. Kick off your skis, explore Vail Villages and enjoy dining and drink specials while you reminisce on the day's best moments with family and friends.

4:00 pm Daily
Spa for the Season
The Spa at Four Seasons Vail offers the opportunity to relax, renew and restore well-being. Choose from an array of results-oriented and organic treatments focused on preserving the delicate balance of hydrations and nourishment – especially important in our alpine climate. Or relax and warm up in one of our outdoor hot tubs. Available 8:00 am – 8:00 pm.
Après at The Spa

Enjoy an 80-minute Swedish or Advanced therapeutic massage that finishes with a focus on the head, neck and shoulders using a warm oil scalp treatment.

80 minutes

USD 310