The Team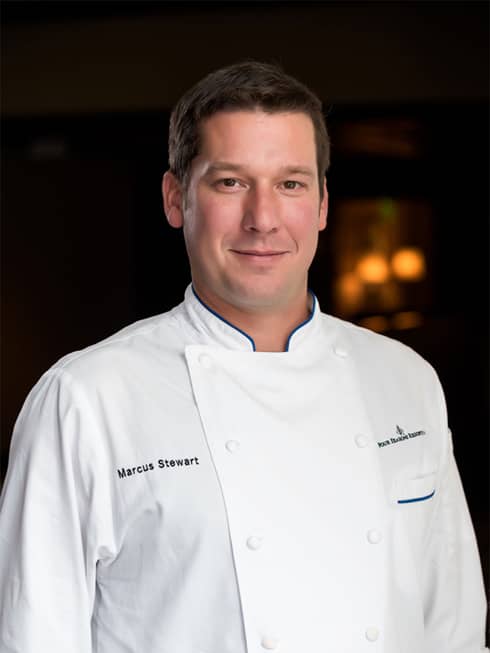 Executive Chef Marcus Stewart
Inspired by a childhood spent on his grandparents' organic farm in Andrews, South Carolina, and by a career spent in the kitchens of top-rated restaurants around the world, from Lanai to Munich, Marcus Stewart brings a love of farm-to-table cooking to Flame.
"Teamwork is crucial in a kitchen. When we all work together, and we're able to provide our guests with the best culinary experience possible, there's really nothing more rewarding."
Events
FARM TO FLAME

Get to know one of the premier beef producers in the U.S. with an exclusive gastronomic experience that takes you from the Rockies to the Chef's Table at Flame Restaurant.

Details

Burger Bar

It's fun for the whole family. Step into our Back of House, where you create your own burgers and house-spun ice cream milkshakes (that can be upgraded to boozy milkshakes for adults) in our main kitchen.

Details
Culinary Experiences
Being from Atlanta, I've developed a close connection to the unique style of whiskey born in the South that is bourbon. Any chance I get to share our Private Barrel program with guests is one I cherish.

Steven Teaver

Director of Beverage
The secrets of a master mixologist

Our Director of Beverage, Steven Teaver, customizes private mixology classes to suit your interests, whether you want to learn how to make the perfect cocktail or sample rare whiskeys from our Private Barrel program.

The ultimate Flame experience and not for the faint hearted. Your Feast by Flame experience begins as you enter the heart of the house and are seated in the kitchen at our wooden top Colorado Pine Beetle Kill Table. With the hustle and bustle of the kitchen surrounding you, our team of culinarians will walk you through the ultimate taste of Flame. Dishes are served family style so everyone gets to share. Your interaction with the chefs will add to the lively ambience surrounding this evening of pure epicurean delight. USD 250 per person | Seats four to eight people | 6:00 pm – 9:30 | For more information, please call (970) 477-8650.

Hitting the Vail Mountain slopes has never been more alluring, especially when there's a Four Seasons chef-curated picnic to look forward to once hunger kicks in. Order a picnic from the Resort's culinary team to bring up the mountain, or for a more sumptuous experience, allow one of our chefs to cook signature Flame steaks atop the mountain.