Air-con–loving Singaporeans are notorious for never walking anywhere. With accessible taxis, a meticulous metro, and hundreds of subterranean and sky-scraping food courts and retail spaces, there's much to do without breaking a sweat. But a tropical and dynamic outdoor world begs to be explored. Locations just off of Orchard Road makes Four Seasons Hotel Singapore an ideal place from which to set out on foot. Discover parks, restaurants, historic neighbourhoods and boutiques along the way.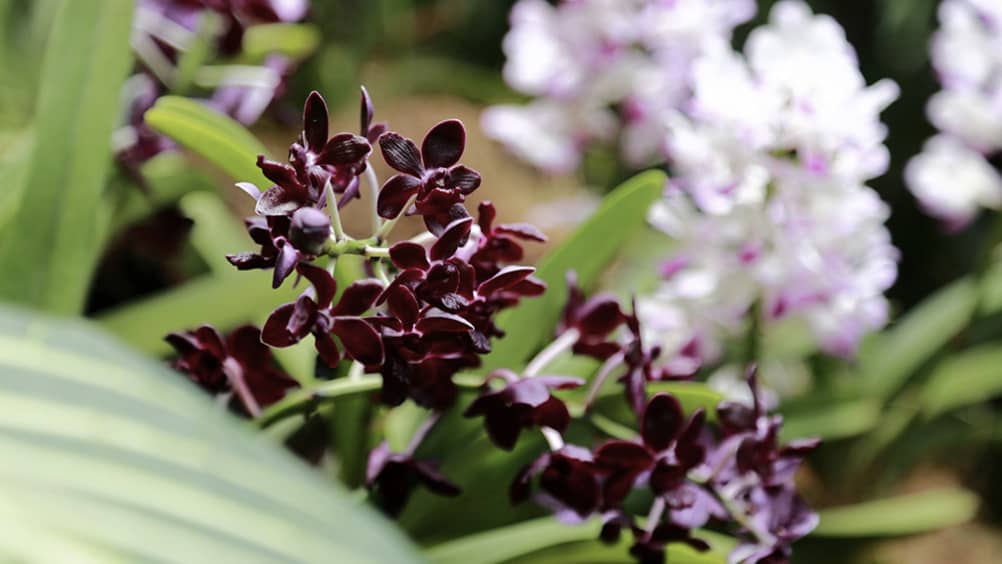 Photography Chinarius / Thinkstock
1 Cluny Road

The 74-hectare (182-acre) Singapore Botanic Gardens, about a 20-minute walk from Orchard Road, doesn't have the buzz of the newer Gardens by the Bay, but it's by no means less interesting. The 155-year-old garden is home to a vivid array of flora and fauna, including endemic species like heritage kapok trees, bright orange flameback woodpeckers and four-lined tree frogs. The park has long served as a natural history and botanical research centre and specializes in local tropical species, many of which serve as reminders of Singapore's proximity to the equator. Visit Eco-Lake to see black swans, and the National Orchid Garden, which showcases more than 1,000 species and 2,000 hybrids of orchids.
Emerald Hill
Weave through the small enclaves of Emerald Hill, a district off Orchard Road that's home to Singapore's wealthy Peranakan community. The neighbourhood's unique aesthetic was conceived by local architect Rethinam Thamby Rajoo Pillay and has been preserved in several historic homes, many showcasing a rare Chinese Baroque style. The area has also been immortalized by the late Singaporean author Goh Sin Tub. Take a cue from the locals and let food be your guide: Pop into the nearby Imperial Treasure Super Peking Duck Restaurant—which ranked among Asia's 50 Best Restaurants in 2014—on the fifth floor of the Paragon shopping complex.
Photography Will Steeley / Alamy Stock Photo
93 Stamford Road

Visitors who make the 35-minute trek to Singapore's national museum are rewarded with diverse exhibitions that spotlight the country's cultural and political past, from the changing roles of Singaporean women to the importance of regional street food, as well as interactive workshops. Housed in an 1887 Neoclassical building attached to a stunning Modernist extension of glass and steel, the museum is also home to historic artefacts that date back to the 14th century.
2 Orchard Turn

Orchard Road and its surrounding district abound with high-end shopping malls, but ION Orchard is by far the most popular. The glimmering, eight-floor glass and steel structure houses many recognizable luxury labels like Armani, Bally and Chanel alongside H&M, Muji and Uniqlo. The space is also home to an art gallery that puts on world-class exhibits. As in most Singapore malls, the food court is not to be missed. Killiney Kopitiam serves up delicious coffee and homemade kaya (coconut milk, eggs, pandan leaves and sugar).
Brix
10 Scotts Road

It's 10 minutes by foot to the legendary Brix bar, a lively establishment known for high-tempo musical acts, carefree locals, and expats taking advantage of the affordable pints of Guinness. The bar menu is one of the best in town and features a few Asian takes on Western fare, like spicy chicken larb pizza and chicken wings with Thai chilli sauce. Straight-up Western classics like beer-battered onion rings, nachos and slider burger baskets with thick-cut fries are so caloric you'll be glad you walked.
Elizabeth Woodson contributed to this article.
Four Seasons Hotel Singapore