All Accommodations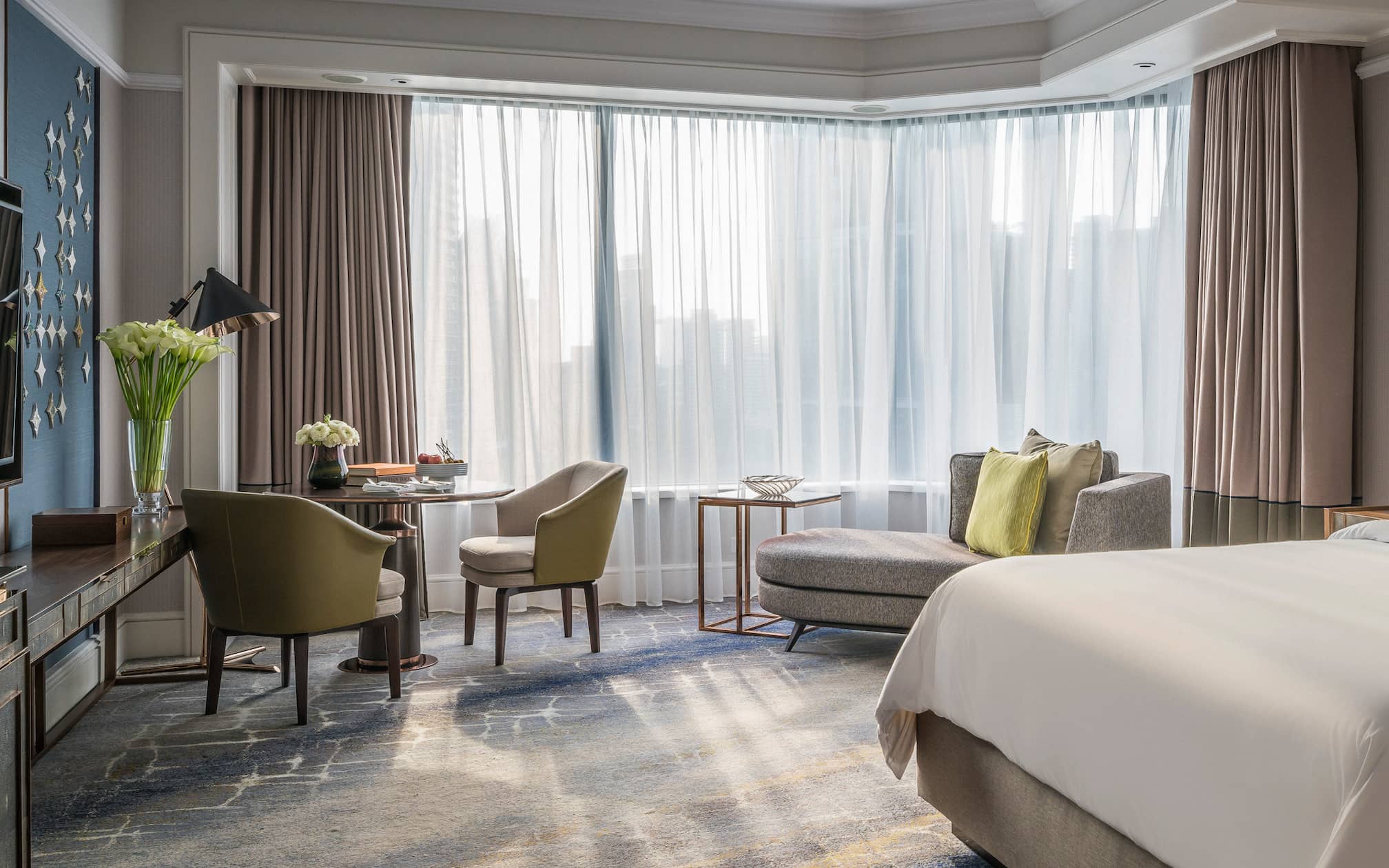 Premier Room
One king bed or two queen beds, One rollaway or one crib. One rollaway and one crib or two cribs. Extra Beds are subject to availability. Extra charges may apply.

58 m2 (624 sq. ft.)

3 adults, or 2 adults and 1 children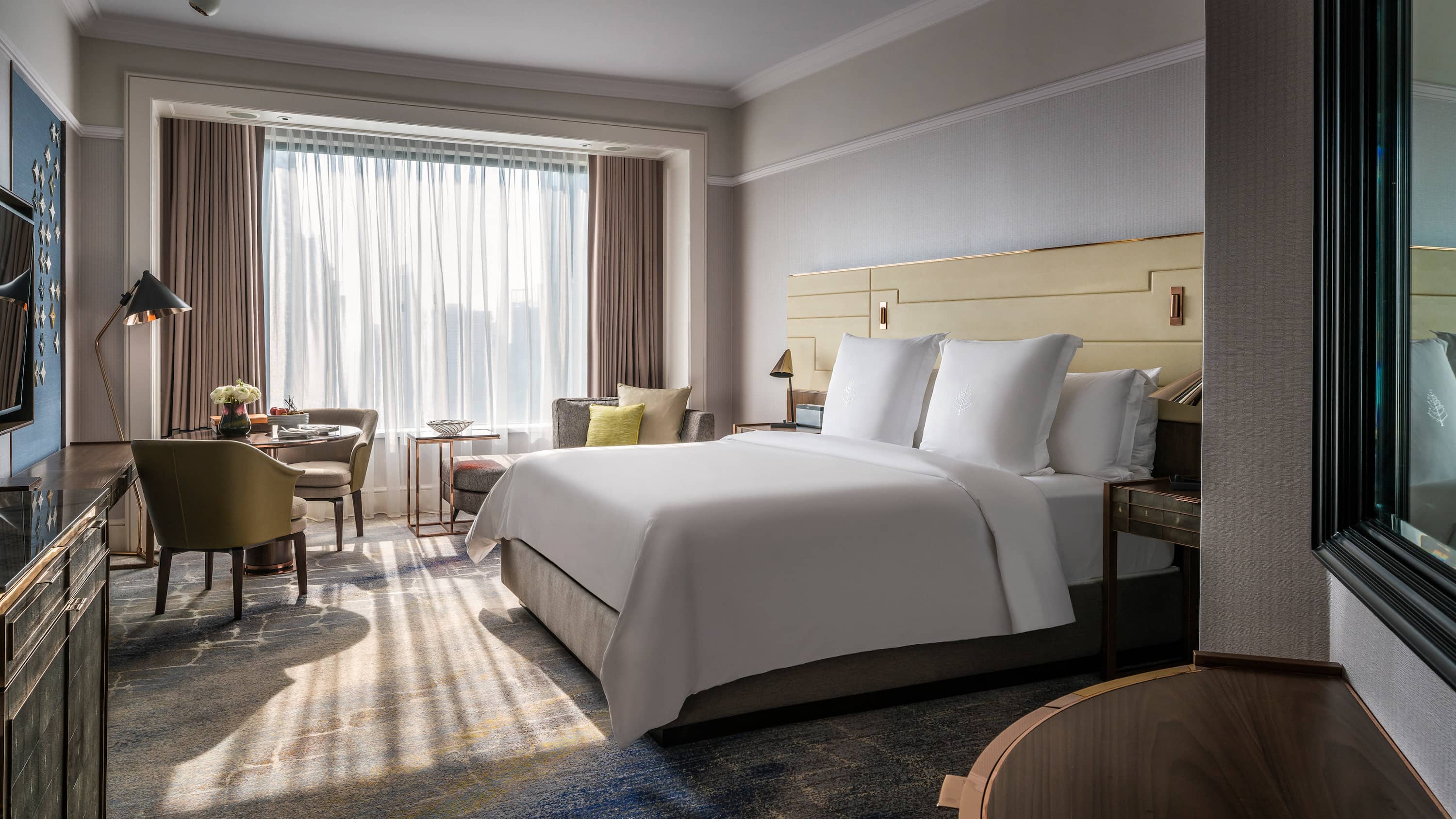 Boulevard Room
One king bed or two twin beds, One rollaway or one crib. Extra Beds are subject to availability. Extra charges may apply.

49 m2 (527 sq. ft.)

3 adults, or 2 adults and 1 child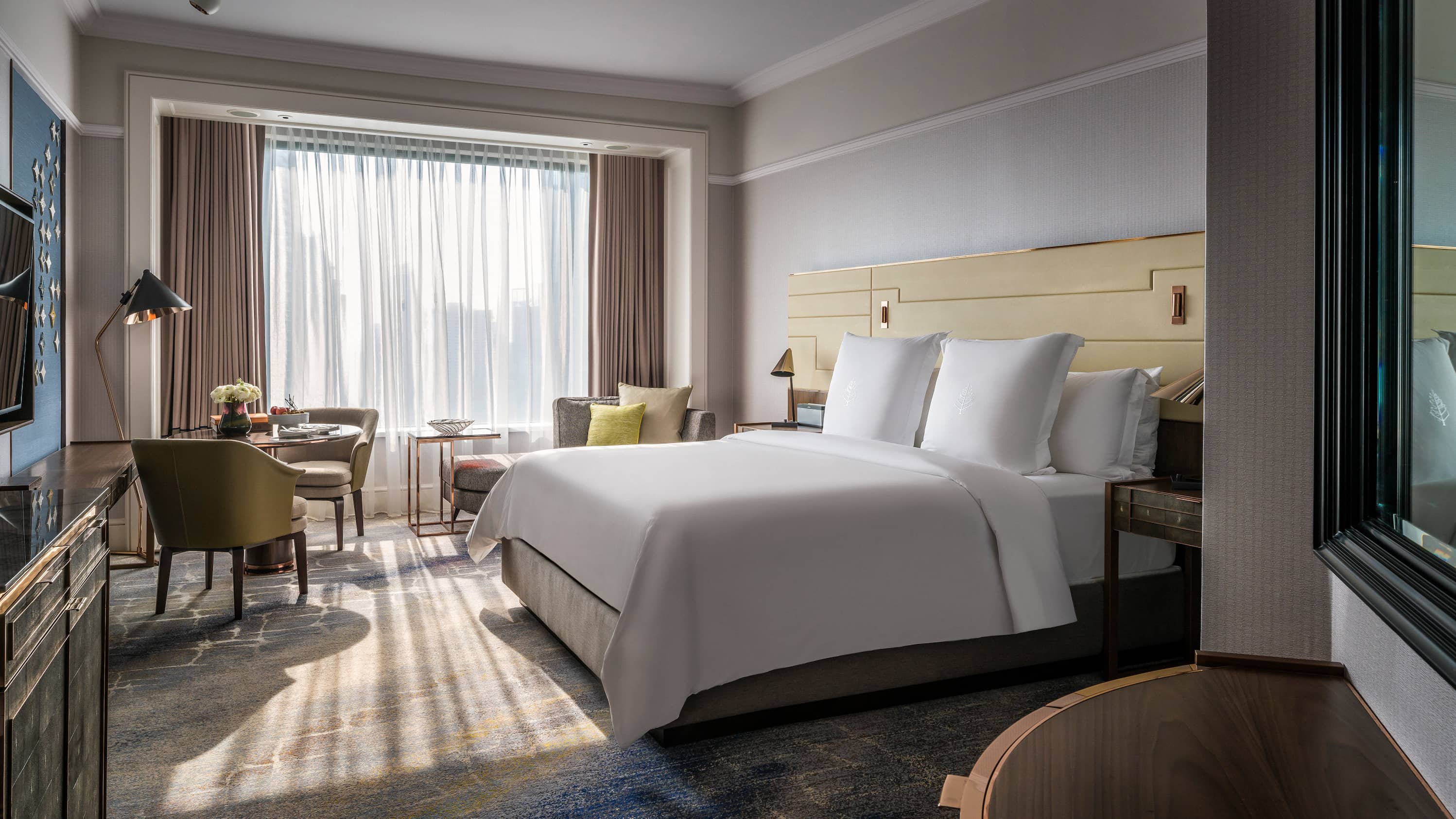 Deluxe Room
One king bed or two twin beds, One rollaway or one crib. Extra beds are subject to availability. Extra charges may apply.

49 m2 (527 sq. ft.)

3 adults, or 2 adults and 1 child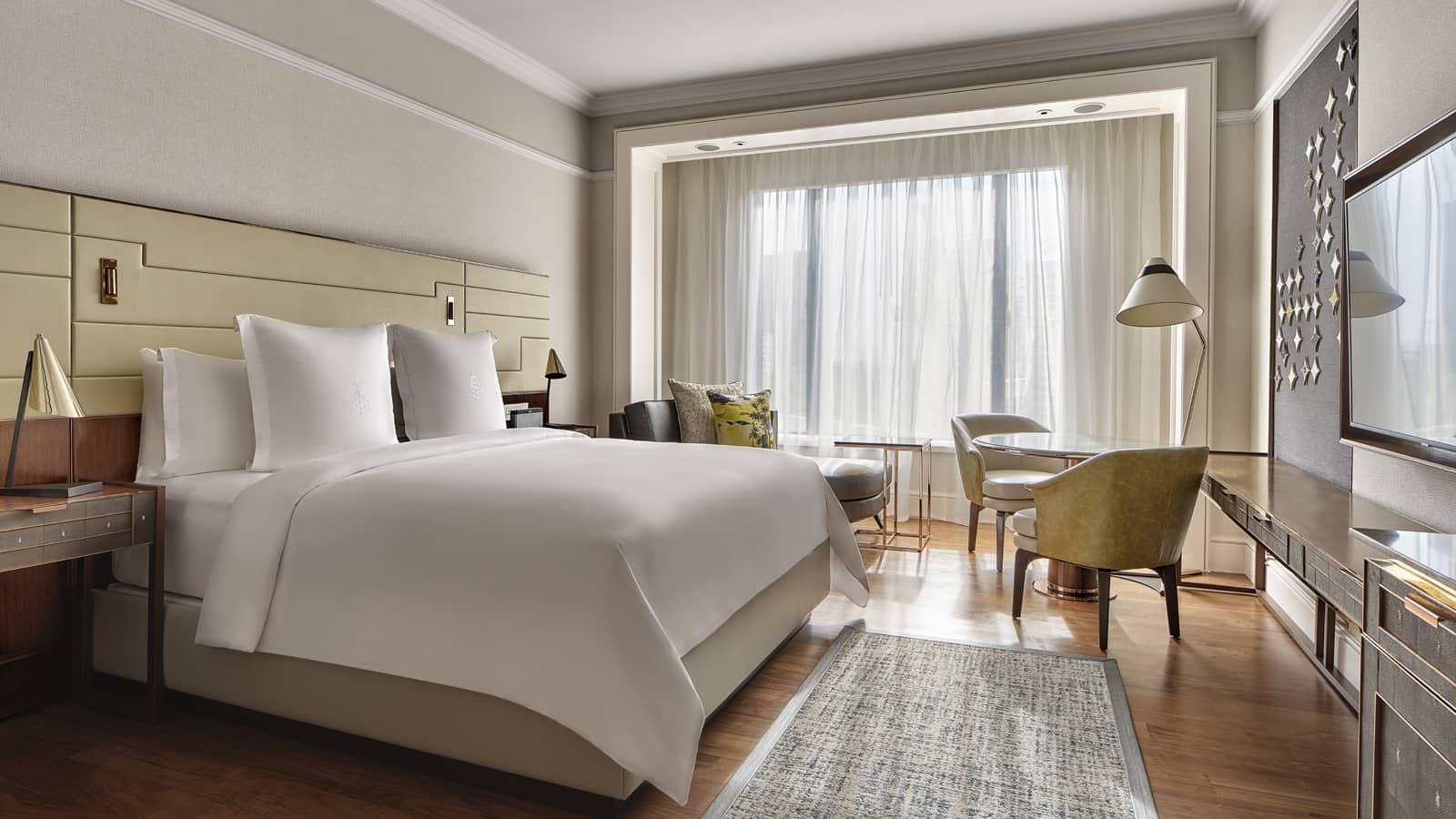 Deluxe Hypoallergenic Room
One king bed or two twin beds, One rollaway or one crib. Extra beds are subject to availability. Extra charges may apply.

49 m2 (527 sq. ft.)

3 adults, or 2 adults and 2 children (second child must be below 4 years)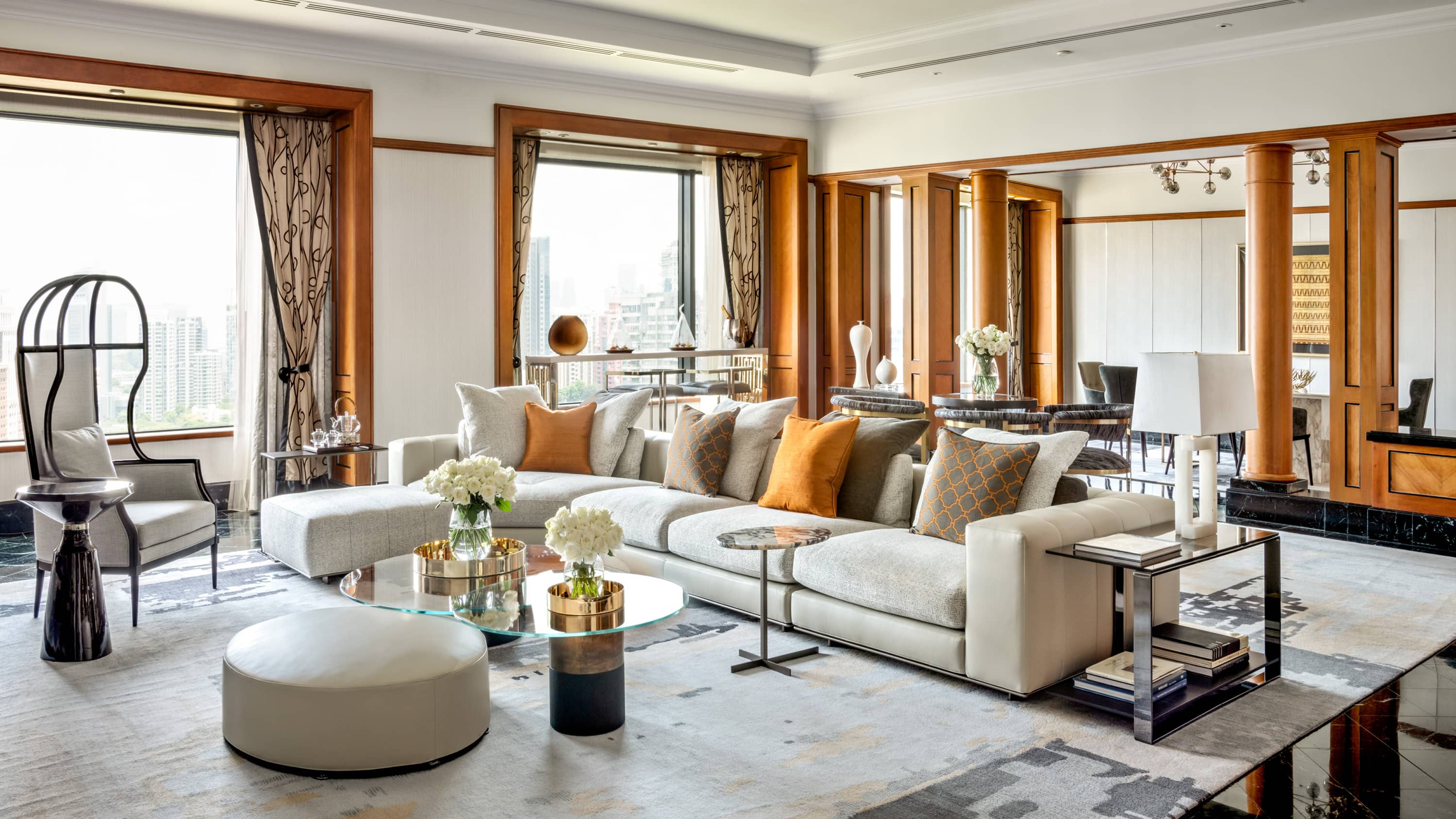 Presidential Suite
One king bed, Two rollaways or two cribs. Extra Beds are subject to availability. Extra charges may apply.

199 m2 (2,142 sq. ft.)

4 adults, or 2 adults and 2 children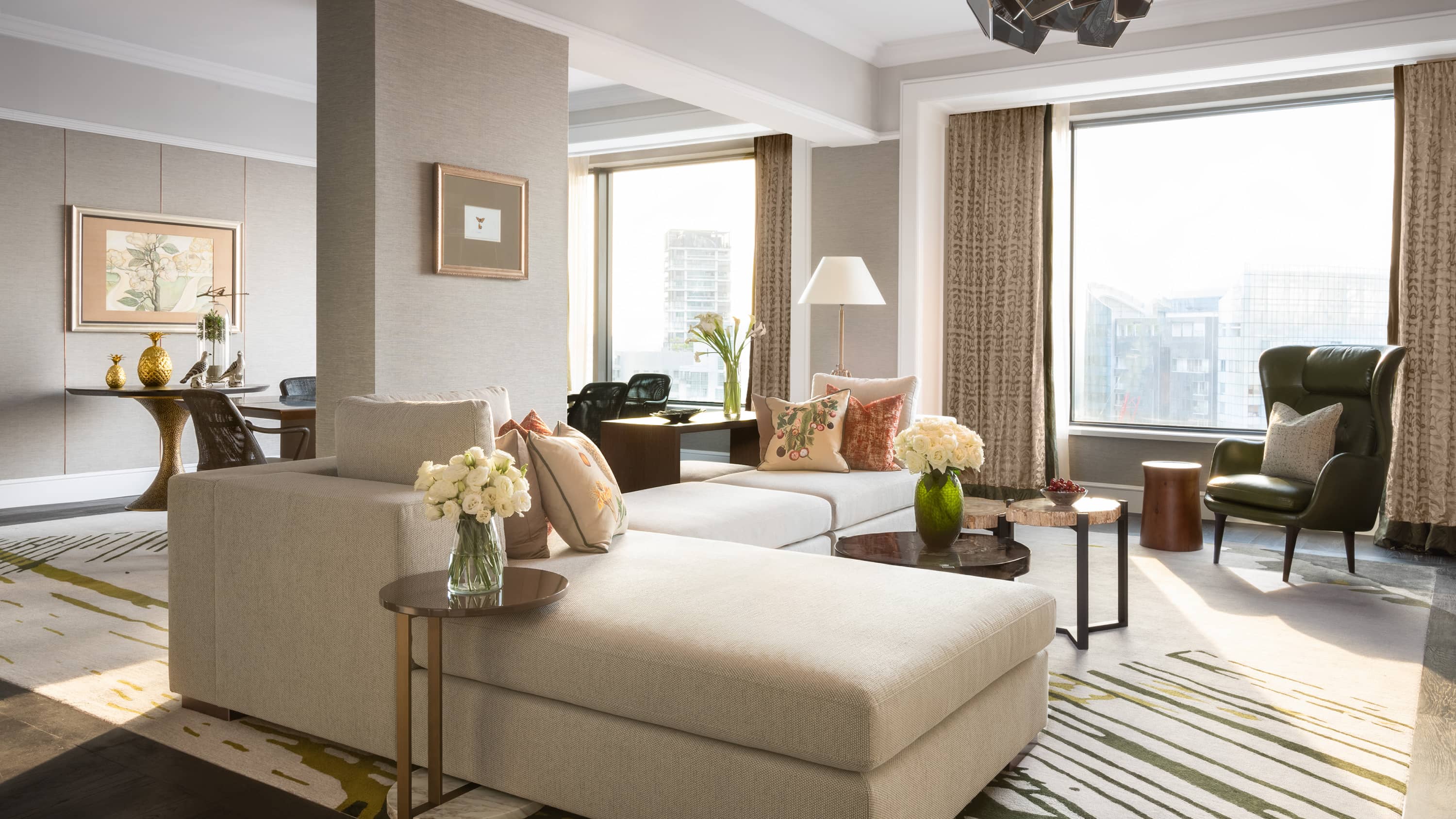 Royal One-Bedroom Suite
One king bed, Two rollaways or two cribs. Extra Beds are subject to availability. Extra charges may apply.

155 m2 (1,668 sq. ft.)

4 adults, or 2 adults and 2 children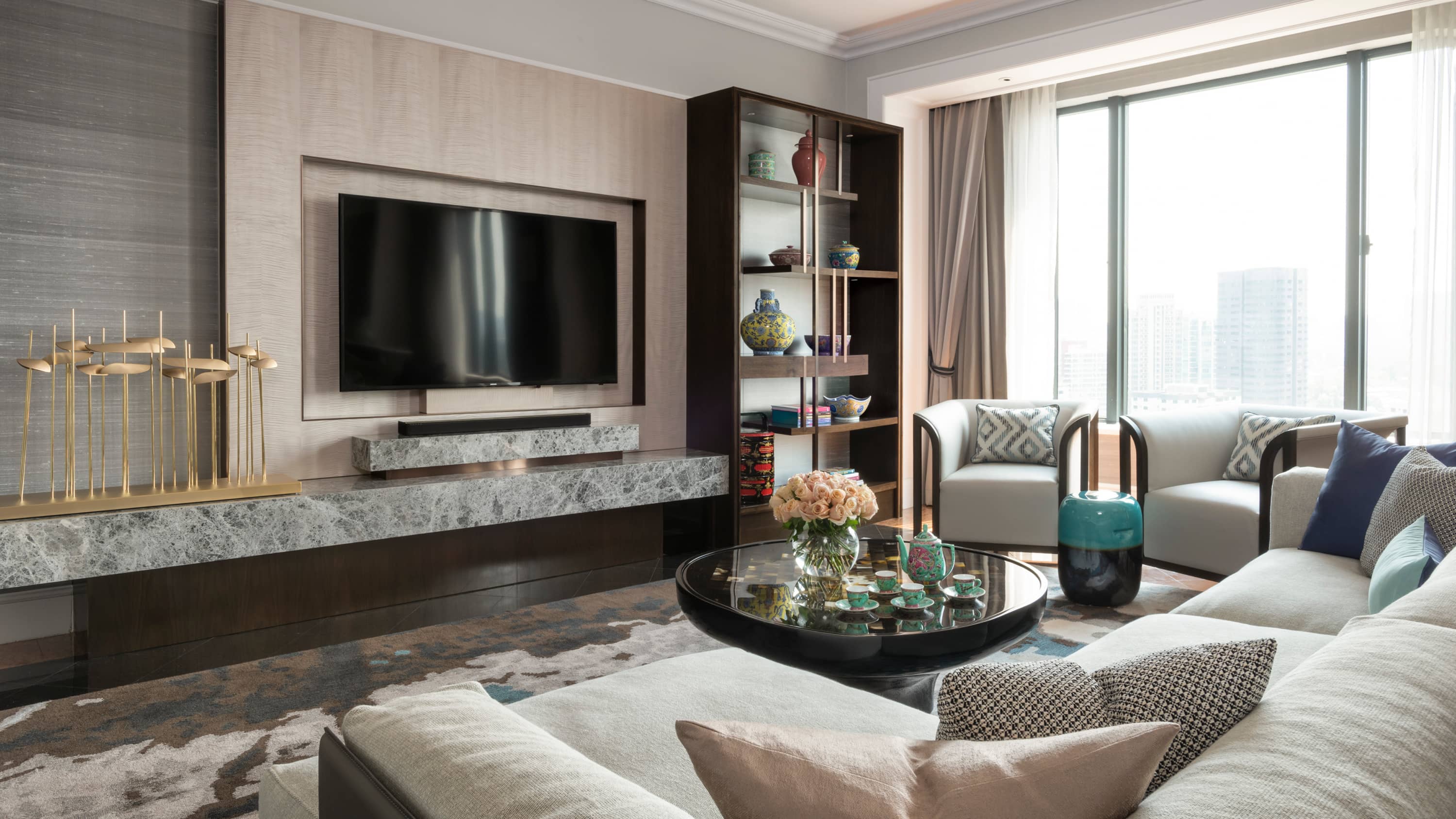 Ambassador One-Bedroom Suite
One king bed, Two rollaways or two cribs. Extra Beds are subject to availability. Extra charges may apply.

162 m2 (1,744 sq. ft.)

3 adults, or 2 adults and 1 child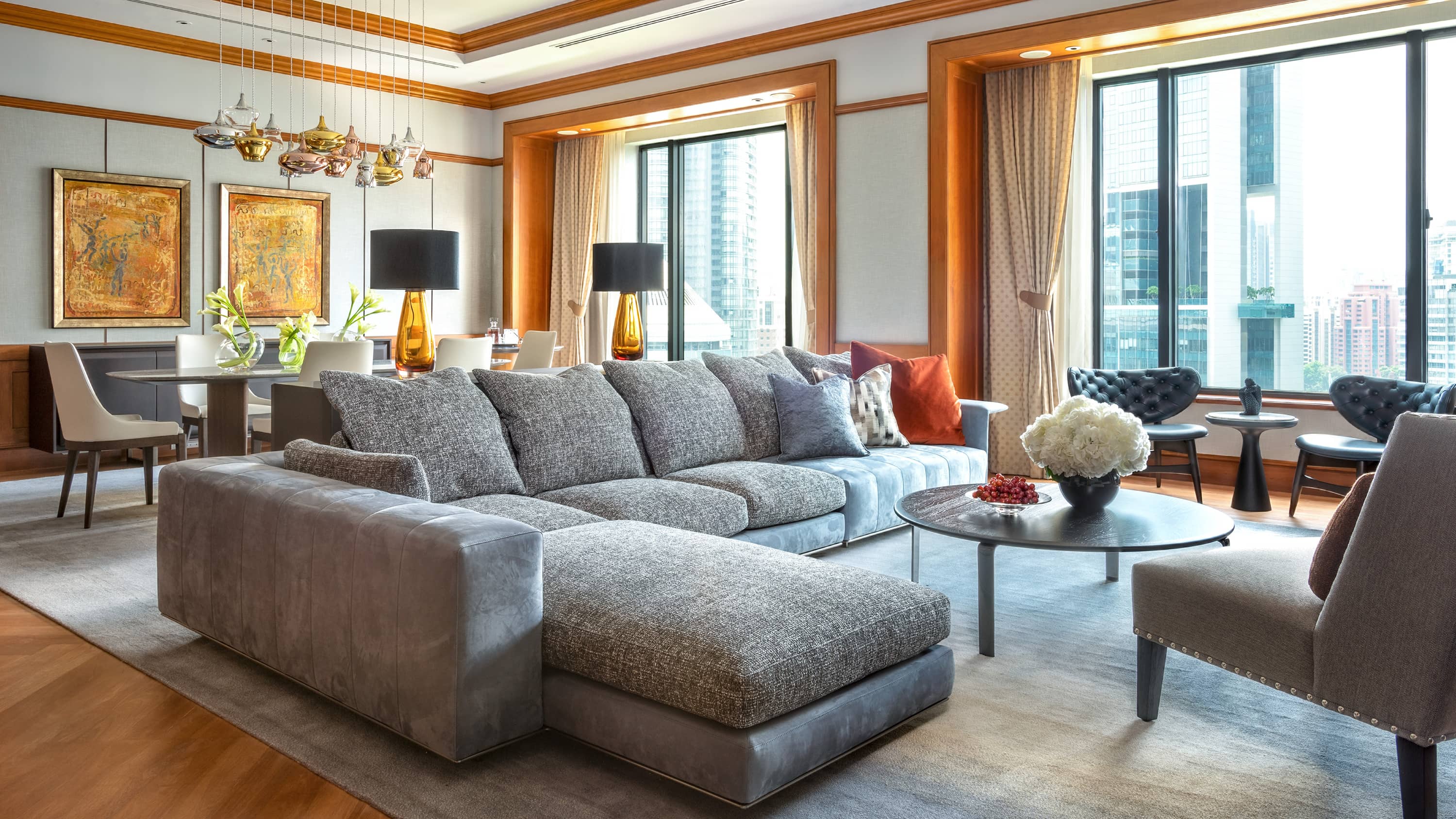 Governor One-Bedroom Suite
One king bed, Two rollaways or two cribs. Extra Beds are subject to availability. Extra charges may apply.

162 m2 (1,744 sq. ft.)

3 adults, or 2 adults and 1 child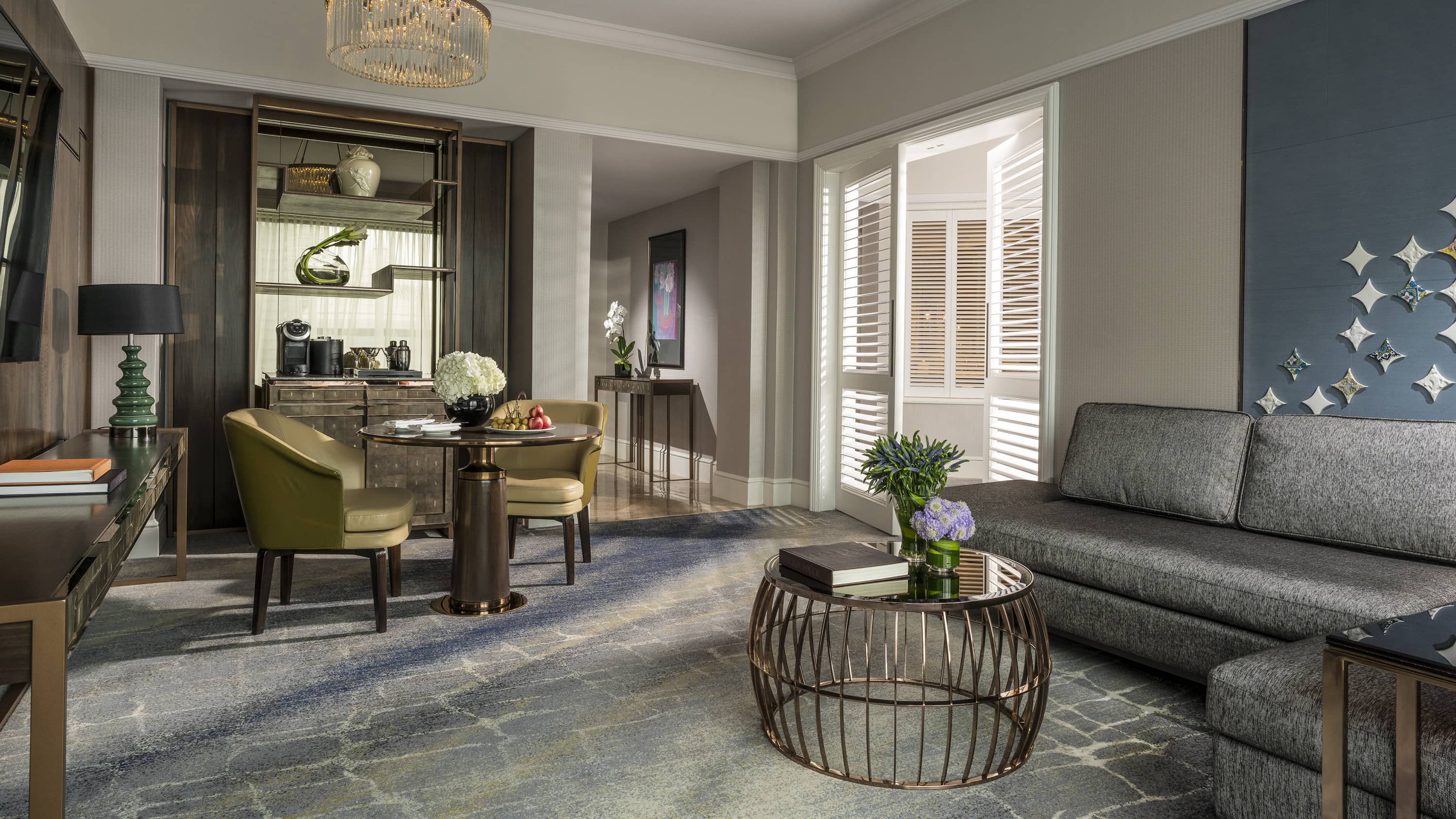 One-Bedroom Suite
One king bed, Two rollaways or two cribs. Extra Beds are subject to availability. Extra charges may apply.

91 m2 (980 sq. ft.)

4 adults, or 2 adults and 2 children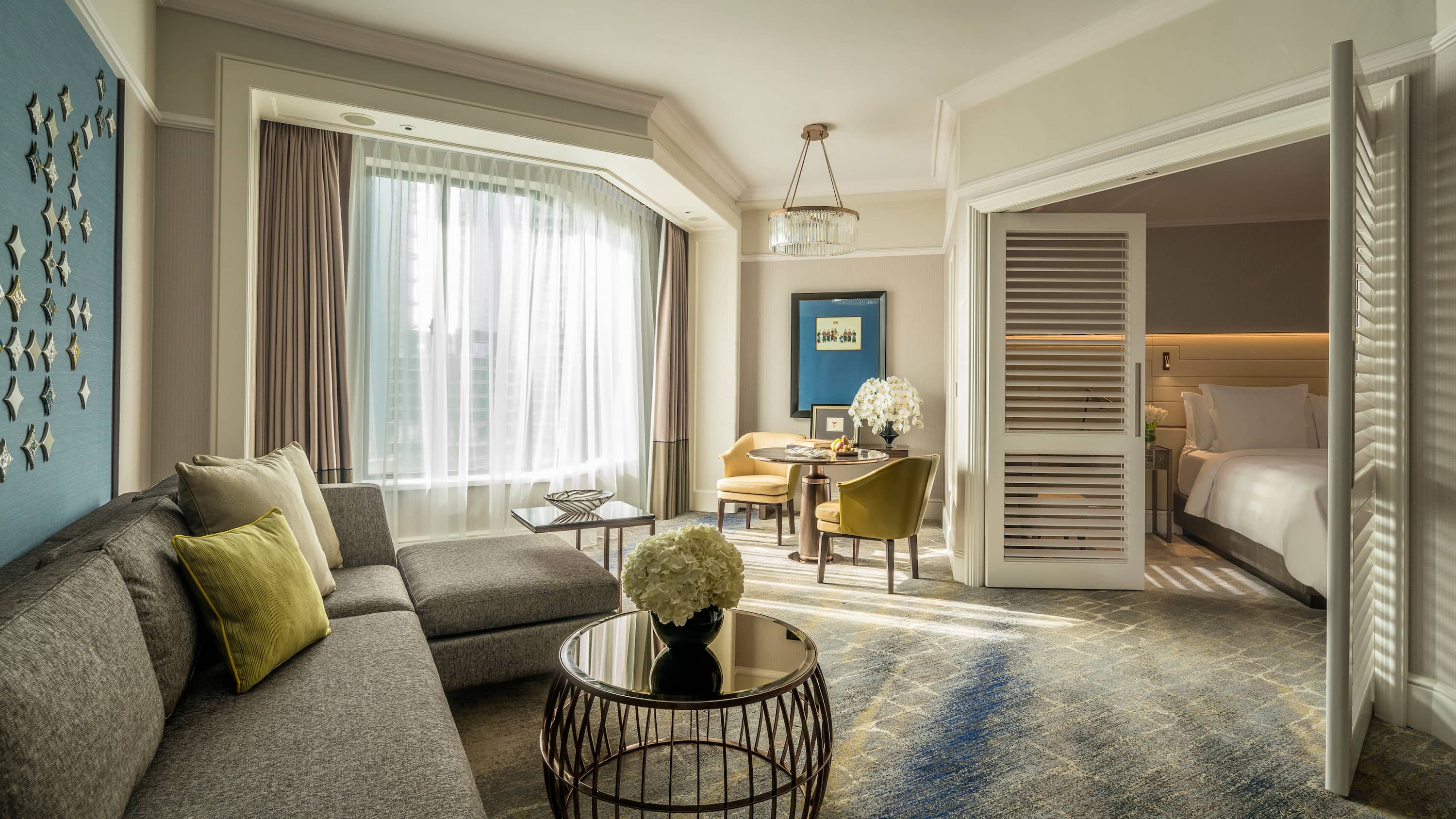 Four Seasons Executive Suite
One king bed or two twin beds, One rollaway and one crib or two cribs. Extra Beds are subject to availability. Extra charges may apply.

75 m2 (807 sq. ft.)

3 adults, or 2 adults and 1 child
Interior Design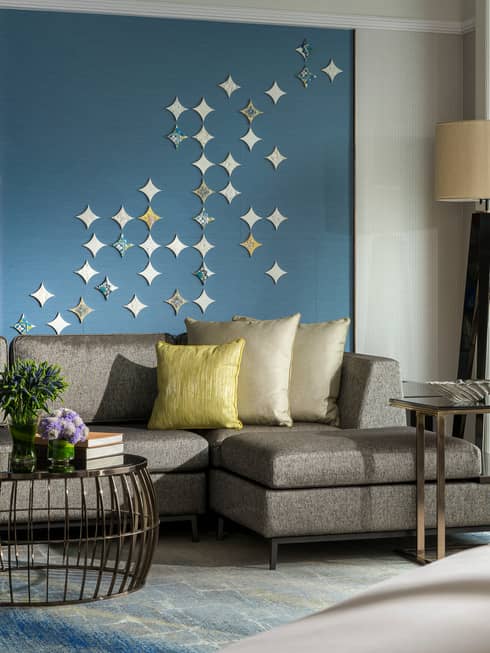 Sense of Place
Inspired by the nearby Singapore Botanic Gardens, most of our guest rooms feature a natural colour palette livened with cool blue tones and lime green accents, plus a mural wall composed of Peranakan tiles, adding an artistic touch with evocative elements of our multicultural heritage.
Light, fresh, sun-bathed, cozy. A guest can create their own sanctuary within our walls and feel at peace.

Simon Barnett

Hotel Manager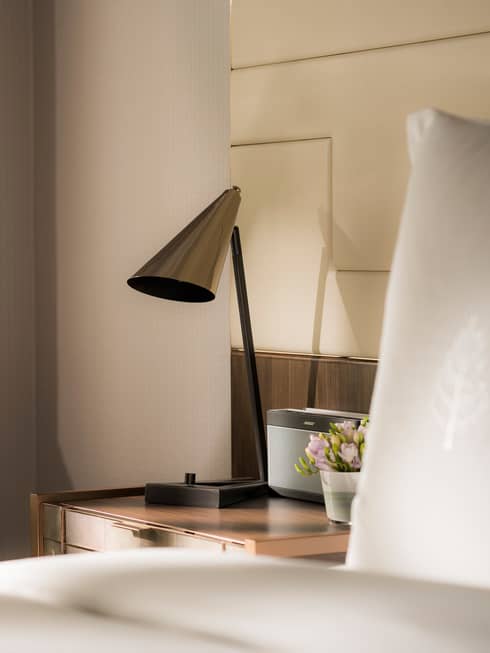 Set the mood
Whether you like it bright or prefer the romance of a dim-lit room, adjustable lighting controls let you control the mood, while motorized drapes add another level of convenience.
Policies
Check-in Time: 3:00 PM Check-out Time: 12:00 PM

If you expect to arrive early in the day and would like immediate access to your room, we recommend booking the room for the prior night to guarantee immediate access. Similarly, for late departures, reserving an additional night will guarantee access to your guest room until you depart. If you choose not to reserve, we will be glad to store your bags and make our fitness facilities available for you to freshen up.

American Express, Visa, MasterCard, Diners Club, JCB, China UnionPay

Four Seasons charges no additional fee for children 18 years of age and younger occupying the same guest room as their parents or guardians (space permitting). Age limits for children occupying parents' or guardians' guest rooms at no additional charge may vary at some properties. For reservations and information, please contact the Hotel directly.

Four Seasons Hotel Singapore is a non-smoking hotel. Kindly note that a cleaning fee of SGD 450 for guest rooms and SGD 1,000 for suites will be charged if smoking is detected. We thank you for your understanding.
Pet Policy
There is a one-time charge of SGD 100 for Deluxe, Boulevard and Premier Rooms, and SGD 130 for suites, required for specialized housekeeping procedures for the room after the guests' check-out.
The Hotel can accommodate one pet per guest room weighing a maximum of 25 pounds or less, subject to daily available capacity. Kindly contact the Hotel in advance to check on the availability of your preferred date.
All pets must be fully trained, up-to-date on all age-appropriate vaccinations and leashed at all times.
Pets must be kept on a leash and attended to at all times while on the Hotel premises and in public places (as specified under the AVA licensing for pet owners).
The Hotel does not allow pets in the food & beverage outlets, the Health Club or pool areas. This is not applicable to guide dogs, but the Hotel recommends that guests with guide dogs offer advance notice so that the staff can best accommodate them.
If Housekeeping is servicing the room while the pet is in the room, the pet must be accompanied by the guest. Guests staying with pets are recommended to contact Housekeeping to arrange for a convenient time to service their room.
Guests are requested to clean up after their pets while on the Hotel premises and within the surrounding neighbourhood.