Safari means "journey" in Swahili, and Four Seasons Safari Lodge Serengeti represents a once-in-a-lifetime journey for those who wish to see Africa's stunning wildlife in its natural habitat. So whether discovering the majesty of the Serengeti by vehicle, foot or air, or savouring the most memorable dining and wellness experiences back at the Lodge, explore the many activities on offer to create a unique Serengeti itinerary that is distinctly yours.
NATURE WALK AND SUNDOWNERS ON THE KOPJE

The perfect way to round off a day spent exploring the Serengeti or relaxing and unwinding at the lodge, follow the Maasai trail through the bush to our sunset kopje hilltop, where panoramic views over the plains provide the backdrop for a magical sundowner experience.

Price: USD 40 per person (maximum of eight people)

WILDERNESS ADVENTURE WITH DINNER IN THE BUSH

Get closer than ever to the incredible landscape around you, as you sit down for a torchlit barbecue in the middle of Serengeti National Park, sharing stories around the bonfire and gazing up at the stars, while always under the watchful protection of local Maasai warriors.

Price: USD 260 per person.

POOL DINNER ON THE ISLAND

Dine al fresco overlooking our neighbouring animal watering hole, as we set a table for you on an island in the middle of the infinity pool. Enjoy an unforgettable evening, as you savour a relaxed dining menu that is tailored to your exact tastes by our expert resident Chefs.

Price: USD 60 per person (maximum of four people)

FAMILY POOL BARBECUE

Spend an unforgettable evening together, with a family barbecue dinner by the side of our infinity pool. Enjoy quality family time as you relax and absorb the magical backdrop of the Serengeti and our expert chefs grill the finest cuts to perfection over the grill.

Price: USD 85 per person (maximum of 12 people)

THE VINEYARD DINING EXPERIENCE

In the exclusive setting of Lodge's wine cellar, let us guide you through a seven-course menu, created daily by our culinary team. Providing the perfect accompaniment to your evening, our resident Sommelier will match each course with a selection of premium wines.

Price: Seven courses with wine pairing, USD 110 per person.
TINGA TINGA PAINTING CLASS

Let your little ones really express themselves in this interactive workshop led by our Kids' Club team, where we introduce them to a traditional Tanzanian art form that uses brightly coloured animals or objects to capture the natural beauty of the Serengeti.

Price: Complimentary

MAASAI BEADWORK WORKSHOP

Learn about the ancient art of Maasai beadwork, as your little ones team up with our talented Kids' Club team to replicate traditional Maasai patterns, or even create new ones of their own, in order to make a special gift they can give to a friend or family member.

Price: Complimentary

FIRE-STARTING WITH ELEPHANT DUNG

Learning how to start a fire is the most important skill the Maasai need to survive in the wild. Our Maasai will accompany your little ones into the Serengeti and teach them how to safely build a fire using two sticks and a magic igniting ingredient – elephant dung!

Price: Complimentary

SHIELD-MAKING & SPEAR-THROWING

For younger guests who want to see if they have what it takes to become a Maasai warrior, the Kids' Club team will help them make their very own shield, before heading out into the bush with our Maasai Warriors to learn the art of spear-throwing using sharpened sticks.

Price: Complimentary

ANIMAL SOUND SAFARI

With more than 500 species of bird, the Serengeti is Africa's most important site for bird conservation. So join the Kids' Club Sound Safari and explore the grounds of the Lodge to discover just how many creatures can be identified purely from the sound they make.

Price: Complimentary

ANIMALS AT NIGHT

Set your little ones a challenge, as they head out with our Maasai into the Serengeti and learn how to set a camera trap. The next day they will visit The Discovery Centre and discover which creatures were busy around the Lodge while they were fast asleep.

Price: Complimentary

KIDS COOKING CLASS

Go behind the scenes of the Lodge's restaurant with a private chef for a kids' cooking class, where our younger guests will cut out and bake cookies in the shape of their favourite Serengeti animals.

Price: Complimentary
DISCOVERY CENTRE

Part museum and part lecture theatre, our Discovery Centre offers an interactive experience where you can learn about the wildlife, history and people of the Serengeti. Situated in the Lodge's main building opposite Maji Bar, the museum's focal point is an interactive map of the Serengeti-Mara Ecosystem, which highlights the movements of the Great Migration.

Price: Complimentary

BIRDING AND NATURE TRAIL

With over 500 species of birds in the greater Serengeti region, there are so many of these beautiful creatures to look out for. For your chance to get to know some of the most common resident bird species, join the Discovery Centre team on a guided tour of our Birding and Nature Trail that offers all ages an elevated view of birds in surrounding trees.

Duration: 30 – 60 minutes

Price: Complimentary tour

Wildlife Documentary Screenings

Enjoy watching some of the best African wildlife documentaries in the comfort of our Discovery Centre's cinema-style lecture theatre. Movies are screened at set times each afternoon and evening, but can also be shown at your convenience. The lecture theatre also boasts an extensive reference and DVD library.

Price: Complimentary

Expert Talks

The Discovery Centre offers regular talks and presentations by our Lodge Naturalist, Photographer-in-Residence and local wildlife experts. Talks require a donation and must be booked in advance. We can also arrange for exclusive use of the Discovery Centre - for meetings, presentations or cocktail events, etc. – please enquire for further details.

Price: Donation required
Our Lodge enjoys an ideal location in the heart of the Serengeti National Park. There is an abundance of wildlife viewing to be enjoyed all-year round and access to some of the region's most famous game drive locations, all within a day. Take full advantage of the Serengeti's game drive opportunities while also making time to relax and recharge at the Lodge with a customized seven-day stay.

See our Sample Itinerary
Seasons of the Serengeti
When is the best time to explore
Meet the Team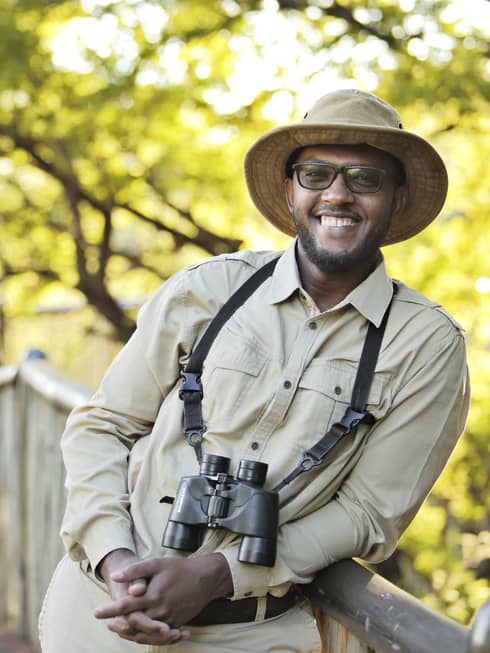 Ahmed Attas
Discovery Centre Manager
Hailing from Moshi, Tanzania, Ahmed Attas has explored much of his vast east African country during his career, with roles ranging from hiking tour leader for climbs of Mount Kilimanjaro to a safari guide and a camp manager in Serengeti National Park. Before joining Four Seasons, he was a project manager at Tanzania Wildlife Management Authority (TAWA), overseeing their photography and wildlife division. Ahmed now manages the Discovery Centre and leads the walking safaris from the Lodge.
"If you have a thirst for knowledge, you couldn't ask for a better classroom in which to learn than the Serengeti."