Weddings
Wedding Planning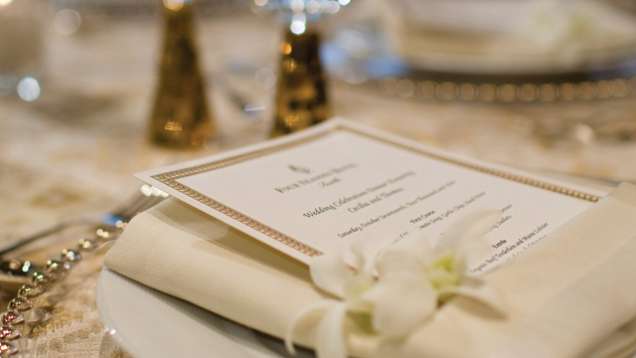 A Helping Hand in Marriage
From invitations to wedding cakes, floral creations to memorable farewells, trust Four Seasons to simplify your planning and make your wedding day in Seattle everything you have ever imagined.
Cakes
Our talented in-house Pastry Chef can create a beautiful customised wedding cake in the flavour of your preference. If you have a photograph of a special cake, we will be happy to prepare that cake for you.
Menu creations
Four Seasons prides itself on culinary creativity, and offers an extensive array of menus to choose from. Alternatively, we can completely custom-design a menu for you, along with your choice of beverages. Whatever the wedding event, from an intimate family brunch to a sophisticated cocktail buffet to a grand reception banquet, our team will assist you or your bridal consultant at all stages.
Linens and tabletop décor
Four Seasons offers superior table linen, cutlery, china and glassware for all banquet tables. Special colours, patterns or designs may be obtained for a nominal rental fee.
Hotel and public areas available for pictures
Stylish indoor and outdoor venues offer unmatched views to complement the most important day of your life – and to capture it in photographs. Your ceremony in the Ballroom, framed by floor-to-ceiling vistas of the water. A kiss on the waterfront terrace, wreathed in sunset, beside the one-of-a-kind, infinity-edge pool. Holding hands beside the lobby's sleek, contemporary fireplace.

Select public spaces within or near the Hotel may be available to wedding parties hosting an event here. Please consult our Wedding Specialist.
Spa services
A wedding can be a stressful time. While you are guests of Four Seasons, you are invited to make use of our on-site fitness facilities, with our compliments.
You may also wish to book a restful massage or rejuvenating spa treatment.
Licence for ceremony
Four Seasons can help you coordinate the paperwork required to hold your ceremony here. Please contact our Catering Department for details.
Flowers
Four Seasons will be pleased to assist you or to make arrangements with our preferred floral designers, or the florist of your choice. We can also create themes and matching décor for your event setting.
Transportation
At your request, Four Seasons can arrange local transportation for you or your visiting guests.
A Four Seasons Seattle on-site expert will work with you or your wedding consultant to reserve your dates, plan the schedule of events, coordinate all food and beverage details – from menu design to table linen – and assist with other aspects of your wedding experience at the Hotel.
Quick Reference
Time zone
GMT -8 hours
Pacific Standard Time

Language(s) spoken
English
Electrical system
Local voltage is 110 to 120 volts AC. Adapters available; please request through the Concierge.

Shopping hours
Monday to Friday 10:00 am to 9:00 pm
Saturday 10:00 am to 9:00 pm
Sunday 11:00 am to 6:00 pm

Working hours
Monday to Friday 8:00 am to 6:00 pm

Time and distance to city centre
The Hotel is located within the city centre.
Time and distance to shopping
Pike Place Market: One block from the Hotel
Westlake Center: 0.4 miles/0.25 kilometres
Pacific Place: 0.5 miles/0.8 kilometres
Bellevue Square: 10.4 miles/17 kilometres
Nordstrom's flagship store: 0.5 miles/0.8 kilometres

Time and distance to financial district
3 minutes/0.1 mile/0.16 kilometres