Wedding Venues
Jati Bar and Ayung Terrace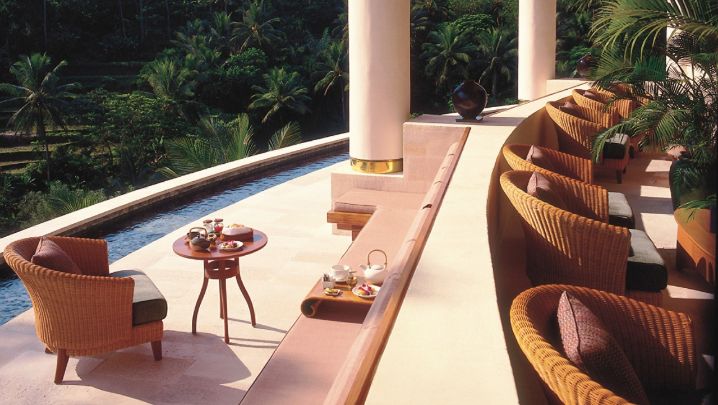 Entertain your Bali wedding guests on the curving terraces of our Jati Bar and Ayung Terrace restaurant. These two open-air venues are located on two levels of our main Resort building.

Host a welcome party or cocktail reception at the upper-level Jati Bar. Then descend the sweeping staircase to a sit-down dinner at Ayung Terrace. Both Bali venues are open to panoramic views of the stunning river valley with tropical forests, gardens and rice paddies.

Why You'll Love It
Jati Bar
Guests can relax at the sunken bar or on banquette lounges – enjoying canapés, champagne cocktails and perhaps a performance of traditional Balinese dance and music.

Ayung Terrace
In an elegant restaurant setting, you and your guests may enjoy a menu of international cuisine or authentic Balinese specialties, served with personalized Four Seasons care.

Seamless Flow
If you choose to hold your wedding ceremony on the terrace of our Rooftop Lotus Pond, your guests can simply descend the stairs to Jati Bar and Ayung Terrace – creating a smooth, natural flow to the proceedings.

Room Details
Seating
Reception
Banquet rounds

50
80

Occupancy
Up to 80 guests
Room Features
Open-sided terraces on two levels: Jati Bar is designed as a cocktail lounge, while Ayung Terrace provides a restaurant set-up – ideal for group dining

Location
Levels 2 and 3 of the main Resort building