At Seaway, take in the scenic vista of the Atlantic Ocean under a canopy of lush sea grape trees while enjoying a seafood-driven menu deeply rooted in ingredients indigenous to South Florida, with a hint of Latin flair.
HOURS
Lunch

11:00 am – 4:30 pm

Bar

11:00 am – 6:00 pm
Signature Dish

Meet The Team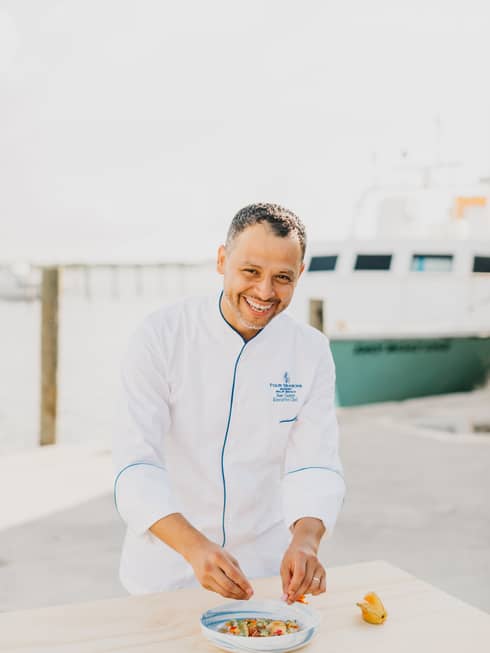 Jose Gamez
Executive Chef
A two-decade Four Seasons veteran, Chef Jose has a deep appreciation for culinary arts and a passion for food, wine and building relationships with everyone from guests to suppliers.
"Visiting our local fisheries is always a humbling experience. It inspires me to source and treat our local product with an incredible amount of love and respect."
@blarejune

@livforluxury
In-Room Dining

For breakfast in bed, impromptu business meetings or romantic meals on your private terrace, we've got you covered, day or night. Have an exceptional Palm Beach dining experience delivered right to your room, whenever you like.

Details

Florie's

Welcome to Florie's, a restaurant in partnership with two Michelin star chef, Mauro Colagreco. A nod to Florida and Chef Mauro's passion for gardening, Florie's delivers the spirit of the Mediterranean through live fire cooking and earth-conscious offerings inspired by nature. Not to be missed is Florie's Bar, featuring seasonal, garden-driven cocktails and sustainable wines.

Details